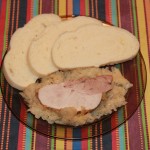 Alebo vepřo, knedlo, kalerábo.
Ono to bolo tak. Boli sme minulý víkend v Kysuckom Novom Meste u svokrovcov na záhrade. Už sme sa zberali domov na obed a dať krpcov spať, keď tí malí hladoši začali vykrikovať ham, ham. Babka rýchlo vytiahla dusený kaleráb, čo mala nachystaný, a Kika sa doň s chuťou pustila rovno z misy. Tak som si povedala, že to aj ja niekedy vyskúšam.
4 zelené kaleráby
1 veľká cibuľa
olej
1-2 lyžice cukru
1/2 čajovej lyžičky soli
1/2 čajovej lyžičky mletého čierneho korenia
2dl vody
Kaleráby očistíme a nastrúhame tak ako jablká. Cibuľu tiež očistíme a nakrájame nadrobno. Potom ju do zlatista opečieme na oleji a pridáme nastrúhaný kaleráb. Posolíme, podlejeme vodou a dusíme aspoň pol hodinu do mäkka. Dochutíme korením a cukrom.
My sme ho jedli s knedľou a pečeným bravčovým mäsom.