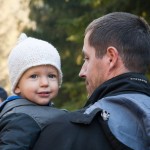 že si si zvykol na jasle – Ráno mi pomáhaš, keď Ťa tam prezúvam a prezliekam, potom spokojne ideš s tetou vychovávateľkou do herne. Poobede, keď pre Teba prídem, ku mne s výskotom bežíš. A učíš sa tam nové veci. Už si povedal pár slov, ktoré zrejme nemáš od nás. Tancuješ. Chceš sa kŕmiť len sám. (V jasliach už takých veľkých, ako si Ty, nechajú začať samých a potom pomôžu len dokončiť).
hranie sa s lienkami – Tie lienky nechápem. Teraz na jeseň sú ich tu strašné množstvá. Hromadia sa v zhlukoch (aj po 30) v rohoch okien a dvier. Keď sme ich odtiaľ vyhadzovali, tak si vždy nejakú dostal a bol si z toho nadšený. Veľká zábava Ťa s nimi pozorovať.
hranie sa s mačkou – Kričíš na ňu "cica" a rehoceš sa, keď sa príde o Teba obtrieť.
ako tancuješ – Založíš si ruky, začneš ta krútiť a kývať a hovoríš do toho "vykucaj, vykucaj". Musím to už konečne nafilmovať.
Obelix v pyžame – Máš ešte stále také to nafúknuté detské bruško. A keď Ti oblečiem modré pyžamo a Ty si ho vytiahneš až kus nad pupok, naozaj vyzeráš ako taký malý Obelix. Na zožranie.
že si sa (znovu)naučil sám zaspávať – Aspoň večer a na obed. Keď Ti to pôjde aj v noci, to bude paráda.
ako Ťa fascinujú nové veci – Napríklad sneh.
ako komentuješ, čo vidíš z okna auta – Ukazuješ na autobusy, bagre, motorky, zvieratá… Minule si začal vykrikovať "pena, pena" a v zrkadle som videla, že ukazuješ hore na vatové oblaky.
ako hovoríš áno – Je to strašne zlaté. A ešte "chyp ma" (= chyť ma za ruku). A ešte "stalo, stalo" (= čo sa stalo?), keď sa Ti odopne príves od ťahača. A "kolajt" (= koláč). "Aj ja kolajt".
ako kreslíš – Pokiaľ je to na papier alebo magnetickú tabuľku.
ako sa chodíš prilíškať – Už si (väčšinou) neobtieraš hlavu, ale sa celý primáčkneš. A občas dávaš pusinky.
ako sa vždy pýtaš na Kiku – Hneď ako sa zobudíš, hneď ako vyjdeme z jaslí, prvý, koho hľadáš, je Kika. A už ju tak aj voláš.
trpezlivosť a nezávislosť – Tá trpezlivosť za predpokladu, že nie si hladný. Tá nezávislosť v tom, že si často vymýšľaš vlastné zábavky.
že veľa rozumieš – Tento rok a pol je vďačný vek. Ešte stále také zlaté bábo, ale už aj spolupracujúci spoločník, ktorý toho síce veľa nenahovorí, ale bez problémov sa dohodne a často prekvapí tým, čo všetko pochopil z rozhovoru.
ostatné z tejto pravidelnej série