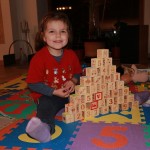 ako sa chodíš niekedy prilíškať – Pusinkovanie nemáš veľmi rada, takže som si na Teba vymyslela fintu – nedávam pusinky ja Tebe, ale poprosím, aby si dala Ty mne. Ty sa potom zachichoceš a pusu mi dáš. Ale pritúliť sa chodíš rada.
zvedavosť – Všetko Ťa zaujíma. Dopravné značky, ako veci fungujú, čo sa bude diať… A nenecháš sa odbyť nejakou povrchnou odpoveďou, chceš sa vždy dopátrať až na koreň veci.
nové slovné spojenia – Nie vždy ich používaš správne, ale to ako zakomponuješ tie naše do svojej reči, je perfektné. "Mama, idem sa hrať, hovorím Ti to poslednýkrát."  "Mama, tato, nemačkajte sa."
ako čítaš písmená a čísla – V zásade všade, kde ich vidíš. Ale čísla najradšej na domoch, keď sme na prechádzke. Niekedy zľava doprava, niekedy sprava doľava. Ja Ťa neopravujem a vo vnútri sa vždy trochu zaškaredím, keď Ťa opraví niekto iný. Trochu ich začínaš aj kresliť/písať. Do čítania a písania Ťa vôbec netlačíme, ale už začínaš tušiť, že to otvára kopu možností a myslím, že nebude dlho trvať, kým si uvedomíš aspoň ten príncíp, ako sa písmená spájajú do slov.
Tvoje kresby – Tu je malá vzorka. Asi každý rodič sa vytešuje, aké má kreatívne dieťa. Ja tiež rada takto cez obrázky nakúkam do Tvojej hlavy, kde sa zjavne preháňajú všeliaké pozoruhodné veci.
keď sa hráš s tatom alebo s dedom – Staviate z lega, z kociek, cvičíte, hráte hry s panáčikmi. A Ty im veľmi presvedčivo vysvetľuješ čo a ako treba robiť.
že sa pokojne pustíš do debaty s neznámym dospelým alebo dieťaťom – Toto tiež veľmi málokedy tlmíme. Chcela by som, aby Ti čo najviac z tej bezprostrednosti ostalo.
nefalšované nadšenie – To je tá pozitívna stránka nedočkavosti. Keď sa na niečo tešíš, tak to z teba vyžaruje na všetky strany. A je to nákazlivé. Rada Ti robím radosť.
keď pomáhaš Kubkovi – Páči sa mi, keď ho chceš niečo naučiť, a pomôcť mu, keď mu niečo nejde. A ako si sa potešila, keď sa k Tebe prisťahoval do izby.
nenecháš sa oblbnúť – Tato to na Teba niekedy skúša, ale Ty sa nenecháš a párkrát si ho už nachytala na hruškách. (Naposledy s čokoládovým termixom, ktorý sme "nemali".)
že rada chodíš do telocvične – Tam som nás prihlásila, aby sme sa chodili aspoň raz do týždňa niekam spolu vybehať a vyjašiť. Trénujeme tam aj rovnováhu a skákanie a iné veci, ktoré Ti zatiaľ celkom nejdú, a mám radosť, že sa vždy tešíš, keď tam ideme. Teta Marta to s deťmi vie.