Naučila som sa napríklad tmeliť diery po klincoch. Ale ukázalo sa, že nie je úplne ideálne kombinovať rady dvoch rôznych ľudí. Pani vo farbách-lakoch hovorila, že ona tmel iba ponatiera prstom a hotovo. Samozrejme, informácie treba overiť na internete… tam bla, bla, veľa kecov, bla, tmel treba smelo napatlať a ak treba, potom dodatočne došmirgľovať. Tak ja so kúpila taký, čo mal na krabičke napísané, že dobre brúsiteľný, prstom som ho tam odvážne napatlala, diery krásne zakamuflovala, na druhý deň sa pustila do brúsenia a… nič. Veľmi to nešlo. To bolo prvýkrát, čo som tento týždeň aplikovala heslo: "Kto nič nerobí, nič nepokazí." Teraz budem ešte týždeň šmirglovať. A na veky vekov si pamätať, že tmel treba čo najlepšie zahladiť hneď pri aplikácii.
Asi je už jasné, čo sa u nás tento týždeň dialo. Maľovali sme.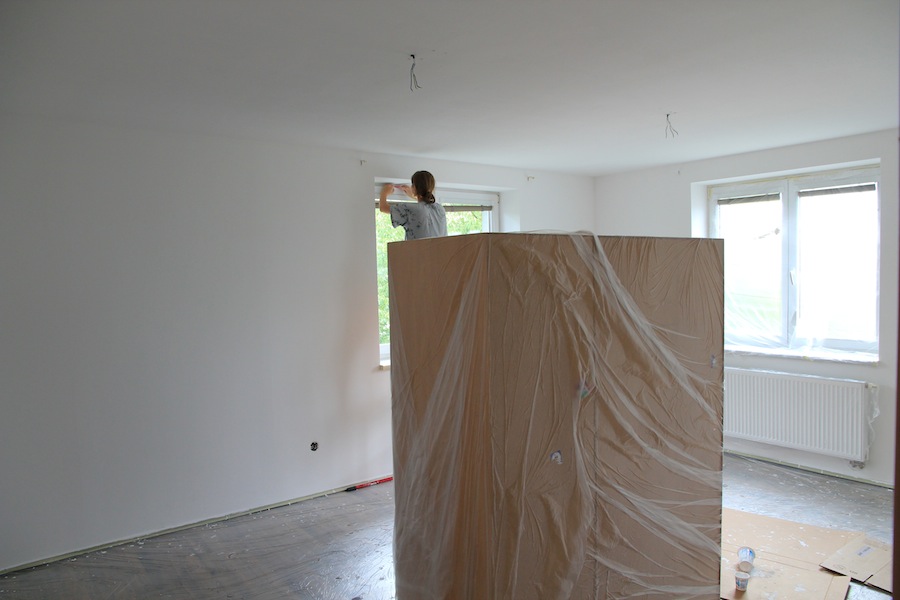 Čím sa dostávam k ďalšej kutilskej lekcii. Doba zakrývania (okien, dlážky, všetkého) je (aspoň teoreticky) nepriamo úmerná dĺžke čistenia po maľovaní. A každý si musí nájsť ten svoj optimálny pomer. Ja som pol mladosti strávila lepením igelitov maskovacou páskou.
A farby? Na stene vyzerajú úplne inak ako v kýbli, úplne inak ako vo vzorkovníku a úplne inak ako na monitore počítača. Buď si na ne zvykneme… alebo to dáme niekomu premaľovať.
Namiesto víkendových liniek dnes len moja inšpirácia, časom možno aj nejaké pred/po obrázky.