Nedávno som mala dohodnuté v meste jedno stretnutie a podarilo sa mi prísť na miesto určenia asi o štvrť hodinu skôr. Vzhľadom na to, že stretnutie malo byť len kúštik od čerstvo presťahovaného žilinského Artfora, tak je asi jasné, kde som strávila tých 15 minút. A keďže na nejaké veľké hĺbanie nebol čas, okukovala som to, čo mali porozkladané vo výkladoch. Poviedka 2013 – zborník víťazných prác minulého ročníka. Útla knižočka. Kúpila, prečítala.
Do 17. ročníka literárnej súťaže bolo prijatých 214 prác, ktoré napísalo 105 autoriek (49%), 108 autorov (51%) a jeden anonym.
Tie ocenené? 9 autorov, 1 autorka. O kom píšu? Okrem tej jednej autorky, všetko o chlapoch (a o jednej muche). Ženy sú v tých lepších prípadoch vedľajšie postavy, v tých horších kulisy, alebo tam vôbec nie sú.
Okrem toho ešte jeden postreh – vo viac ako polovici z tých poviedok sú nadávky. A nie ako citoslovcia, ale ako podstatné a prídavné mená. Nutný disclaimer – ja nie som proti nadávkam, aj ich sama z úst vypúšťam, myslím si, že v jazyku majú svoje miesto. Ale nie tam, kde sa z nich stávajú "placeholdre" za to, čo nevieme povedať inak.
Normálne mám chuť (keby sa tak cez leto ešte našiel čas) im tam nejakú poviedku poslať, že aha, aj iné sa dá písať. Ale na druhú stranu, čo ak to je zhruba to, čo si povedalo tých 104 nevybraných autoriek už minulý rok?
Koniec prvého dejstva, začiatok druhého.
Po svoje knižné úlovky si, okrem Artfora, chodím aj na bookdepository.com a martinus.sk (nie rovným dielom). A práve z Martinus-u mi začiatkom marca prišla správa o súťaži. Hľadá sa najväčší knižný hrdina všetkých čias. Podčiarkujem hrdina, nie postava. Nominovaní? 11 mužských, 5 ženských postáv (Anna Shirley, Pipi dlhá pančucha, slečna Marplová, Lisbeth Salander a Jane Eyre).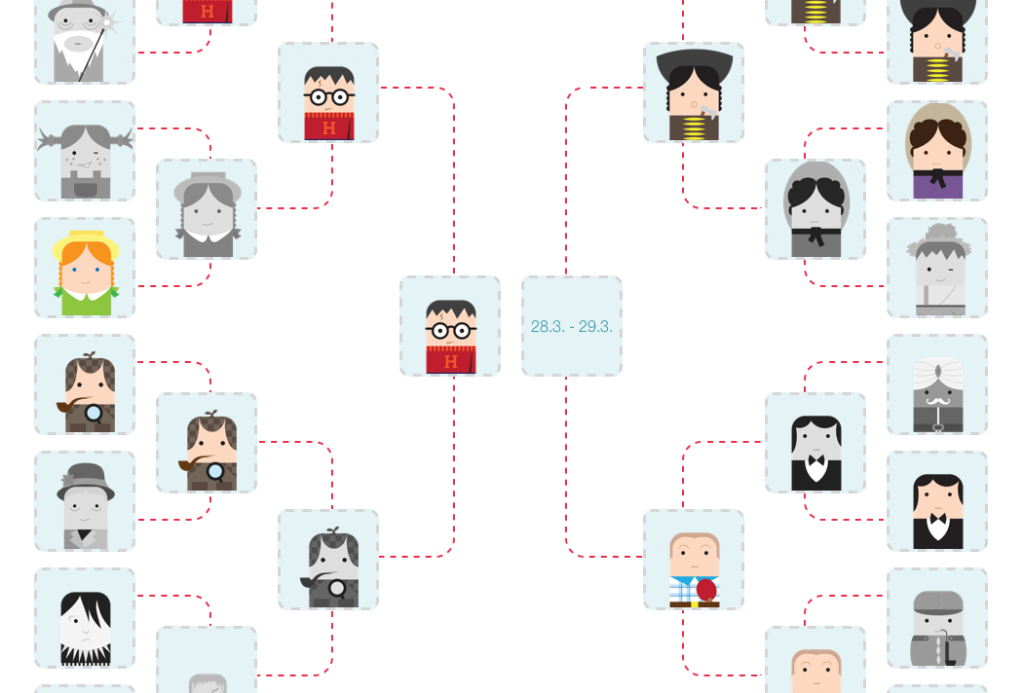 Čitatelia hlasujú v dueloch, vyzerá, že Harry Potter to vyhrá. Ako fajn, aj ja som ho čítala, čítala s nadšením, ale celkovo? Zase raz vidno ten nepomer už pred začatím hlasovania a všeobecne v tom, že o kom ľudia čítajú (a o kom sa píše).
Mne to proste nedá. Tak ako za každým Euklidom, Einsteinom, Pasteurom alebo Crickom vidím ženu, ktorá žila niekde na svete, bola v niečom porovnateľne dobrá, ale nedostala tú príležitosť a podporu, aby sa o nej raz dozvedel celý svet (a nejde ani tak o jej slávu ale o tú takmer polovicu objavov, o ktoré sme buď prišli, alebo dorazili oneskorene), tak na každého Pottera a Gumpa pripadá knižná postava, žena, dievča, o ktorej nikto nenapísal, alebo ak aj napísal, tak sa o nej masy nedozvedeli. To je to, z čoho mi je smutno.