V Kota Kinabalu, našej prvej základni na Borneu, sme boli 4 noci. Na výlety sme sa vybrali do národných parkov Mt Kinabalu a Tunku Abdul Rahman. Mt Kinabalu je kopec vysoký vyše 4000 metrov (najvyšší v tomto kúte Ázie) a zvláštny tým, že je taký samostaný uprostred ničoho. Žiadne masívne pohorie, len bum kopec uprostred džungle:
A dá sa naň vyjsť. Štartuje sa vo výške cca 1800m, ide sa so sprievodcom, je to dvojdňová záležitosť, cca 300eur na osobu a celkom hustá premávka. Tak tam sme nešli. Statočne postriekaní repelentom, sme sa na jeho úpätí pomotali v džungli: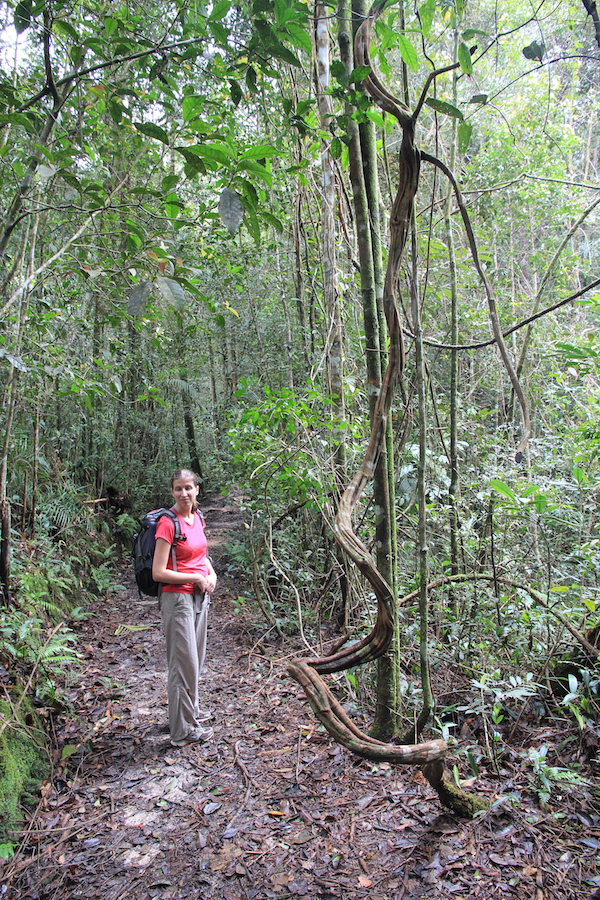 Na Miša tam liezli pijavice, mňa z nejakého dôvodu nechceli. Ten chodník totiž niekedy vyzeral takto pekne a niekedy sme sa takmer predierali a zľahka brodili kalužami. Keď sme z neho schádzali na cestu, začínalo pršať tak sme si povedali, že džungle na jeden deň stačilo.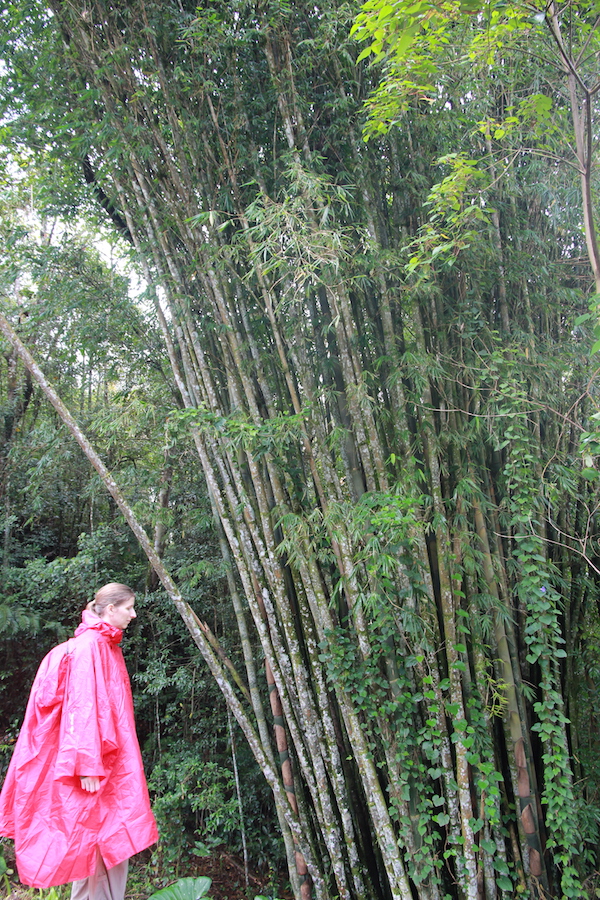 Išli sme potom do miestnej botanickej záhrady a obzerali najmenší druh orchidee na svete (nie, táto už väčšia nenarastie):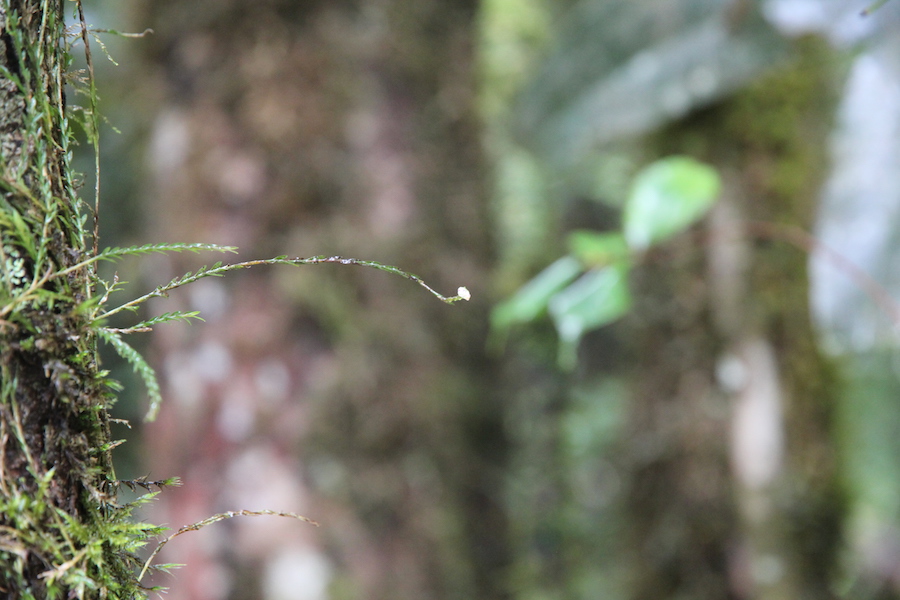 a kadejaké iné orchidee, ktoré už bolo lepšie vidno a viseli v strapcoch po stromoch:
Poobede sme chceli ísť naspať do Kota Kinabalu. Tu je na mieste malá poznámka k našej rannej ceste do tohto národného parku. On je totiž cca 80km od mesta. Prišli sme minivanom s miestnymi, ktorý funguje takým spôsobom, že vyštartuje, keď sa naplní. My sme čakali vyše hodinu, kým sa tak stalo, šofér nás vyhodil pri vstupe do parku a ostatní frčali ďalej do neďalekého mesta Ranau. Na cestu naspäť sme sa vrátili ku vstupu do parku a dúfali, že stopneme podobný minivan vracajúci sa z Ranau do Kota Kinabalu. Najprv sme sa potešili, lebo jeden tam práve stál. Ale vysvitlo, že je prázdny a tiež čaká, kým sa naplní. Rezignovaní sme sa prechádzali poblíž, keď sa nám zrazu prihovorila mladá žena. Že či potrebujeme niekam ísť. Bola tam s manželom autom tiež na výlete v parku a ponúkli nám odvoz. Tak sme išli, šofér minivanu trochu neveriacky pozeral, ako nasadáme s dvoma moslimami do malinkého autíčka. Cesta trvala skoro dve hodiny, lebo medzitým sadla hmla hustá ako mlieko a po kľukatej horskej ceste bolo treba ísť pomaly, ale celú sme ju prekecali – o tom, čo robia, čo robíme my, o Malajzii, o miestnej kuchyni, o všetkom možnom. Bolo to výborné.
Ten druhý park, ktorý sme v tejto časti Sabahu navštívili, je úplne iný, ostrovný: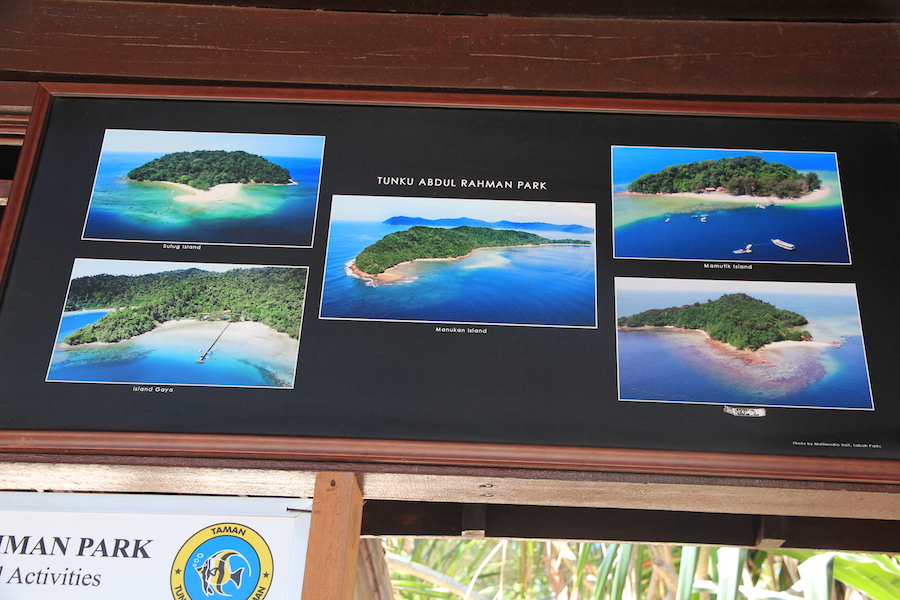 V priebehu dvoch dní sme navštívili ostrovy Manukan, Mamutik a Sapi. (Namiesto jedného z nich sme chceli ísť na Sulug, lebo tam vraj býva najmenej ľudí, ale ukázalo sa, že to je preto, že tam v zásade turistov neberú. Aj tak dobre.) Toto bolo naše prvé kúpanie v mori a šnorchlovanie na Borneu. Aj keď na ostrovy pri Semporne sa to nechytá, rybičiek bolo dosť a bolo to také kid-friendly – šnorchlovať sa dalo prakticky vo vode, v ktorej človek dočiahol a aj keď miesta vyhradené na šnorchlovanie a plávanie neboli veľké, bolo to zaujímavé. (Len keby tam bolo menej odpadkov…)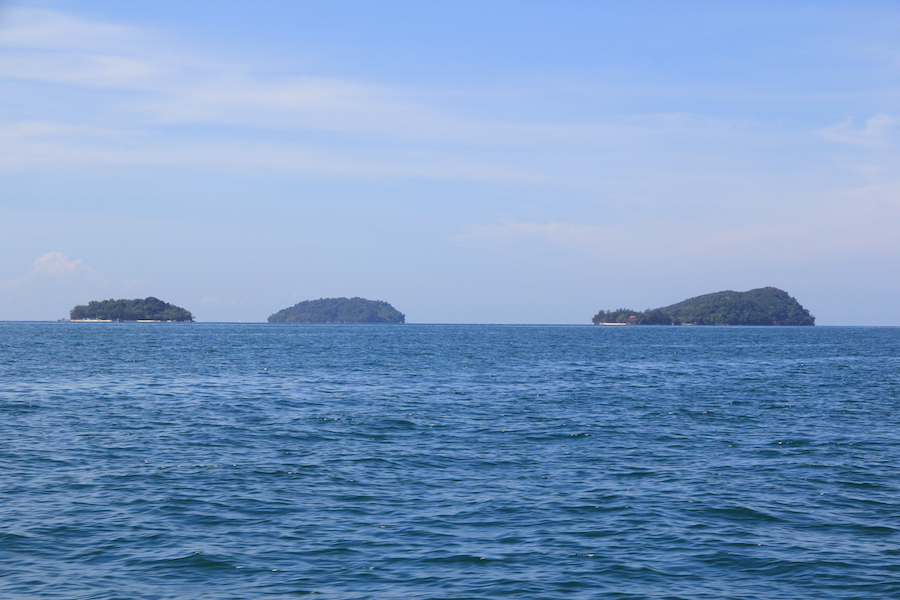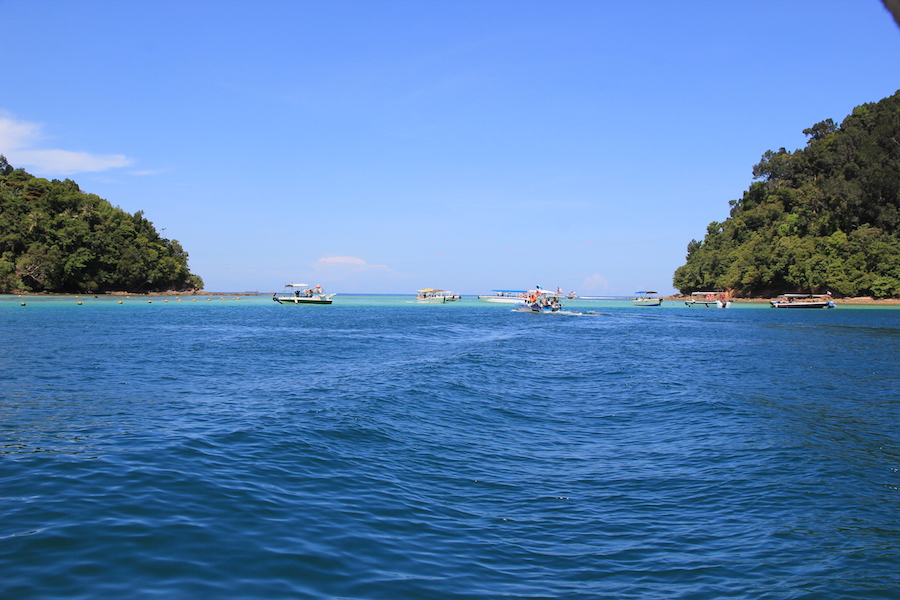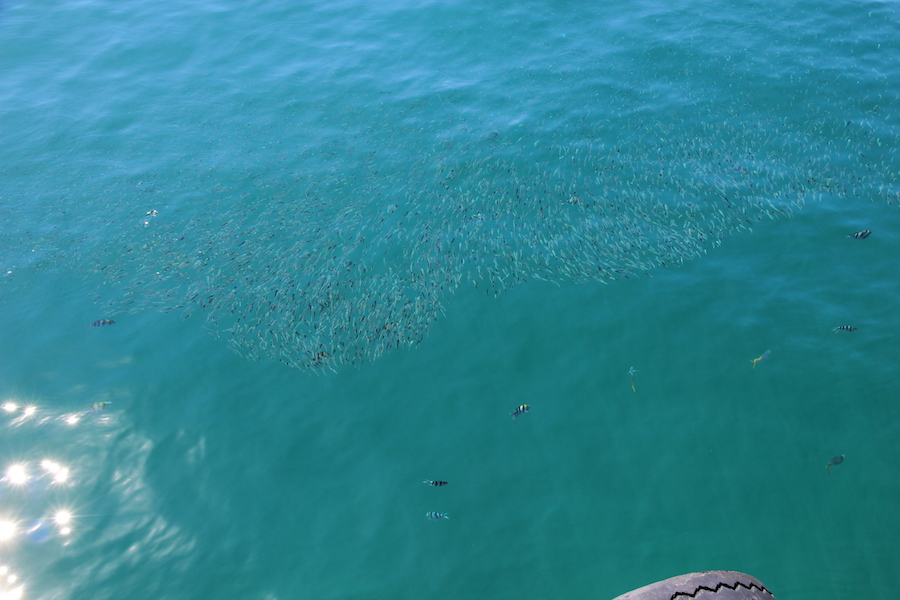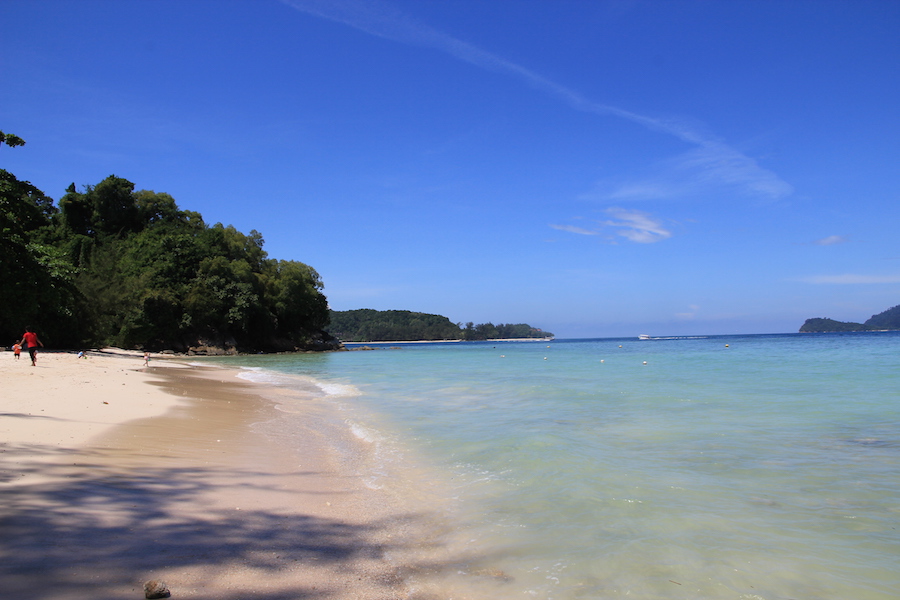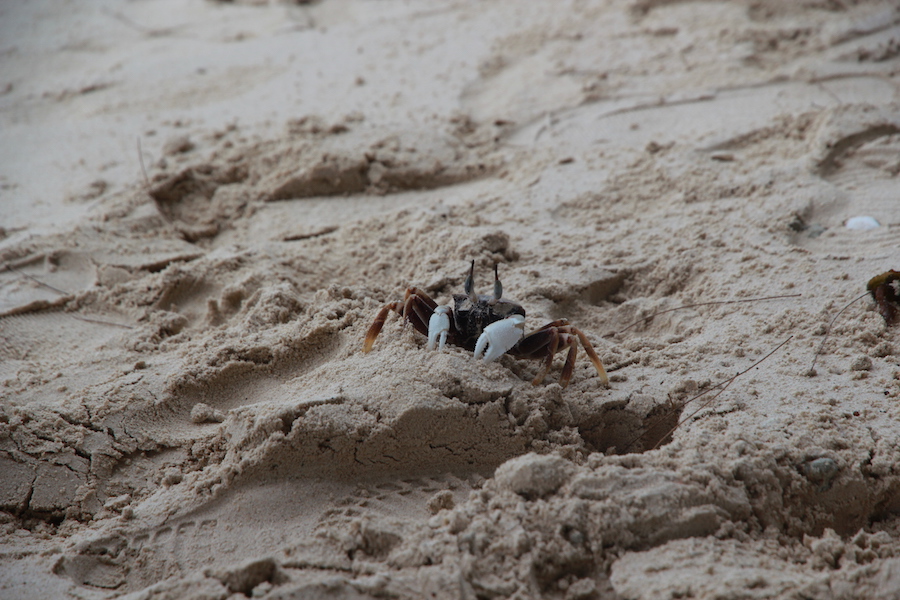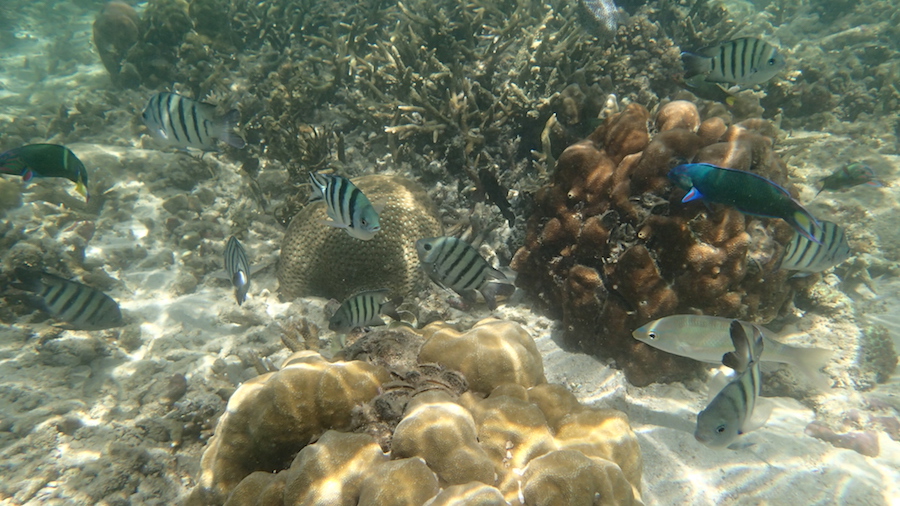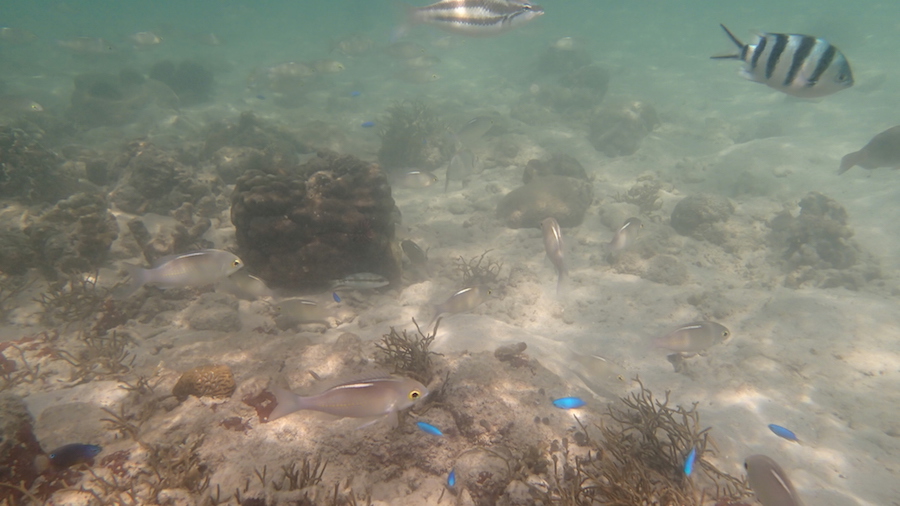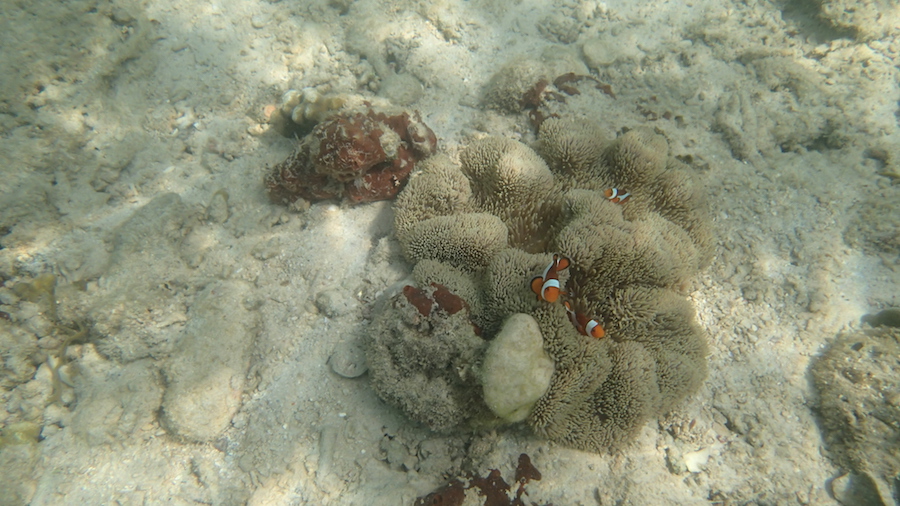 (Neďaleko od týchto Nemov, ktorí vykúkali a zase zaliezali do sasanky, zmätene plávali aj Dory.)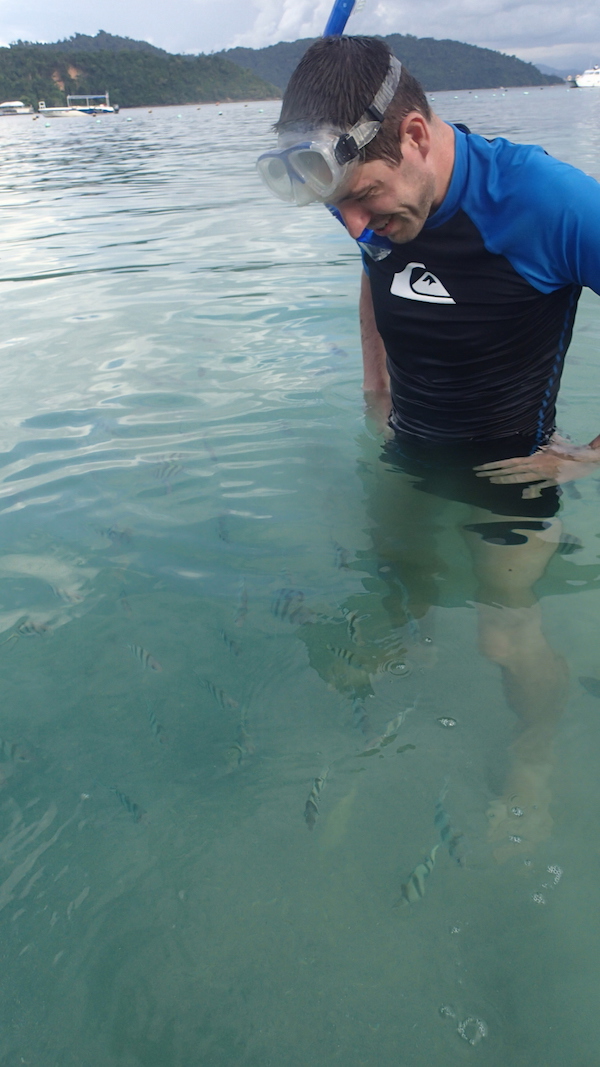 Nepríjemné boli akurát tieto ružové ryby (mňa jedna na nohe pohrýzla do krvi) a malinké medúzy, ktoré skoro nebolo vidno, ale pŕhlili statočne.
Podvečerné čakanie na loďku smerom na pevninu:
Po večeroch sme sa túlali po tržnici, kde predávali všetko možné: sušené kadečo: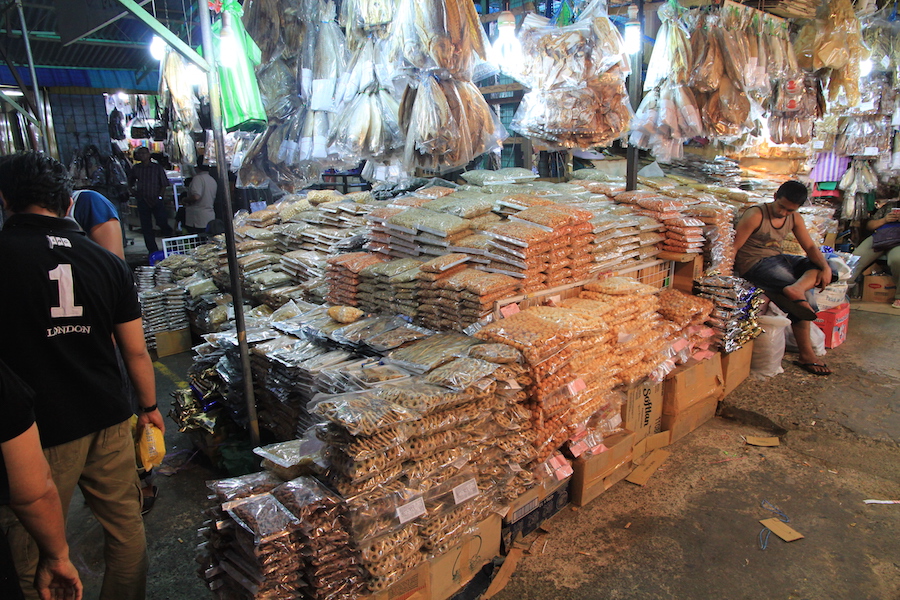 sladkosti (dobré boli tie trojuholníky vľavo hore – také nadýchané palacinky pospájané arašídovým krémom, ktorý trochu pripomínal arašídové maslo)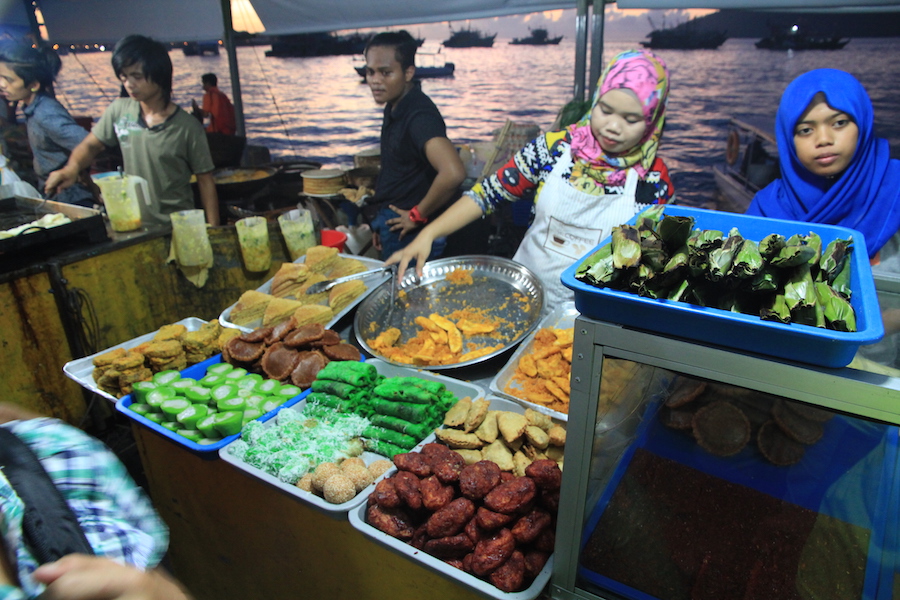 rôzne druhy rýb
ovocie, zelenina, koreniny: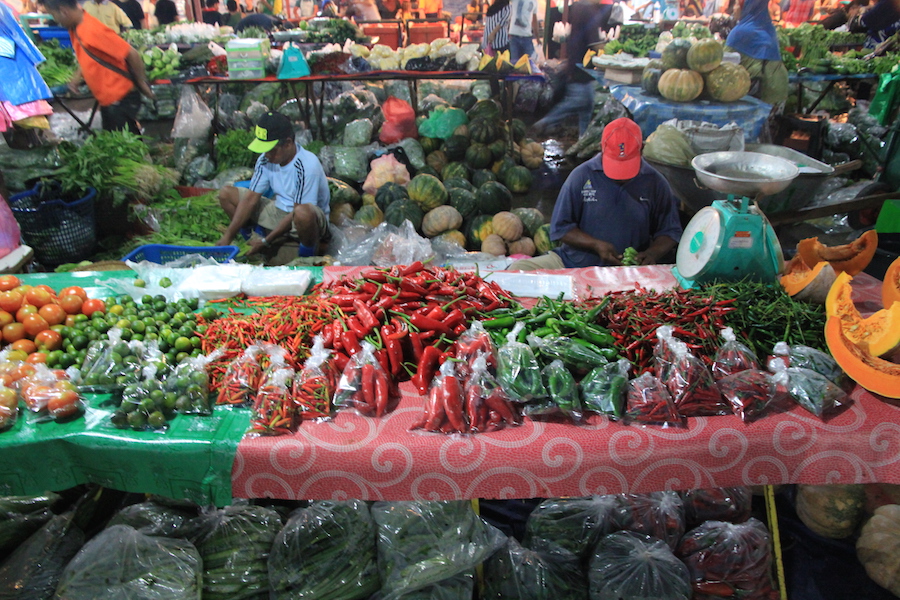 Boli tam krajčíri (samí chlapi), ktorí na šlapacích strojoch na počkanie robili rôzne úpravy a opravy: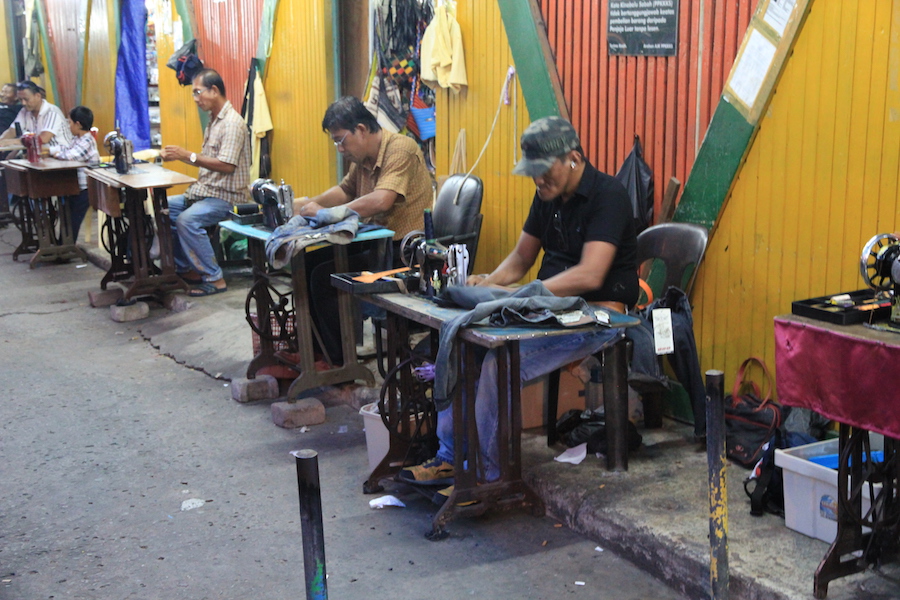 Tri večere sme absolovali na nábreží, lebo nás tam fascinovali stánky s rozloženými čerstvými rybami a morskými potvorami, ktoré tam priamo pripravovali. Provizórnych jedální tam bolo asi dvadsať a typicky to vyzeralo tak, že ľudia si vybrali, čo sa im pozdávalo:
dohodli sa s kuchárom, ktorý tam bol s plnou poľnou:
a takéto boli výsledky: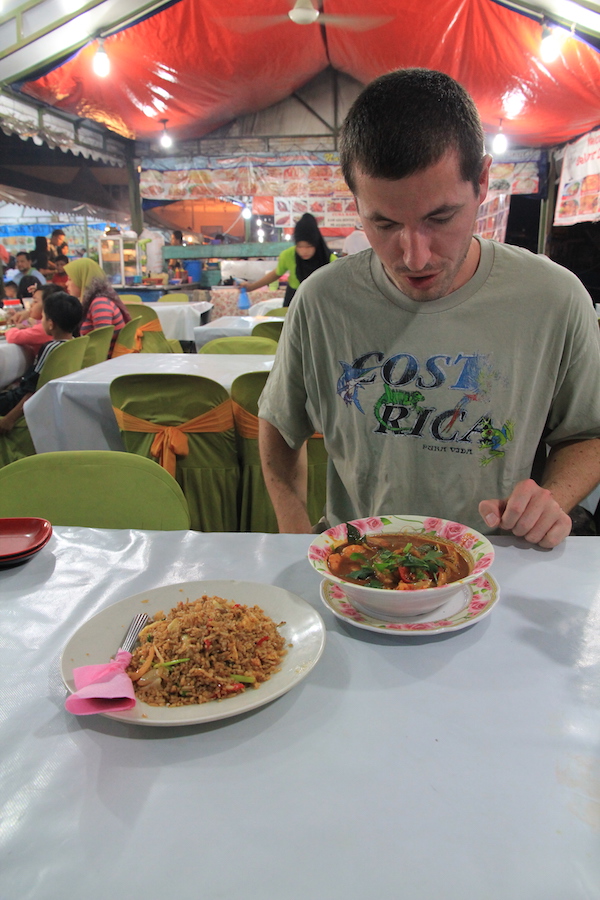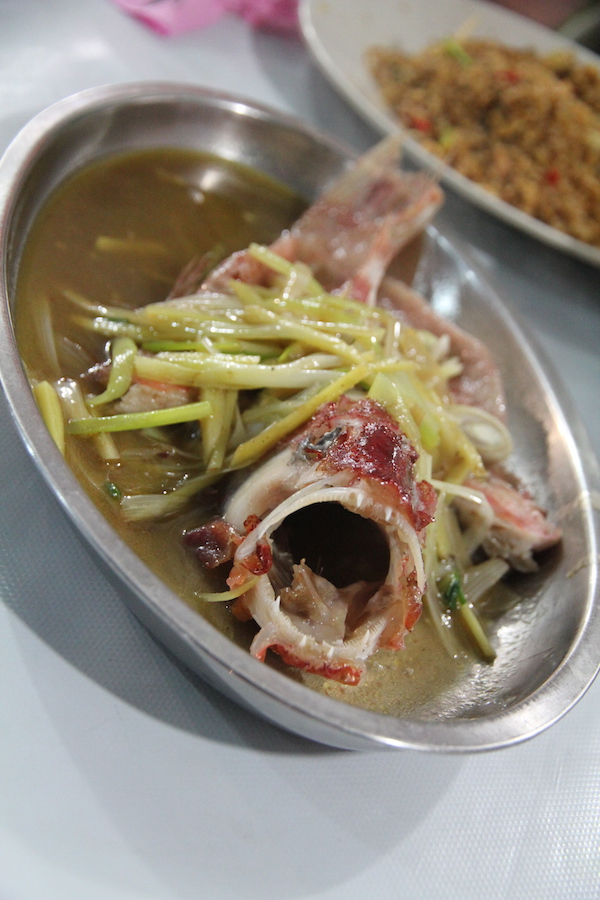 Jeden večer sme boli vyskúšať aj tradičnú masáž. Nohy som mala potom ľahké ako víla, ale chrbát ma na druhý deň bolel ako keby mi niekto po ňom poskákal.