Včera sme mali ísť na výlet s ďalšími troma turistami do ostrovného parku Tun Sakaran. Z nejakého dôvodu sa tí traja nedostavili (aj nám to domáci vysvetľovali, ale sme to nepochopili), tak sa stalo, že v loďke sme zase boli len my dvaja a traja miestni chlapci – z nich jeden šoféroval, jeden bol vystrojený na kúpanie s nami a rozprával sa s ľuďmi na ostrovoch a tretí vedel asi 20 slov po anglicky a pomocou nich nám tlmočil.
Okrem nás naložili ráno do loďky aj 12 kíl tapiokovej múky, 4 zväzky asi meter dlhej cukrovej trstiny a dve igelitky starého oblečenia. Prvá zastávka v parku totiž smerovala do dedinky Bodgaya, v ktorej bývajú potulní Bajau sea gypsies.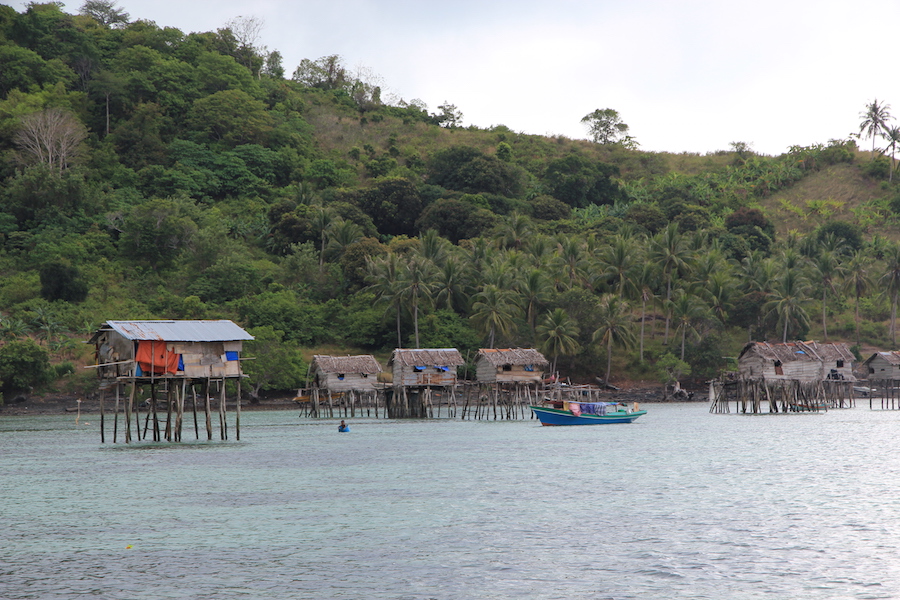 Keď nás zbadali, ženy a deti nastúpili do kanojek vyrezaných z dreva a dlhými palicami sa odrážali, aby sa k nám dostali. Nerozumejú jazyku Bahasa Melayu, ktorým sa tu hovorí, ale jeden z naších spoločníkov v loďke vedel pár slov ich jazyka, takže prebehla aj krátka komunikácia. Múka, trstina aj oblečenie sa rýchlo minuli a vysmiati domáci sa odpádlovali naspäť.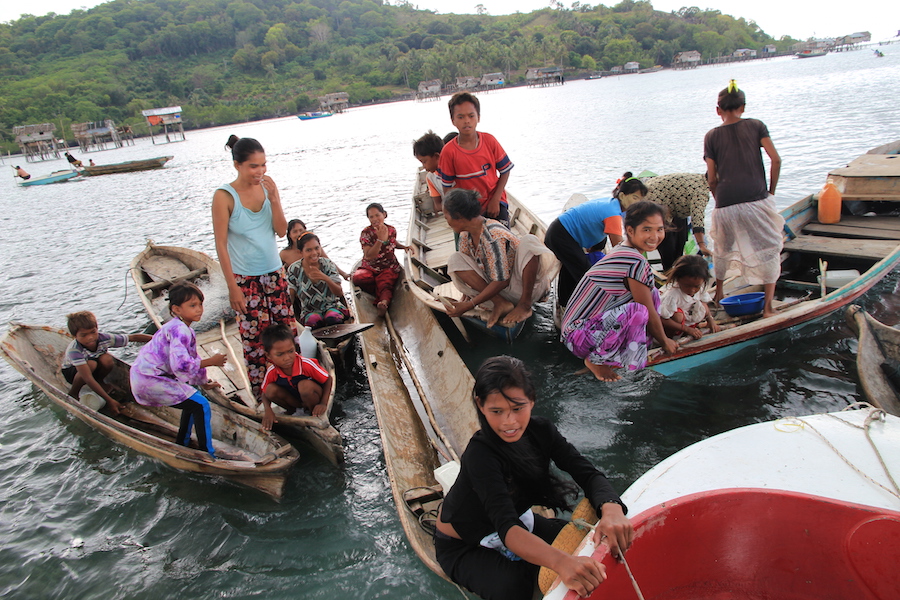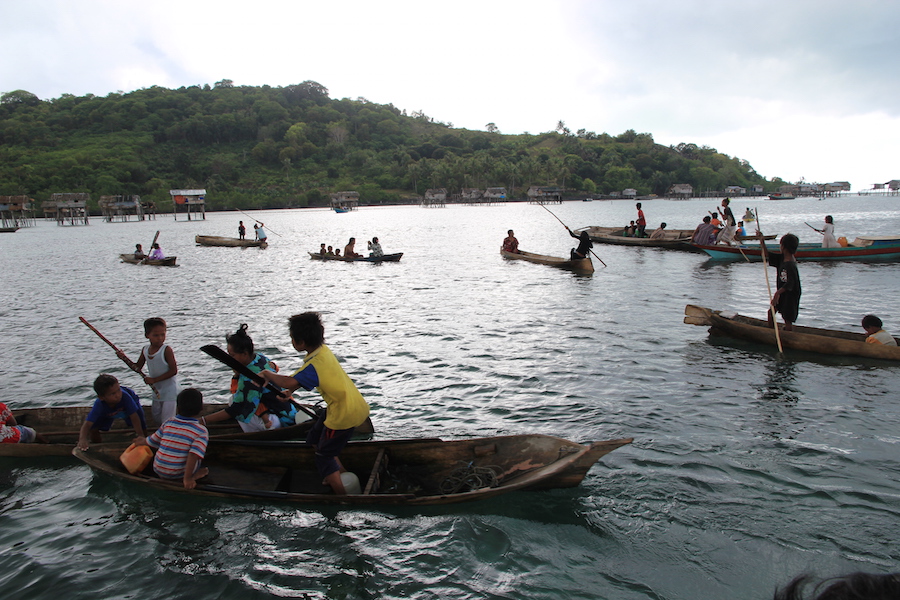 Ja neviem. Na týchto loďkách sa do najbližšieho mesta (Semporna) zrejme nedostanú. (My sme išli motorovým člnom asi 45 minút.) Nepodarilo sa mi zistiť, či by im to jedlo a veci zaniesli, aj keby sme okolo nich nešli na náš výlet. Mala som pocit, že je to naaranžované ako show pre turistov. Či áno alebo nie, ani jedna z tých možností sa mi nezdá ok. Ale fakt je, že tí ľudia tam žijú.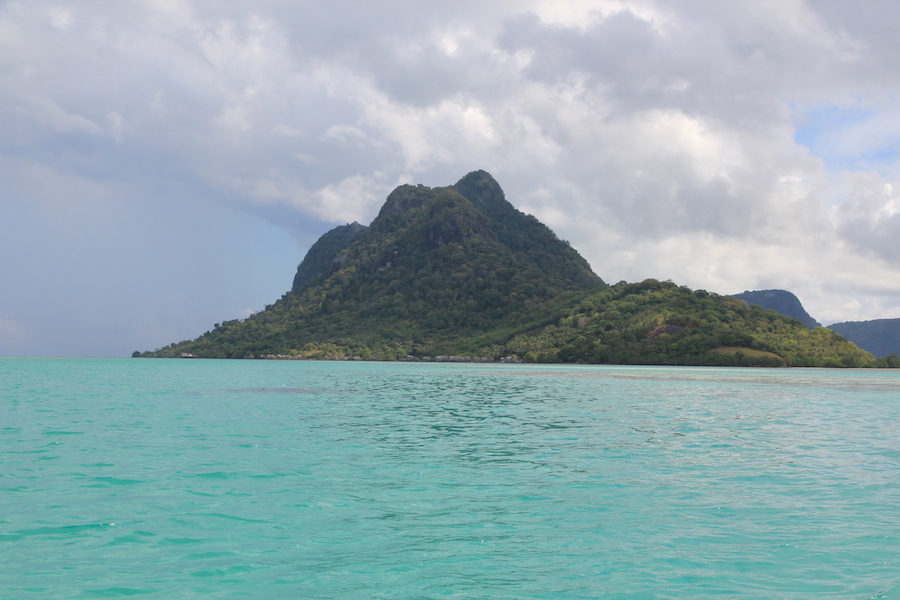 Potom už oficiálna zastávka v parku. Plán bol, že vylezieme na tento kopec a pozrieme si ostrovy aj zhora, ale keď sa ukázalo, že samých nás nepustia a sprievodcovi treba dať sprepitné 50RM (ktoré sme navyše so sebou ani nemali a dobre že tak, lebo ráno bol taký dážď, čo pršal akosi všetkými smermi, takže ešte prv než sme vôbec vyrazili, tak sme boli mokrí až do nitky a to mala naša lodička aj strechu… jej meno som tentokrát nebola schopná rozlúštiť, lebo to boli nejaké kliky-háky), tak sme sa na kopec vykašľali a pozreli si namiesto neho stanicu, kde sa starajú o miestne veľké mušle, predtým, než ich opäť nasadia do vody. 
Už tie, čo mali v akváriách sa nám zdali veľké (cca 20cm), ale keď sme potom vliezli do vody a videli tam také polmetrové, tak sme čumeli.

Potom nasledoval ostrov Mantabuan. Okrem vojenskej posádky, ktorá má na ňom základňu, je úplne dokonalý.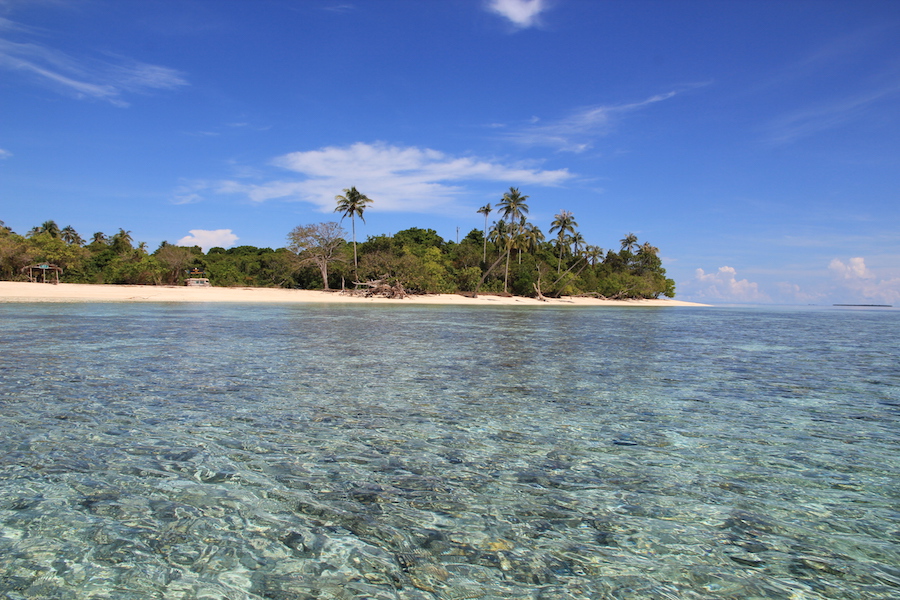 Toto je najlepšie miesto na šnorchlovanie, aké sme doteraz navštívili (a to súťaží s ostrovmi okolo Semporny, s ostrovmi v Abdul Rahman Marine Parku a šnorchlovaním na Hawaii). Úžasná viditeľnosť, krásne rôznofarebné koraly, kopa rýb.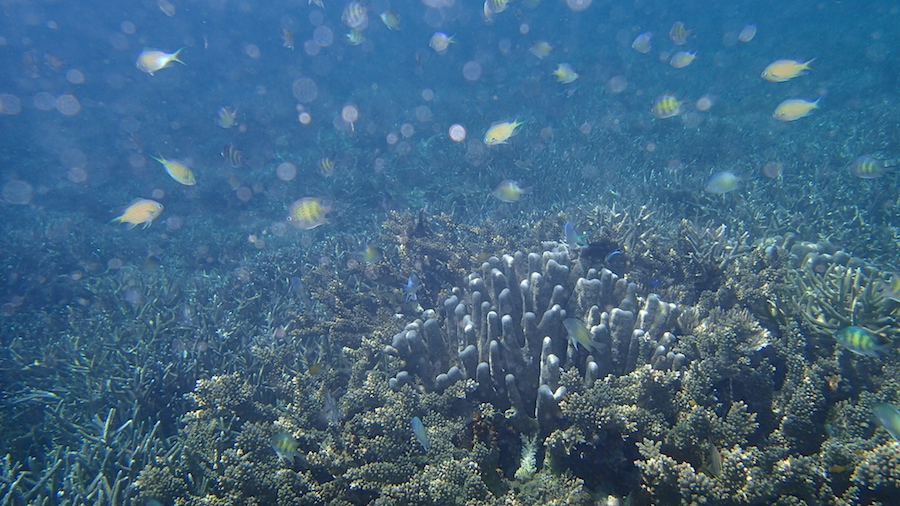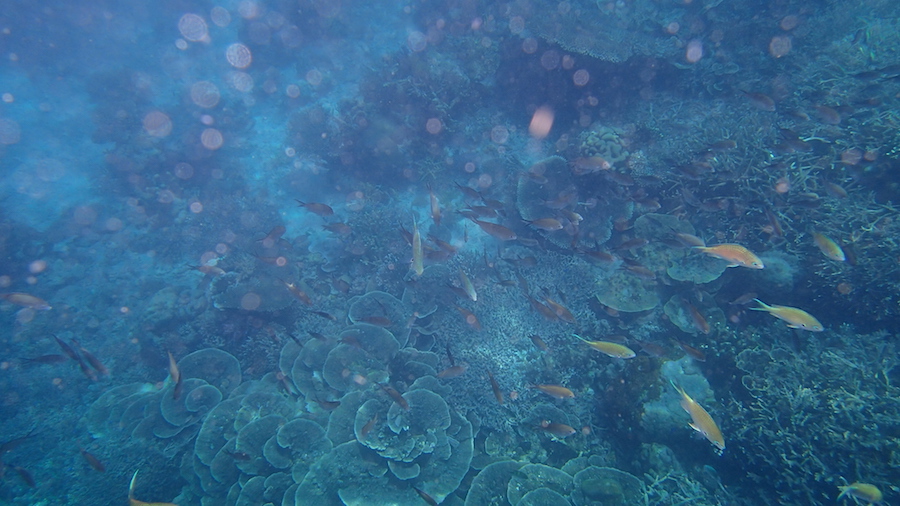 Jeden z mojich mnohých pokusov mať na jednej fotke aj ryby, aj ostrov. Akosi sa mi vždy podarilo len jedno z toho:
Zase sme raz natrafili na spiacu korytnačku. A na jej chrbte sa vyhrievali dve ryby.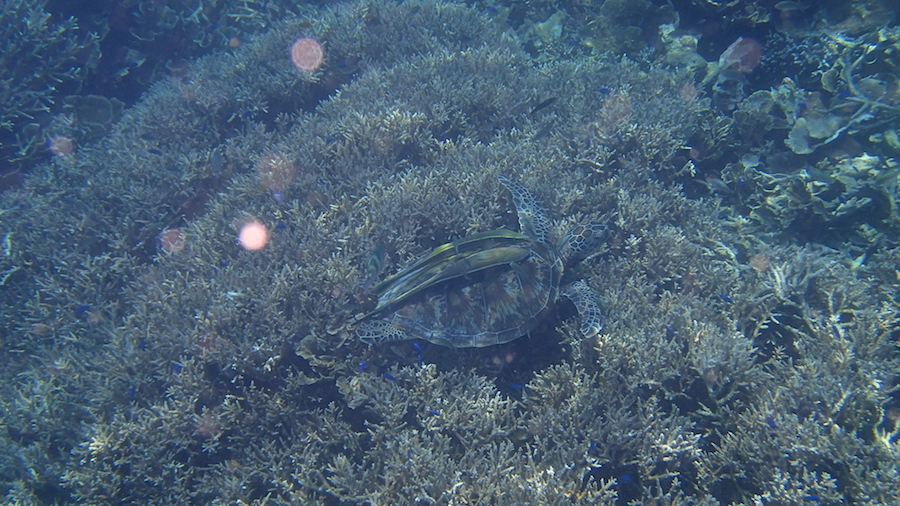 Keď som k nej prišla na cca 2 metre, tak asi zacítila pohyb vody alebo niečo, zobudila sa, zhodila ryby a odplávala do hlbočiny. 
Chvíľku som ešte išla za ňou, ale keď už sa mi stratila z dohľadu (podľa môjho odhadu, ktorý ale treba brať veľmi s rezervou, lebo mne nejde moc dobre odhadovanie vzdialenosti ani na súši, nieto ešte pod vodou, tam bola viditeľnosť tak 20 metrov), tak som sa obrátila zase naspäť. A tam táto medúza.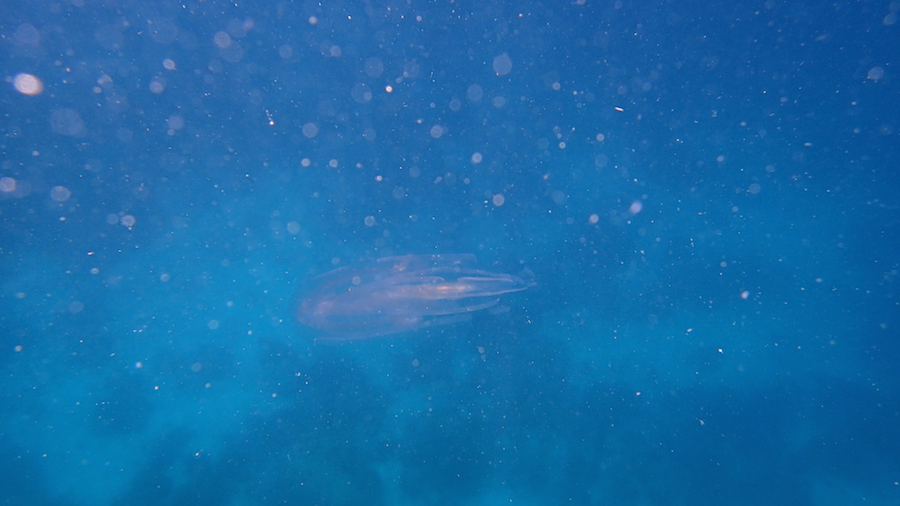 Tej som sa vyhla širokým oblúkom, lebo s medúzami nemám príjemné skúsenosti a natrafila na ďalšiu korytnačku. Naozaj výborné miesto na šnorchlovanie.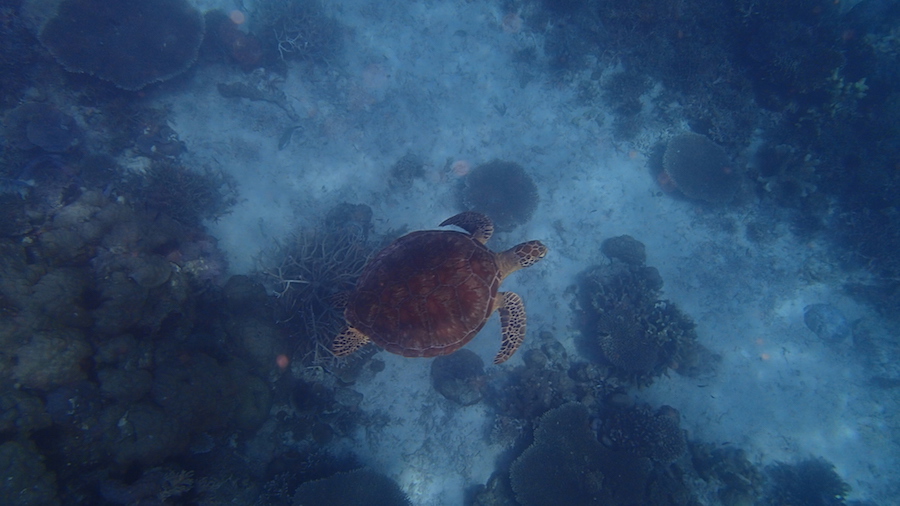 A potom ešte Sibuan. Na ňom boli zaujímavé dve veci. Voda bola ešte teplejšia ako inde. Miestami až nepríjemne teplá, mali sme pocit, že nás páli. Koralom to asi tiež nerobí práve dobre. A hejná rybičiek.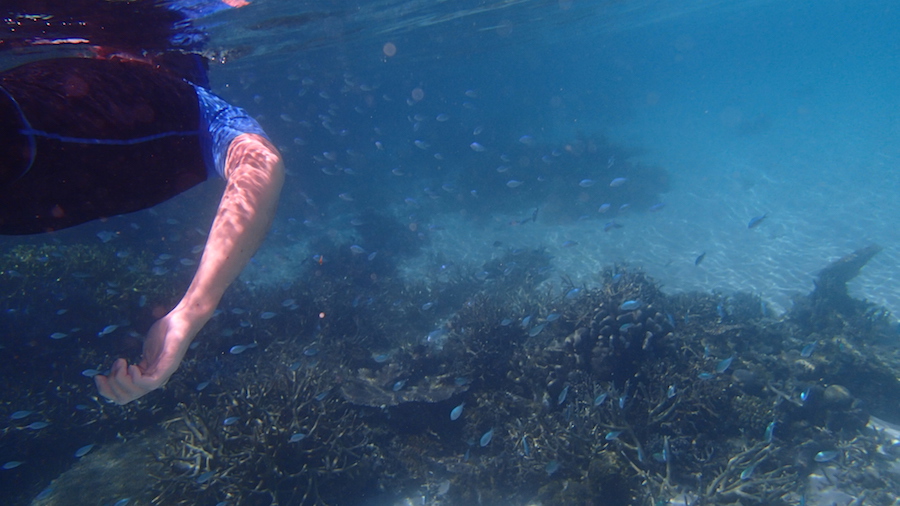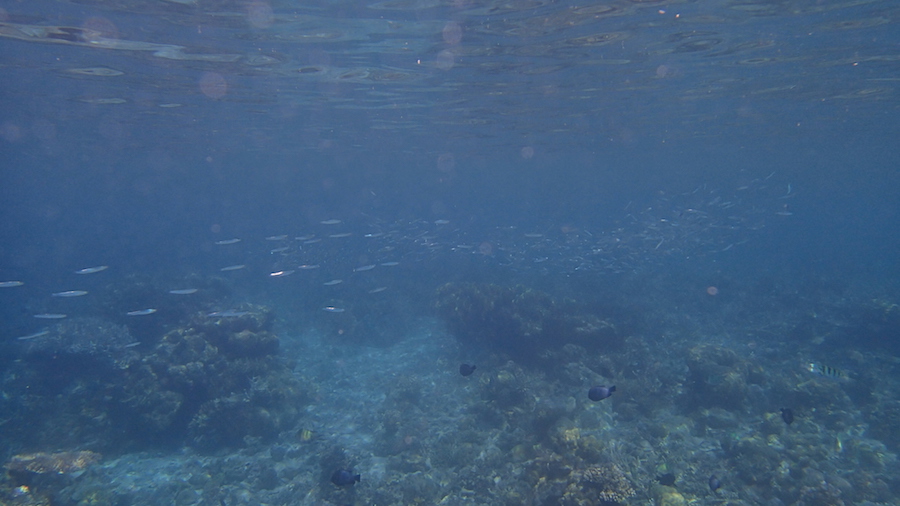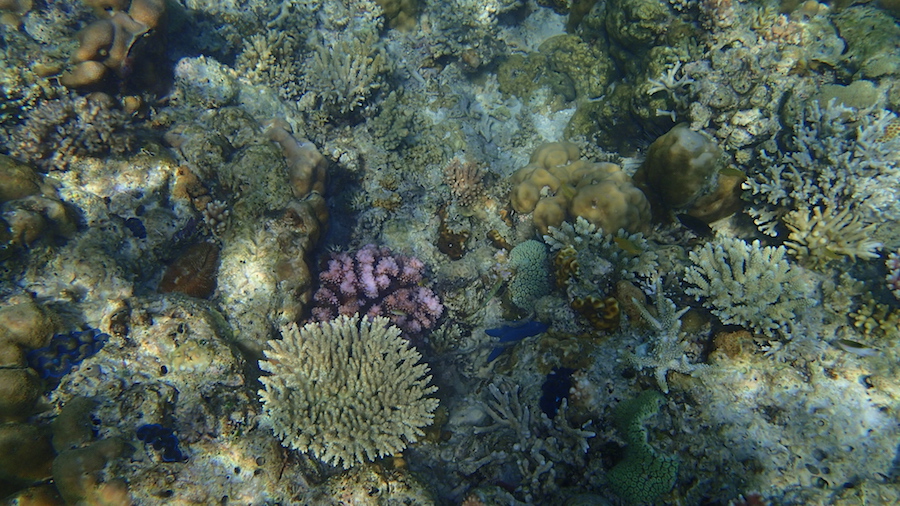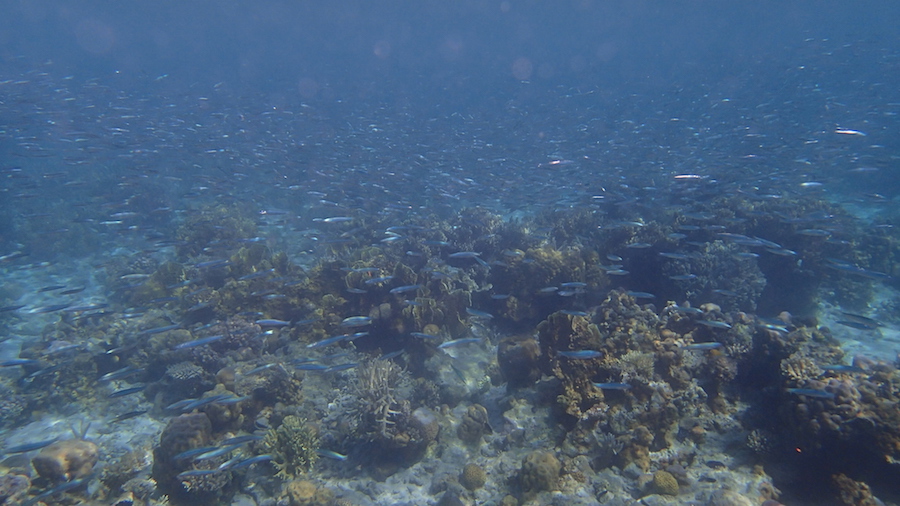 Cestou naspäť ešte krátka zastávka na ostrove Maiga, kde nám miestne deti predvádzali stojky vo vode. A rýchla jazda okolo farmy na morské riasy naspäť do Semporny.