Chýbalo nám more. V lete sme pri žiadnom neboli, lebo sme mali starosti s rozbitou kúpeľnou, a tak sme si povedali, že pôjdeme v zime. Bolo nám jasné, že chceme ísť do tepla, aby sa tam naozaj dalo kúpať a bolo nám jasné, že Vianoce sú v takýchto destináciách top sezóna, takže nebude úplne jednoduché násť niečo za rozumnú cenu. Nakoniec z toho vyšlo Thajsko. Leteli sme cez Londýn (áno, trochu opačným smerom) a Dohu do Krabi. Tam sme dorazili o siedmej ráno, tak sme batožinu nechali v hoteli na recepcii a išli jet lag dospávať na pláž.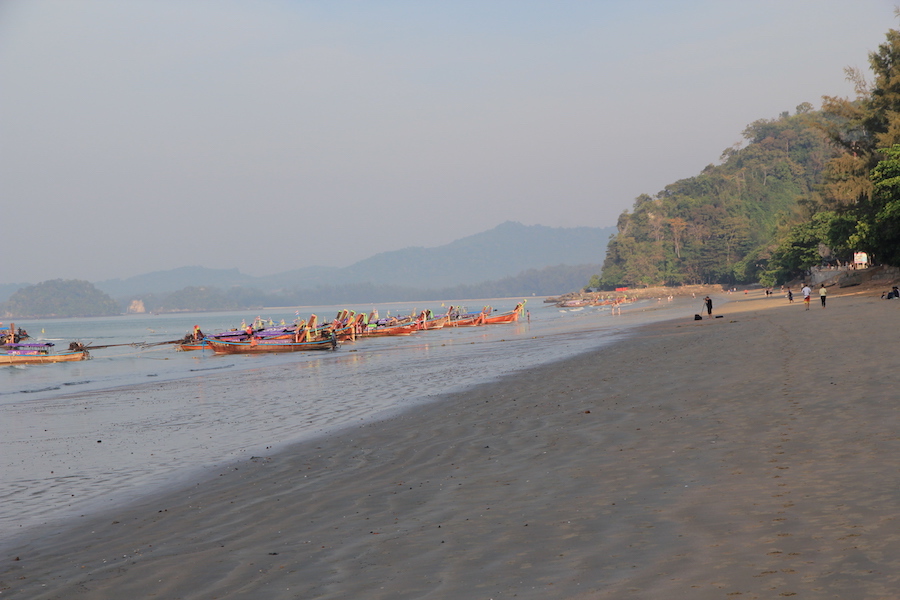 Deťom sa spať veľmi nechcelo. Deň, piesok, more… takže fičali akoby nič, ale potom sa to prejavilo večer. Z Kuba akoby niekto vybral baterky. Povedal, čo si dá na večeru a kým ju doniesli, tak sa úplne vypol a na izbu ho bolo treba odniesť.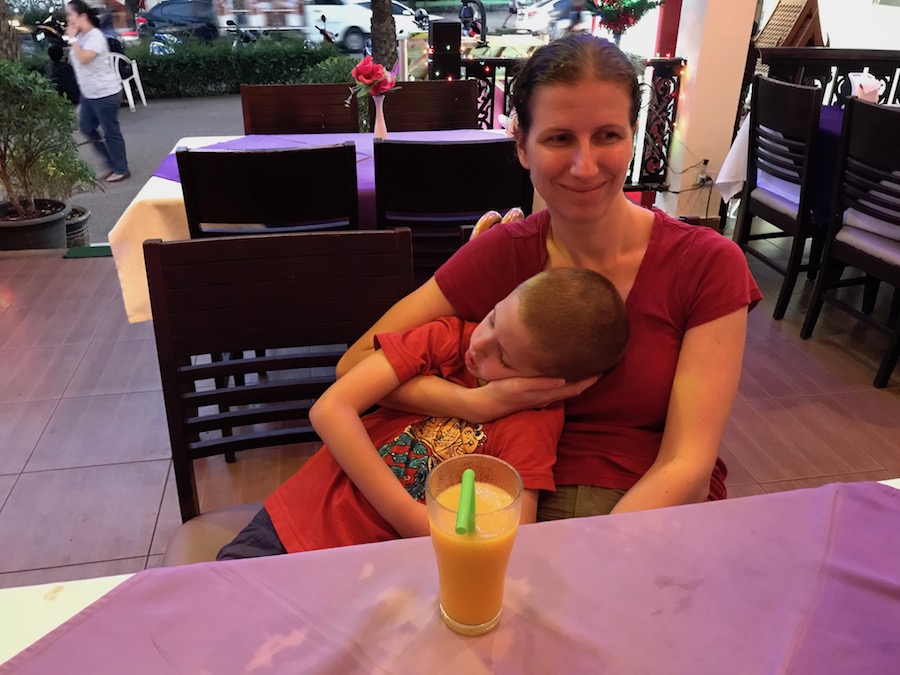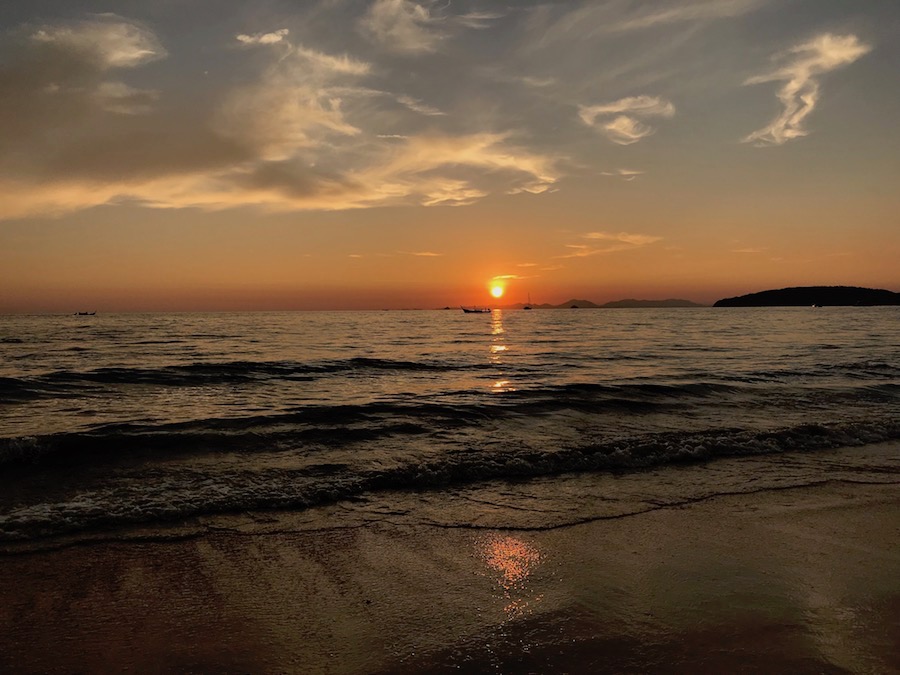 Na pláž sme chodili každý deň, plávali, keď bol príliv, stavali stavby z piesku, keď bol odliv. Rozdiel bol naozaj veľký a to sme ešte netušili, ako sa to prejaví inde.
Jeden deň sme sa vybrali loďkou na susednú Railey Beach, ktorá je známa hlavne medzi skalolezcami. A chodili sme na masáže. Tie boli 4-10 euro/hod a väčšinou boli veľmi dobré.
Ao Nang je veľmi turistické mestečko, takže na Silvestra to tam obzvlášť žilo. Deti sme zobudili okolo jedenástej a išli sme pozerať na pláž vypúšťanie lampiónov a ohňostroje. Fascinovali ich vysvietené hrajúce autá a tancujúci ľudia na ulici.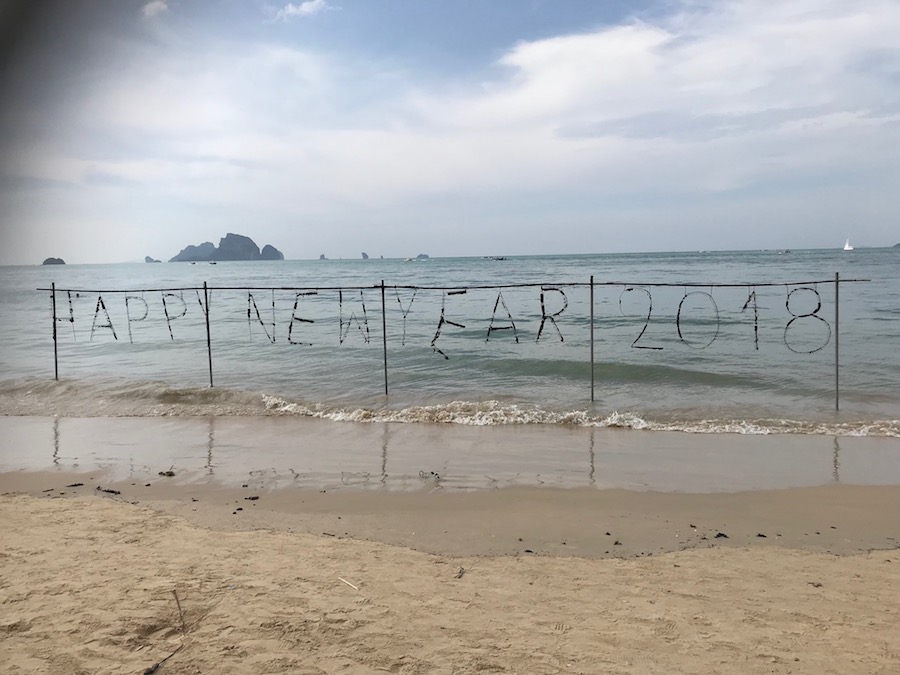 Jedli sme všeličo. Raňajky v rodinnom hotelíku, kde sme bývali, na obed ovocie, miestne palacinky a grilovanú kukuricu.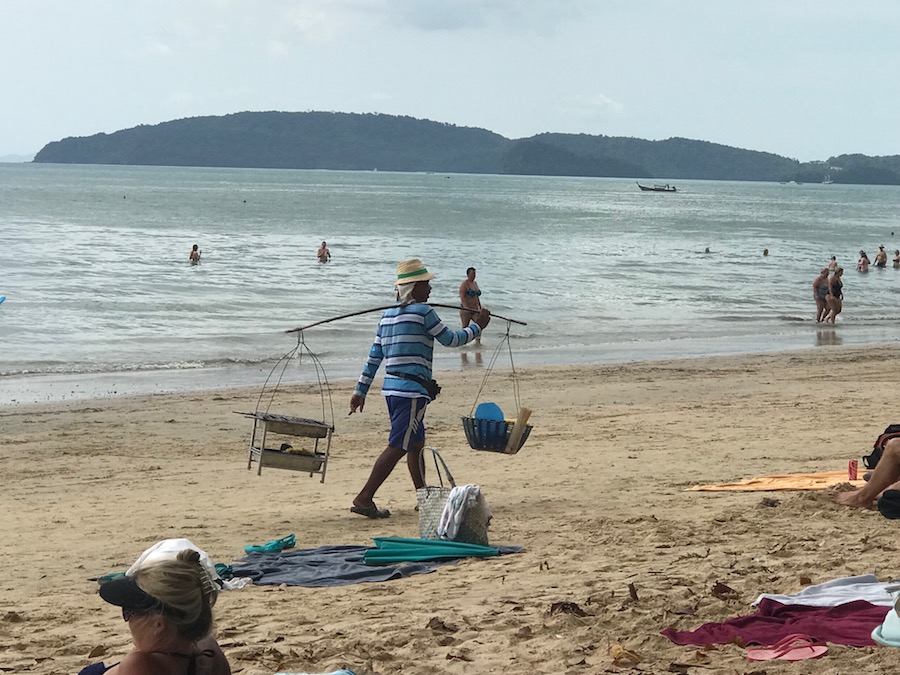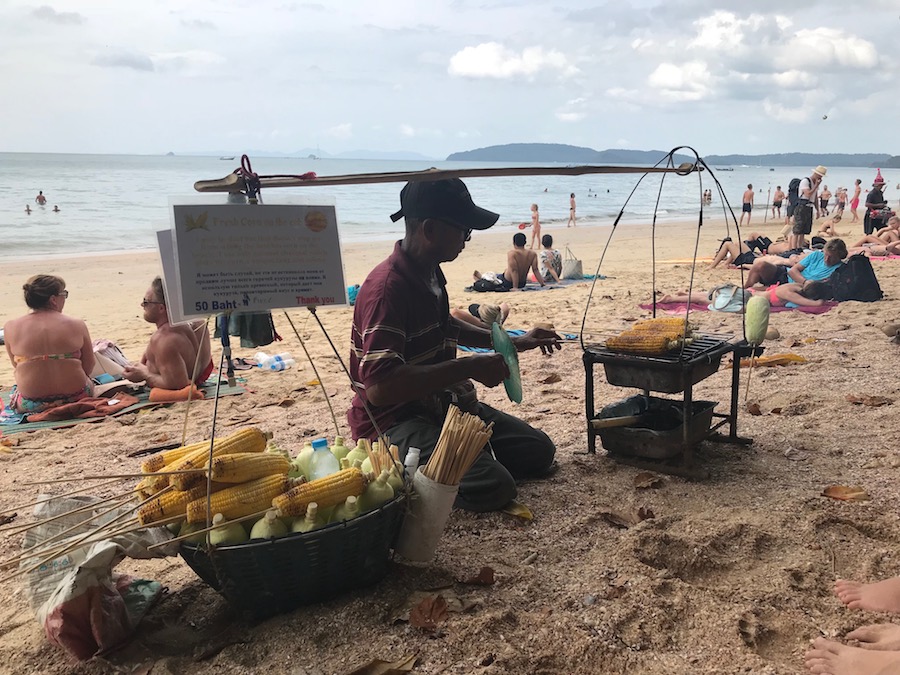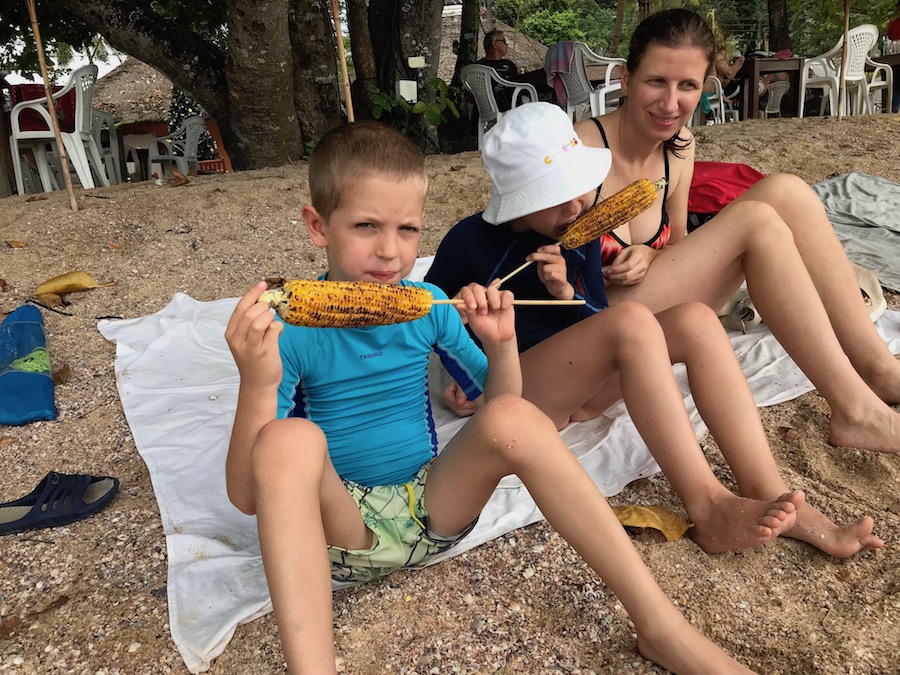 Z ovocia hlavne mango, malé banány a rambutany. Ale občas bol aj ananás, mandarinky, zelené figy. Skúsili sme aj dragon fruit a chlebovník.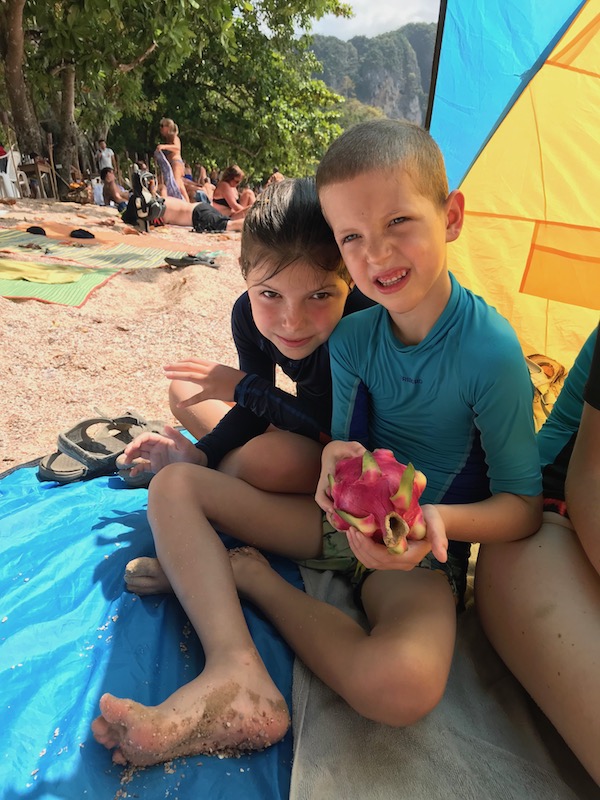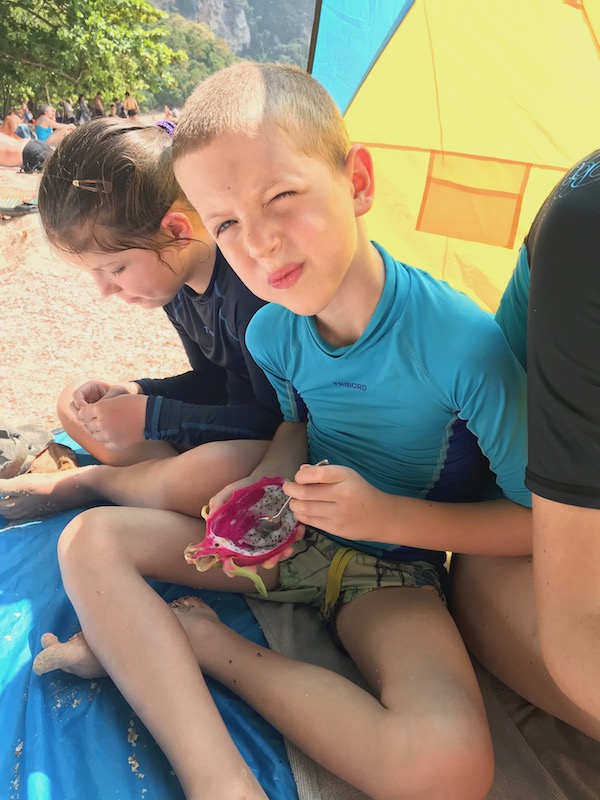 A na večeru sme chodili zakaždým niekde inde, väčšinou na krevety. Deťom sa páčila ryža na sladko v ananáse, ja som zase skúšala všelijaké curry s kokosovým mliekom.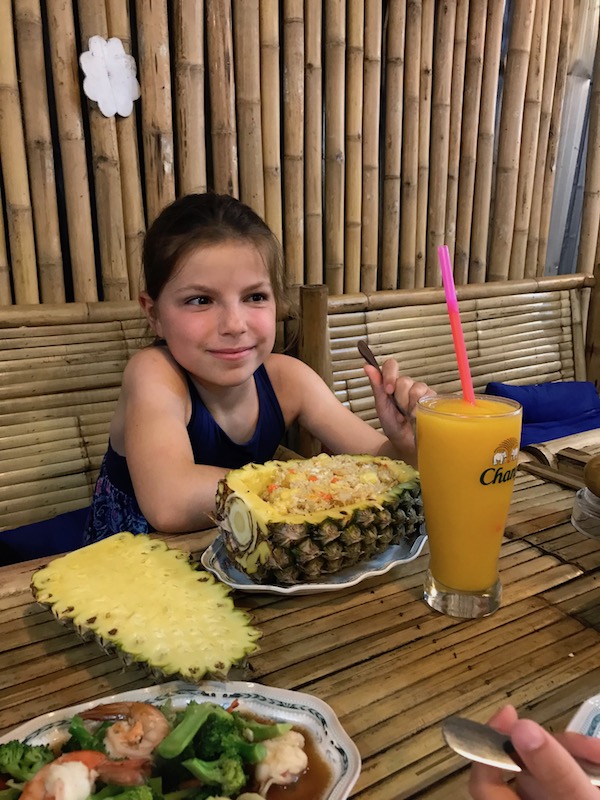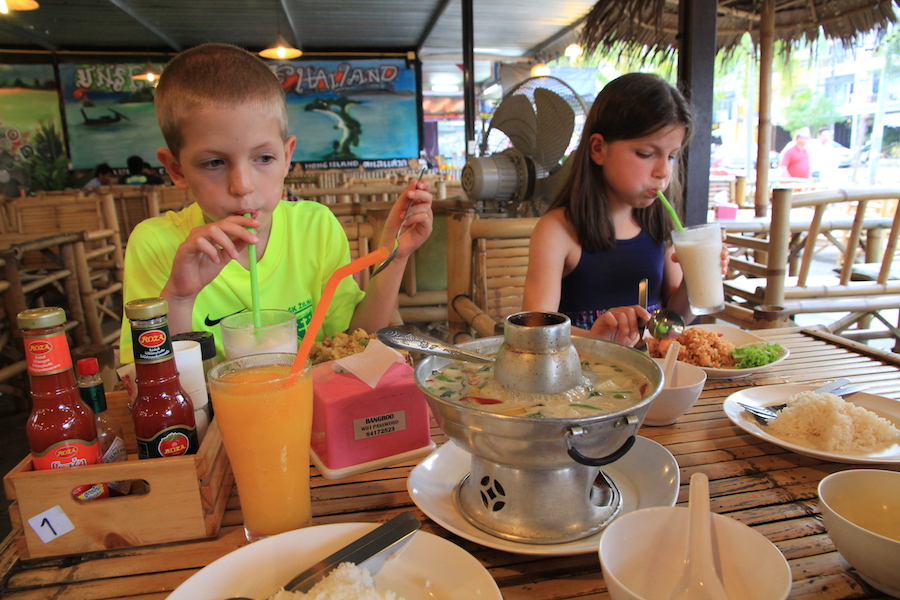 Pili sme ovocné, najčastejšie mangové, shaky. A nikomu nebolo z jedla zle. Thajsko je prevažne budhistická krajina, ale na juhu, kde sme boli my, kde susedí s Malajziou, žije moslimská menšina. Už v Malajzii sa nám osvedčilo vyberať si na jedlo moslimské halal kuchyne, ktoré aj v poľných podmienkach dokážu pripraviť jedlo pomerne čisto (v porovnaní napríklad s indicko-hindu-… kuchyňami).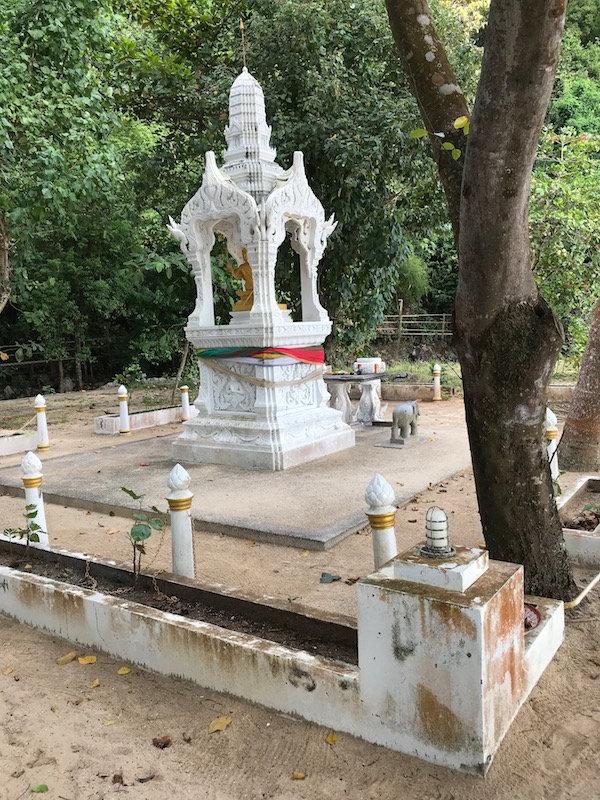 A po novom roku sme sa presunuli na ostrov kúsok na juh, preč od kôp turistov a civilizácie. Zaujímavá bola cesta do malého prístavu: kopy ananásov na predaj – pár centov za kus, všade motorky, jazdí sa po opačnej strane cesty ako u nás, neskutočné elektrické vedenia a poprepletané drôty v mestečkách. Zorganizovaná bola veľmi zle (TigerLine Ferry to veľmi nezvládla) ale bolo fajn vidieť aj kúsok vnútrozemia.