Obaja s Mišom radi chodíme (aj teraz v septembri sa chystáme) na našich obľúbených improvizátorov 3T, takže keď sme išli do New Yorku, začali sme sa obzerať po Stand Up kluboch, ktoré by sa dali ísť pozrieť. The Stand mal celkom dobrú povesť ako liaheň nových talentov, ktorú občas navštívia aj známe tváre, a pondelkovú show zadarmo. (Zadarmo sa ukázalo, že je za dva 15-dolárové drinky.)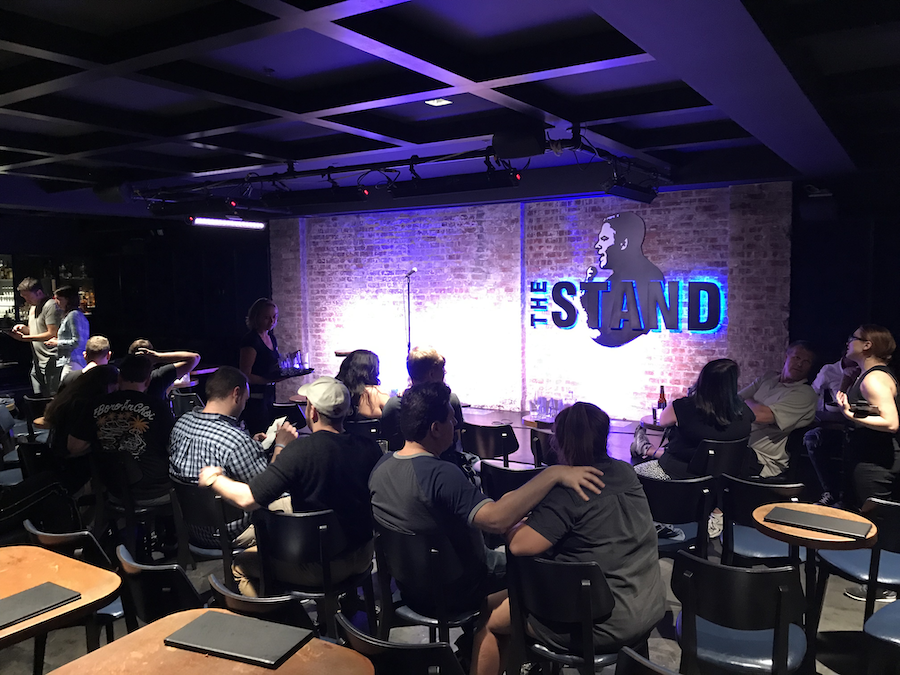 Nenechali sme sa posadiť hneď ku pódiu, čo spätne hodnotíme ako celkom dobrý nápad, lebo zjavne sedením v prvom rade človek dáva najavo, že mu môžu vystupujúci povedať čokoľvek. A servítky pred ústa si tu teda nedávali. V krajine korektných vyjadrení si robili nemiestnu srandu z bielych, čiernych, obéznych, žien, postihnutých, znásilnenia, homosexuálov, Trumpa, Epsteina, Británie, všetkého, na čo prišla reč.
Zmiešané pocity. Na jednej strane je pravda, že sme kopu vtipov nepochopili. Niečo kvôli angličtine a slovným hračkám, niečo kvôli chýbajúcim reáliám. Kopu sme pochopili a smiali sme sa. A kope sme rozumeli, ale dvíhali obočie. Nič nebolo off-limits a vtipy boli drsné. Väčšina ľudí asi vedela, čo môžu očakávať, ale nebola som jediná, koho to prekvapilo. Mišo zhodnotil, že bližšie ako k 3T má táto show k Temným kecom, akurát na nadávky vyzerá byť angličtina kúštik chudobnejšia.