Niektorí dnes slávia Komenského narodeniny a deň učiteľov. Medzinárodný deň učiteľov je vraj 5. októbra. Pokojne tých sviatkov môžeme mať aj viac, veď aj učiteľov a učiteliek, viac-či-menej dobrovoľných, máme teraz tiež viac a niečo dobré by si zaslúžili. Aj keď teda sviatok nikomu nepomôže, ale aspoň je to celkom dobrá príležitosť porozprávať, ako to v týchto dňoch vyzerá s učením u nás. Keď nám pred vyše dvoma týždňami zavreli školu, spravili sme si s spolu deťmi rozvrh na pracovné dni a plus-mínus podľa neho ideme.
Po raňajkách každý deň začíname matikou. Kika väčšinou dostane od svojej učiteľky video na Khan Academy a sadu príkladov, ktoré má zrátať. Niekedy má namiesto príkladov pripraviť lekciu pomocou Flipgrid, kde vysvetlí nejaký koncept na príklade. Buď len nahrá krátke video, kde to porozpráva, alebo ak treba písať, tak si dopredu nachystá "tabuľu", na ktorú môže ešte dopisovať. Občas ešte dostane hlavolamové príklady navyše. Keď nie, tak rieši Sezamkové alebo Maksové úlohy. Kubo väčšinou dostane video s pánom Burgerom. Pán Burger ho baví, ale matika sa mu zdá veľmi ľahká. Príklady od pani učiteľky dostáva kvízové na IXL a na XtraMath, ale XtraMath som mu zatrhla, lebo je to len dookola klikanie malej násobilky. Radšej mu tiež namiesto toho dávam niečo viac rozmýšľacie: Maksíka, niečo zo slovenského štvrtáckeho pracovného zošita, iBobor… Niekedy riešia niečo spoločne, naposledy Einsteinovu úlohu, kto býva v ktorom dome.
Potom máme angličtinu, ktorú tu volajú ELA – English Language Arts. Kika niekdy dostane článok, ktorý má prečítať a potom odpovedať na nejaké otázky, či čítala s porozumením. Niektoré sú len vybrať z možností, niektoré musí napísať odstavec a doložiť to nejakým citátom z textu. Niekedy má za úlohu pol hodinu si čítať, čo chce, a potom napísať, o čom čítala a čo si o tom myslí. (Písanie je všetko na počítači.) Tento týždeň prečítala Chocolate touch a Sideways stories from Wayside school. Zatiaľ ešte máme dosť papierových knižiek doma, lebo sme sa prezieravo zásobili dva dni predtým, než sa zavrela knižnica a aj škola posledný deň poslala s deťmi domov vyše desať malých knižiek, ale keď dôjdu, máme prístup do knižnice online a aj do detskej knižnice Epic. Okrem toho ešte celá trieda číta Number the stars – knižka o dievčati a jej rodine, ktorá pomáhala židom utekať z Dánska počas druhej svetovej vojny. Učiteľka sa ich na každú kapitolu niečo pýta, mali Google meet, kde rozoberali, prečo sa kniha volá práve takto… Ale teda, táto kniha je pre Kiku celkom ťažká (aj angličtinou, aj témou), takže ju čítame spolu. Kubo väčšinou dostane nejakú rozprávku na Readworks, kde ju môže zároveň aj čítať, aj počúvať a potom sa má tiež k niečomu vyjadriť. Do toho sa mu vyslovene nechce, pol hodinu sa vykrúca, kým napíše ten jeden odstavec. Niekedy má kvíz na IXL, to je celkom dobré, lebo si zlepšuje slovnú zásobu. Knižky, čo teraz naposledy čítal, boli jedna o Aljašských pretekoch Iditarod, House of robots a Potterwookie. A ja do angličtiny počítam aj to, čo pozerajú 🙂 naposledy Addams family (tie staré diely) a Magic schoolbus.
A potom slovenčinu. Raz za týždeň im nadiktujem diktát (obidvom ten istý) a Kubo určí slovné druhy a Kika pre pár slov gramatické kategórie. Ostatné dni si vyberieme niečo z úloh, ktoré slovenské pani učiteľky dajú cez elektronickú žiacku knižku alebo cez alfa, nech máme prehľad. Pôvodný plán bol prísť na preskúšanie do slovenskej školy na konci júna, ale teraz vôbec nie je jasné, či sa to bude dať… Ale keď budú slovenské deti nejako hodnotiť online, tak snáď by mohli aj tých našich…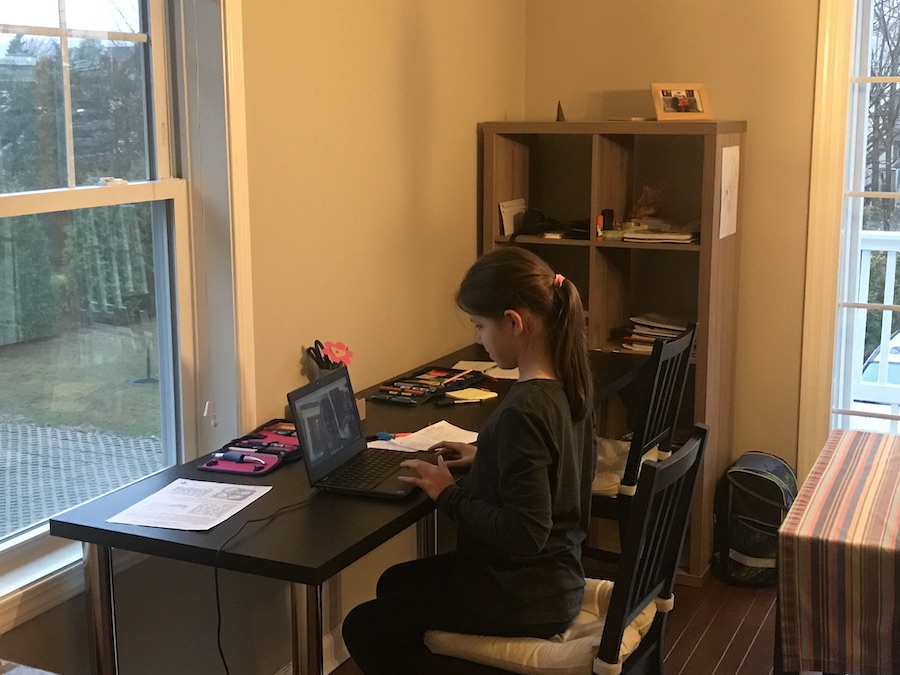 Potom chystám obed a deti mi tak striedavo pomáhajú a telefonujú/píšu s kamarátmi. Po obede najprv dorazíme, ak je ešte niečo na úlohu z tunajšej školy. Väčšinou býva na pol hodinu buď social studies alebo science a občas španielčina.
Na social studies sa Kubo učil o New Jersey (tiež všeličo čítal a potom mal kvízy, ale ľahké kontrolné otázky na druhý deň odhalili, že veľa sa toho nenalepilo) a Kika prečítala slovenskú učebnicu dejepisu a bola na virtuálnej návšteve na Ellis Island. Okrem toho sme čítali komixy o peňažnom systéme, ktoré mi poslal FED ako odškodné za zrušenú tour. Občas pozrieme stránku NewsForKids, lebo Kika je veľmi nažhavená pozerať správy, ale spracovávať ich veľmi ešte nevie.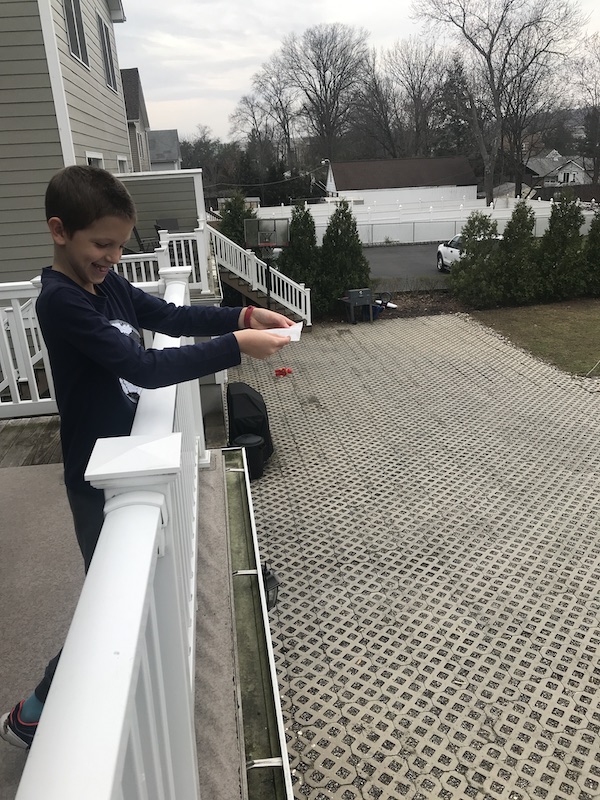 Na science Kubo vynaliezal padák (prototypy testoval tak, že zhadzoval Lego panáčika z terasy), na BrainPop sa učil o magnetoch a rôznych typoch síl. Kika čítala o hmote/skupenstvách/kondenzácii a čo to má spoločné so sopľom… a má tiež spraviť najaký vynález. Zatiaľ to vyzerá na radlicu na vysávač, aby odhŕňala Lego kocky rozsypané na zemi (facepalm)… A pozeráme videá na The kid should see this.
Na španielčinu nahrávajú krátke videá cez Flipgrid: o sebe, o rodine, o dome. Kubo ten dom minule rapoval… A s Mišom počúvajú podcasty Coffee break Spanish.
A potom robia "naše veci". Programujú v scratchi. Niekedy programujú Lego robotov, s pomocou knižky spravili triedič kociek podľa farby: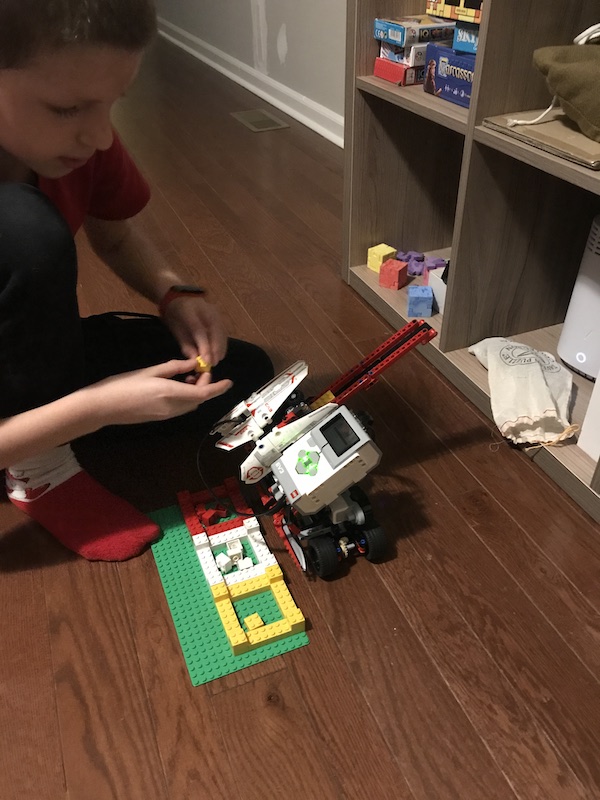 Kubo v jednej hre na matike nakreslil obrázok: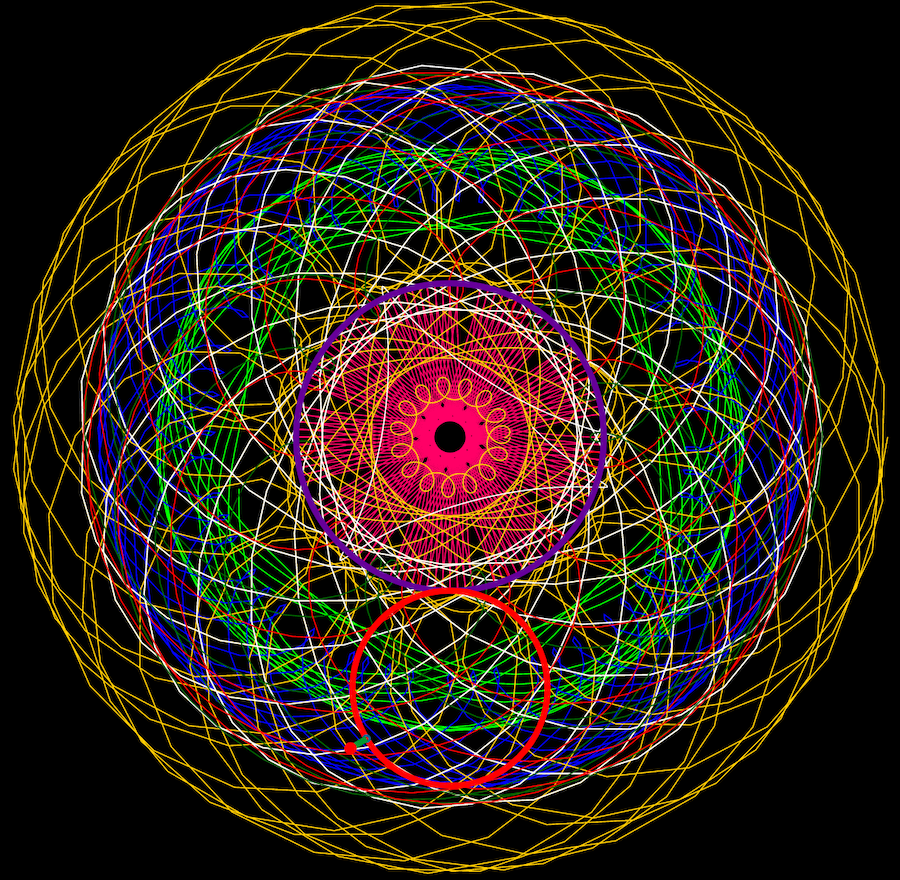 A potom chcel také programovať:

Spravili sme spolu fotoknihu, na ktorú sme sa chystali už skoro rok:
Stop motion video (pomocou ClapMotion):
Prelistovali sme knihu o Leonardovi da Vincim a deti dostali úlohu nakresliť jedno zviera v troch rôznych pózach:
Kika si robí kuchársku knihu podľa toho, čo varíme a pečieme, Kubo kreslil draka: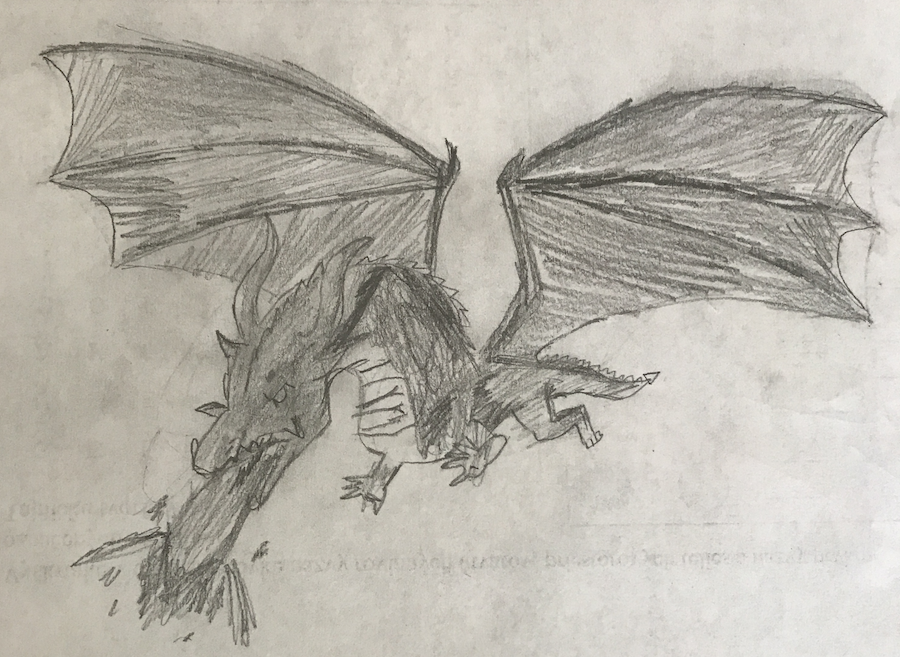 A spolu s Kikou kreslia kriedami na chodník aj pre nás aj pre susedov. Prší každú chvíľu, takže miesta je stále dosť.
Chodíme sa venčiť. Prechádzky ich nebavia, takže väčšinou s loptou na ihrisko alebo chodia s Mišom behať na atletický ovál.
A tak… je ale veľká škoda, že nemôžu chodiť do školy. Keď sa trochu rozkecali a začali sa kamarátiť so spolužiakmi, tak prišla karanténa. A nie je vôbec jasné, kedy sa škola zase otvorí. Krátkodobo je tento setup fajn, robíme kadečo, na čo pretým "nebol čas" a často sa vyberieme, kam nás zvedavosť zavedie, len ja stále rozmýšľam, čo bude ďalej. To už je ale na iný post.