Nie je žiadne tajomstvo, že som veľkou fanúšičkou našej knižnice. V zime sme si okrem kníh požičiavali aj vstupenky do múzeí. Teraz v lete pre deti zorganizovali story walk – prechádzku po meste s rozprávkovými zastávkami a nasmerovaním na ďalšie stanovište. Namiesto workshopov, ktoré ešte stále nemôžu robiť naživo, majú Take it and make it program – dá sa zastaviť pre materiál a buď cez zoom s nimi alebo vo vlastnom čase podľa youtube tutoriálu si každý týždeň niečo vyrobiť (napríklad paracord náramky, čo majú obaja na tejto fotke).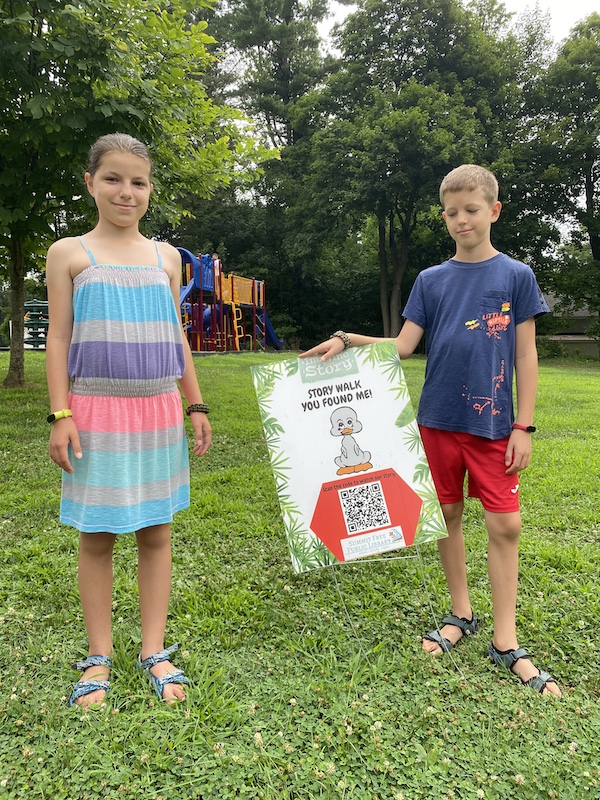 Cez leto beží čitateľská súťaž (Kika si robí zálusk na darčekovú poukážku do miestnej zmrzlinárne). Teraz je knižnica síce zase dočasne zatvorená (pre výpadok elektriny po utorkovom hurikáne Isaias), ale po nútených covid-"prázdninách" už v limitovanom režime znovu funguje aj na výpožičky osobne.
Čo teraz s deťmi čítame/nedávno sme dokončili?
Wayside school sériu
Louis Sachar: Holes (Po veľkom úspechu Wayside série pokus inú tému od toho istého autora. Nebolo to zlé, deti to bavilo, ale mne sa to veľmi nepáčilo.)
David Walliams: Demon dentist (a iné knižky od neho, niečo čítali už na Slovensku)
John Anderson: Posted (Kika so spolužiakmi počúvali na jar, ale na Kiku to bolo vtedy moc rýchle a ani nedokončila, tak teraz čítame spolu, pomalšie.)
Diana Jones: Howl's moving castle
Catherynne Valente: The girl who circumnavigated the Fairyland in a ship of her own making
Bill Watterson: Calvin and Hobbs (už máme tretiu, toto je Kubova srdcovka)
Arthur C Clarke: 2001 Vesmírna odysea (začali sme, až tak ich nechytilo… asi ešte priskoro… mám chuť na nich vybaliť Koniec detstva, ale aj to asi ešte chvíľu počkám…)
Kathy Wollard: How come? In the neighborhood (Túto máme požičanú z knihobúdky. Bavia ich aj texty aj obrázky.)
Kika znovu čítala Shela Silversteina, ktorého máme doma. Nabudúce z knižnice pre zmenu zoberiem niečo od Prelutskeho (od neho Kubo čítal na jar pár básničiek v rámci ESL programu a tie mali veľký úspech.)
Z tých, čo som čítala bez detí, mňa v poslednej dobe najviac zaujala Rekurzia.
Kto dá odporúčania na druhú polovicu leta?