Keď sme spolu začali chodiť, ja som bývala na intrákoch. Mišo si to jeden semester vyskúšal tiež, ale Šturák ho veľmi nenadchol. Asi tomu nepomohlo, že vtedy ešte oficiálne nemohli bývať spolu chlapci a dievčatá a jemu sa ako spolubývajúci ušiel jeden môj veľmi zvláštny spolužiak.
Potom v mojom poslednom ročníku sme bývali v podnájme (so švagrovcami a ešte jedným chalanom) na Dlhých dieloch, ale to tiež nebol ideál, lebo Mišo bol častejšie v Amerike ako na Slovensku.
Keď som sa po svadbe presťahovala za ním, konečne sme spolu bývali naozaj. V Hobokene na Bloomfield St., v malom tmavom prízemnom bytíku, v ktorom na nás skoro spadol strop a do ktorého sa k nám prisťahovali myši.
Nasledoval presun do Union City na Manhattan Ave. Byt dvojizbový, svetlý, na jedenástom poschodí, s vrátnikom 24/7. Priniesli sme si doňho Kiku. Ale nemal kúrenie, iba hlučné klimatizačné jednotky.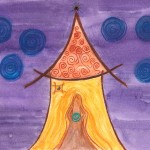 Ďalšie sťahovanie bolo do mestečka Union. Malé 4-bytové domčeky, so zvedavými susedmi, v ktorých nebola nikdy zima. Tam sa narodil Kubko.
Potom odchod na Slovensko a nasťahovali sme sa do domu k môjmu otcovi. Posledný dom v dedine, zatiaľ najlepšie bývanie, aké sme mali (za posledných 7 rokov piate v poradí), ale stále to malo svoje muchy.
A tak sme dnes podpísali zmluvu a v lete sa ideme sťahovať do nášho prvého vlastného bývania (nie, ten zelený stan, do ktorého trochu tečie, nerátam). Našli sme si byt v Žiline a aj keď na ideálne byty neverím, z tohto mám veľmi dobrý pocit. Už teraz vymýšľam, ako ho vymaľujeme, ako krpcom zariadime útulnú detskú izbu, ako si konečne budem môcť zabývať aj nejakých zelených listnatých kamarátov. Dúfam, že nám tam bude dobre.
ps Obraz namaľovala Leigh Maller.