Keď sme prišli, na jazere bol ešte ľad, ale sneh iba kde-tu. Prešli sme sa na pizzu, zaľahli a ráno sa zobudili do bieleho.
Pôvodný plán, že si to vykráčame na Whiteface Mountain, sme teda trochu zoškálovali smerom nadol a povedali si, že skúsime Scarface. Začiatok úplne rozprávkový, na chodníku sme boli sami, ale postupne sa celkom neodbytne začal hlásiť nie úplne príjemný deja-vu pocit.
Dopadli sme veľmi podobne ako na jeseň na Mt. McKenzie. Po prechádzke po rovinke, prišlo stúpanie popri potoku, ktoré plynulo prerástlo do lezenia. A keď už nebolo jasné kadiaľ ďalej, kamene boli pokryté vrstvou šmyľavého ľadu, na ktorom bola ešte 10 cm vrstva čerstvého prašanu, tak sme zjedli desiatu a otočili to naspäť. Tak ale snáď ešte niekedy do Lake Placid prídeme a snáď aj na nejaký kopec už vylezieme.
Keďže Kika zahlásila, že toto si ona teda ďalší deň nezopakuje, vybrali sme sa na Whiteface Landing. Vpodstate po rovine, tentokrát aj so slniečkom, nálada bola lepšia. Ale bolo treba striehnuť na Kuba, aby sa nerozbehol po ľade. Ten vyzeral síce krásne, ale už bol tenučký, tenký. (Na týchto fotkách sú tri rôzne jazerá.)
Pôvodne sme mali ešte plány sa ísť korčuľovať, ale keď sa ukázalo, že si vyberáme medzi korčuľovaním a bazénom, vyhrala tekutá voda. Všetci si pochvaľovali (Kubo, že "zase pláva po 100 rokoch").
A na záver ešte kvízová otázka, aký film sme s deťmi večer pozerali?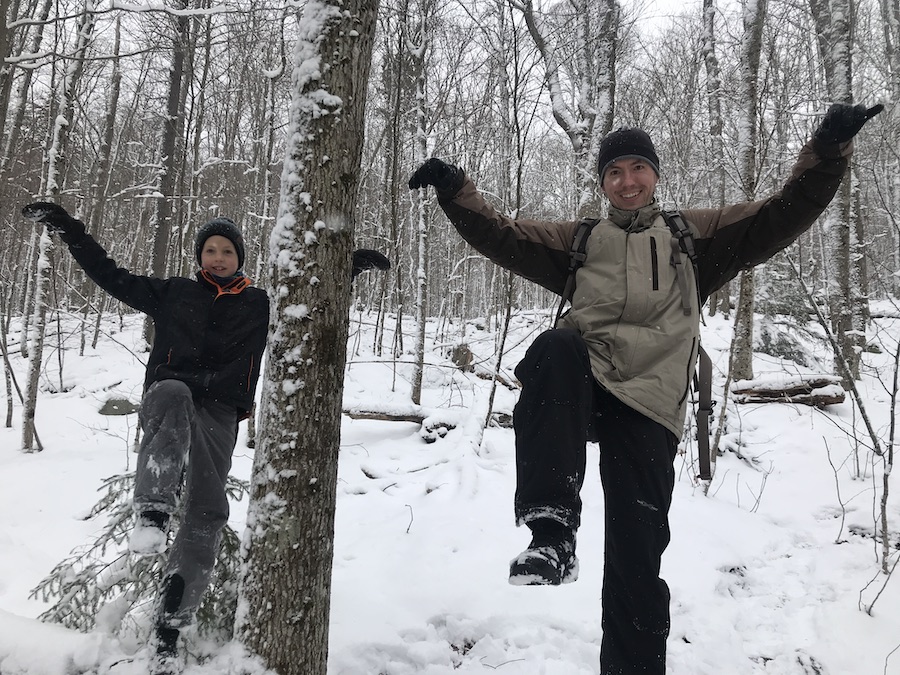 (Hint: Na fotke nevidno brvno, na ktorom balansujú.)