Ráno sme prešli okolo Glenn Canyon priehrady, ale aj keď sme zastavili, tá deti vôbec nezaujala (a visitor center bolo pre covid zavreté). Skúsili sme zastaviť pri Lake Powell – jazere, ktoré priehrada drží. Videli sme, že má dosť málo vody (neskôr sme sa dozvedeli, že len tretinu kapacity, najmenej ako kedy malo), ale trochu sme dúfali, že si možno zaplávame.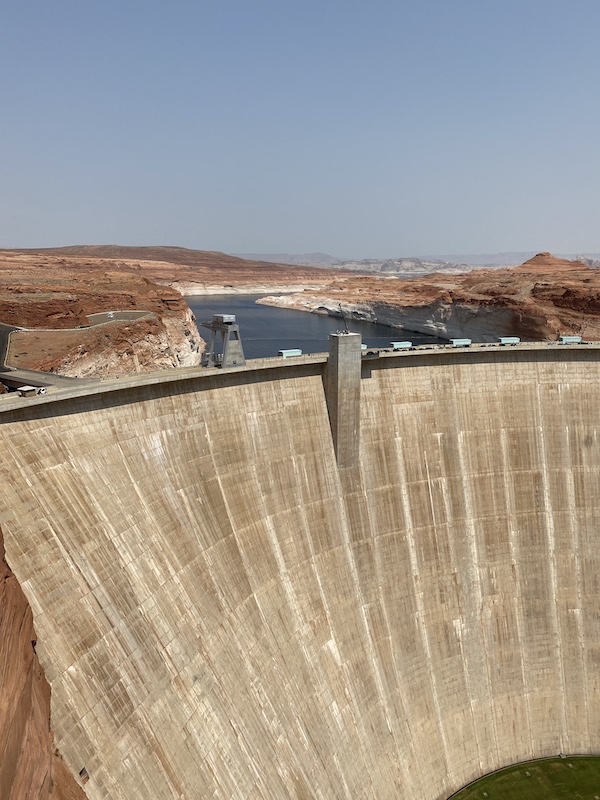 Z diaľky síce jazero vyzeralo pekne, ale z blízka teda vôbec nie. Nikomu sa do tej vody nechcelo.
Tak sme išli ďalej. Na neskorý obed a miestne suveníry sme sa zastavili v Cameron Trading Post. Ja som si dala "indiánske taco". Bol to langoš s tým všetkým, čo by ste našli v inom tacu. Deti samozrejme ochutnali a pre veľký úspech sme si ešte objednali jeden langoš ako dezert.
Keď sme prichádzali do Cameronu, trochu mrholilo a predpoveď počasia ukazovala veľkú búrku z juhu. A kým sme jedli, prišiel flash flood alert.
Pôvodný plán bol schádzať na dno Grand Canyonu nasledujúci deň ráno. S týmto počasím sme si neboli istí. Ale backcountry permit na táborenie dole sme mali na tú jednu konkrétnu noc. Cesta z Cameronu na náhornú plošinu do parku nás čakala do kopca, tak sme si povedali, že ideme, na tejto ceste nás nezaplaví a skúsime ešte stihnúť backcountry office, kým zavrie, zistiť od nich presnejšiu predpoveď počasia a ak sa bude dať, posunúť povolenie o jeden deň.
Štrajchli sme okraj búrky, akurát ako sa presúvala nad canyon. Auto sme mali dokonale vykúpané, ale backcountry office sme stihli. S rangerkou sme prebrali počasie a posunuli výlet do kaňonu o deň neskôr. Na rozdiel parku Arches, na stany sme tentokrát dávali aj vrchnú vrstvu.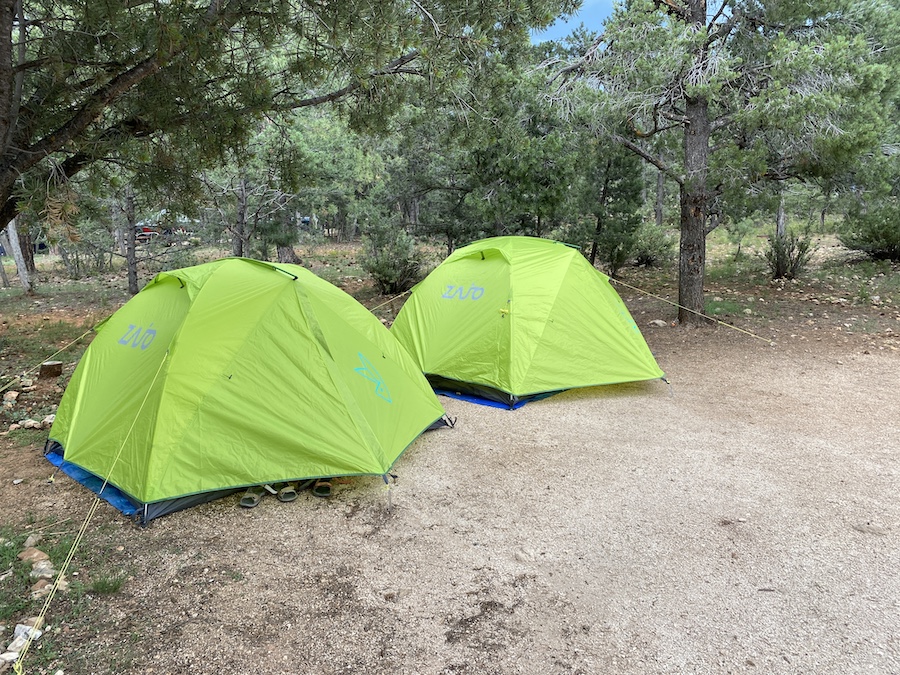 Keď sme ešte počas jedného leta na vysokej škole s Mišom robili v Grand Canyone, tak sme boli zvyknutí, že sa po parku prechádzajú parohaté jelene a srnky. Tie tam teraz boli tiež, ale okrem nich ešte aj čudné, neparohaté zvieratá, na ktoré sme sa museli spýtať, že čo sú to zač. Dozvedeli sme sa, že cow elk.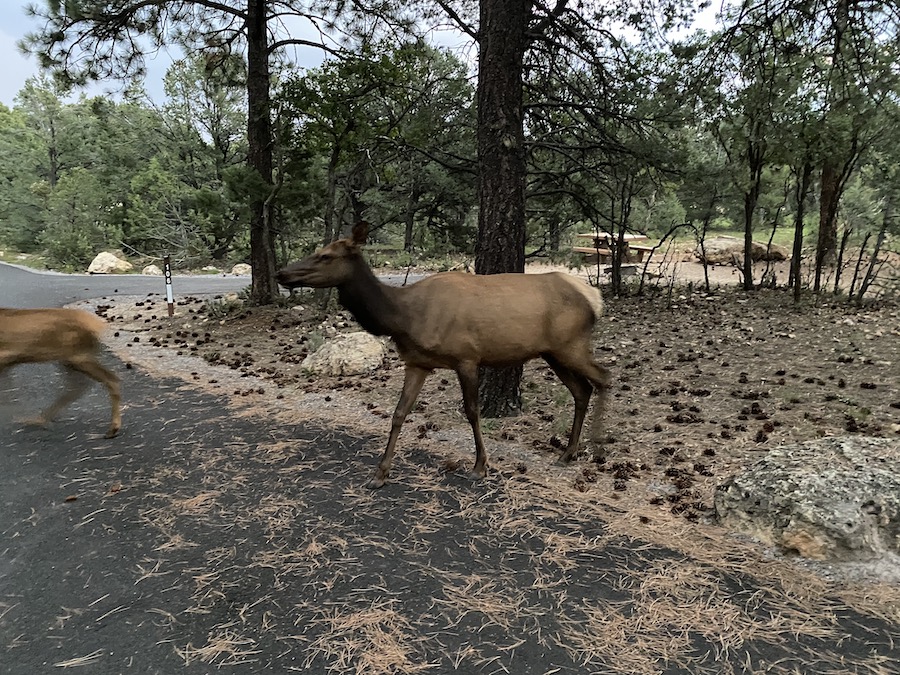 Išli sme sa pozrieť aj na okraj kaňonu a chvíľu pozorovali blýskavicu, ale potom sa nám zdalo, že byť na najvyššie položenom mieste široko-ďaleko (~2200m), pri kovovom zábradlí počas búrky, ktorá tadiaľto už síce prešla, ale stále sa zdržiava poblíž, nie je úplne dobrý nápad, tak sme sa vrátili do kempu.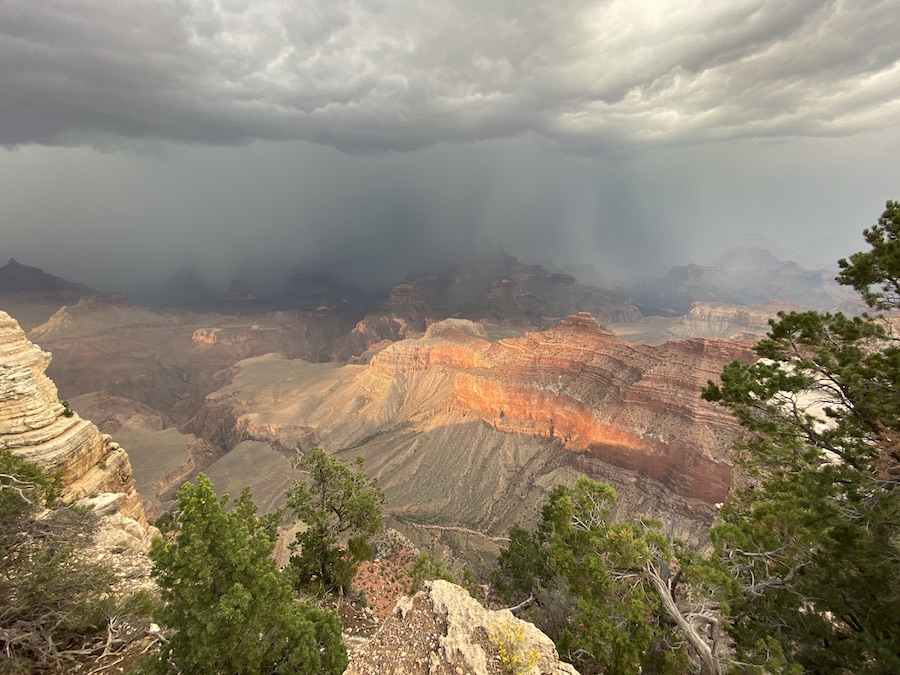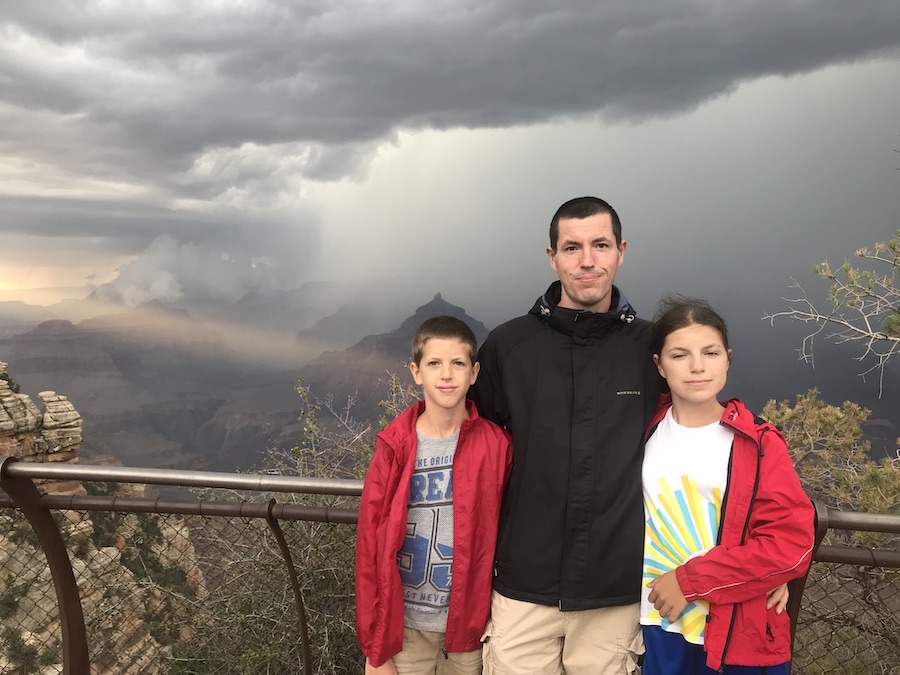 Večerný ranger talk bol kvôli počasiu zrušený, ale zistili sme to až keď sme došli ku amfiteátru, tak sme mali aspoň prechádzku potme.