Kika má zoznam knižiek, cez ktoré sa postupne prelúskava v rámci Battle of the books klubu. Jedna je They called us enemy. Tá bola rýchla, komix o chlapcovi, japonskom američanovi, ktorý strávil veľkú časť vojny zavretý v internačných táboroch v Amerike. Ten chlapec (a autor) je George Takai, ktorý neskôr hral v Star Treku.
Ďalšia zo zoznamu je Denník Anny Frankovej, tam je Kika už tesne pred koncom. Keď som ten denník požičiavala z knižnice, tak bolo zaujímavé, aké všelijaké verzie sa dajú požičať – od obrázkovej pre najmenšie deti s takmer žiadnym textom, cez prerozprávaný príbeh, cez poprepájané úryvky, až po celý denník.
Debata pri večeri o týchto dvoch knihách ukázala, že Kikine vedomosti o druhej svetovej vojne sú veľmi útržkovité a chaotické, tak sme sa s Mišom snažili dodať trochu kontextu. Ale je asi pravda, že keď si spomínam, čo som ja vedela v siedmej triede, tiež to nebolo práve hlboké a upratané. V každom prípade, aj Kubo počúval a s Mišom sme vyhodnotili, že už zvládnu (a nezaškodí im) dávka aj vo filmovej podobe. Pozerali sme najprv:
A iný večer:
Kubo bol nešťastný na konci, keď videl, čo Turingovi urobili.
Sami si našli seriál Avatar, the Last Airbender. Ten je celkom ok. Je tam síce veľa bitiek (v duchu ázijských bojových umení) a miestami tiež dosť drsné témy (genocída, …), ale aj veľa o priateľstve, vzťahoch a zaujímavo vybudovaný svet.
Ja som čítala Bewilderment (Richard Powers, áno, ten istý, čo napísal Overstory). Táto teda nie je pre deti, ja ju doteraz neviem spracovať, ale pripomenula mi poviedku Flowers for Algernon, tak tú sme si prečítali s deťmi nahlas. Vyšlo nám to na dva večery, tak mali jeden optimistický a jeden pesimistický. A zanechalo to dojem, lebo Kubo sa na ňu už párkrát odkazoval. Jeden z tých odkazov bol na Rorschachov test, ktorý sa v poviedke spomína a nepoznali ho, tak som im vysvetľovala, o čo ide. A o pár dní neskôr mi Kubo doniesol ukázať tento komix o mimoňoch, s tým, že teraz mu rozumie.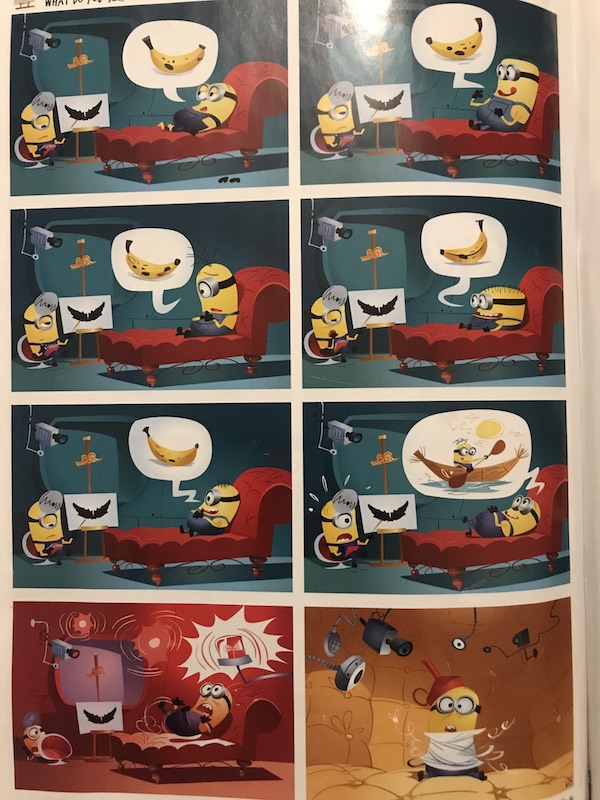 Spolu sme ešte čítali The Emperor's Soul. Väčšinou si totiž teraz už čítajú sami, tak sa snažím vyberať skôr poviedky alebo novely, kratšie veci, aby sa nám to neťahalo príliš dlho. Ale keďže ich toto zaujalo, aj keď je to iný level, skúsim im od Sandersona podstrčiť Mistborn. Tam nevadí, ak sa pripojím len občasne.
Kika mi odporučila Things not Seen, ale mňa až tak nechytila. Nebola zlá, ale ani ničím výnimočná. Dairy Queen neodporúčala. Ďalšia na rade z Battle of the books bude Surviving the Applewhites. A okrem toho má rozčítanú sériu Keeper of the Lost Cities, o ktorej nevie prestať rozprávať. Prvých päť si z vlastných peňazí aj kúpila. Tak na tieto sa chystám.
Kubo mi odporučil sériu Time Castaways, ktorú dostal na vianoce. (Začína to byť časovo problém, keď si chcem čítať "svoje" knižky a aj stihnúť ich odporúčania… obzvlášť keď tie odporúčania sú na celé série.) Okrem toho čítal obľúbeného Kormana: Masterminds, Criminal Destiny, Gibbsa: Panda-monium, Poached, Tyrannosaurus Wrecks a Cressidu Cowell: The Wizards of Once, Twice Magic.