Tento blog má už pár rokov a nedávno ma zaujímalo, ako rozparsovať wordpresové .xml, tak som to skúsila rovno na tom svojom, že čo zaujímavé za dozviem.
Celkovo je tu niečo málo cez 1500 článkov a na tomto grafe je počet ich slov. Každý článok je jedna bodka:
Zjavne sem nepíšem dlhočizné texty, väčšina je pod 500 slov, ale zaujímavé je, ako sa pravá takmer polovica ešte viac natlačila dolu. Zlom časovo zodpovedá približne začiatku phd štúdia v Žiline (kedy som začala písať aj iné veci inde). Schválne na x-ovej osi nemám priamo roky, lebo to by bolo trochu zavádzajúce, keďže rôzne roky videli rôzne počty článkov. Ale ten čas zhruba od článku 1000 po 1100, kedy boli naozaj všetky posty krátke, je vtedy, keď som písala a obhajovala dizertačku. Potom sa to síce trochu spamätalo, ale na pred-phd level stále nevrátilo. (Kto si pamätá, čo je ten 2500-slovný outlier?)
Na nasledujúcom grafe je čas dňa, kedy som článok zverejnila. Tu krásne vidno deti a naše trans-atlantické sťahovania. Prvých ~220 článkov bolo ešte pred Kikou, postovala som, kedy prišlo. Potom som zjavne prešla na večerný režim, ktorý sa tu prejavuje ako posty od 0 do 4 ráno, lebo mám na blogu nastavený stredoeurópsky čas a toto zodpovedá 18-22 večer tunajšieho času. Zlom tesne pred 600. článkom je sťahovanie, po ktorom vidno slovenské večerné hodiny a okolo 1300. (náš január 2020 presun) opäť americké.
A tu sú tie počty po rokoch, rozdelené navyše podľa dňa v týždni.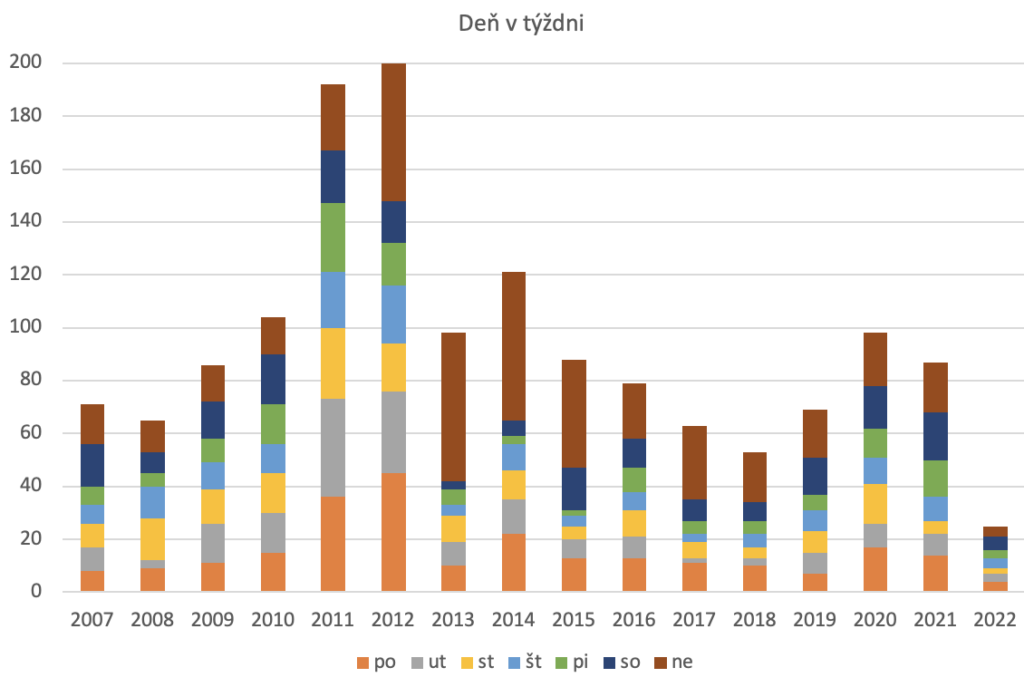 Zjavne pobyt doma s malými deťmi (2011, 2012) motivuje k písaniu, aj keď krátkych, článkov. 2017-2018 som písala knihu, takže tam sa blogu ušlo menej. 2022 je samozrejme maličký stĺpec, pretože je ešte len apríl. Pri takomto tempe sa snáď dopracujem aspoň na 2019 úroveň. A pekne vidno aj tie dni v týždni. Do 2011 bolo plus-mínus jedno, aký je deň, potom zvyklo byť viac času cez víkend, pričom toto bolo najvýraznejšie 2013-2015 (phd).
Bolo by zaujímavé sa ešte pozrieť na posun v štýle písania… to niekedy nabudúce.