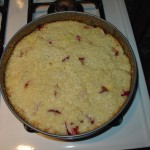 2 šálky ryže (toto bolo na kruhovú formu s asi 25 cm priemerom)
4 šálky mlieka
štipka soli
100g masla (1 stick)
3 vajíčka
1/2 šálky cukru
vanilka (alebo vanilkový cukor)
trochu strúhanky
ovocie (čerstvé alebo kompót)
hrozienka (tak za hrsť)
Do mlieka dáme štipku soli a uvaríme v ňom umytú ryžu. (Keď sa mlieko vstrebe, už je uvarená). Necháme trochu vychladnúť. Vymiešame žĺtka s cukrom, maslom a vanilkou. Vmiešame ryžu a umyté hrozienka. Vyšľaháme sneh z bielkov a ten vmiešame do ryže úplne na záver. Formu vymastíme a vysypeme strúhankou, nalejeme tam polovicu ryžovej kaše, na to dáme vrstvu pokrájaného ovocia a navrch zvyšok ryže. Treba to piecť asi 45 minút na 180C/350F a podávať môžeme ešte s kompótom.