You can bomb the world into pieces but you cannot bomb it into peace, spieva Michael Franti.
Americká armáda má na Times Square náborové centrum. 19. marca to budú 4 roky odvtedy, ako začala invázia do Iraku. Tento týždeň hneď vedľa náborového centra členky Granny Peace Brigade čítajú nahlas od rána do večera mená Američanov a Iračanov, ktorí tam za ten čas zomreli.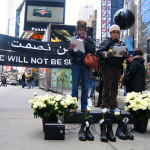 Kto sú to Granny Peace Brigade? 18 žien vo veku 51 až 91 rokov sa 17. októbra 2005 pokúsilo prihlásiť do armády namiesto svojich detí a vnúčat, ktoré nechceli nechať v Iraku zbytočne zomrieť. To sa im nepodarilo a navyše ich predviedli na policajnú stanicu. Boli zadržané a čakal ich súd. Ten však rozhodol v ich prospech a potvrdil tak právo na nenásilný protest. Odvtedy zorganizovali protestných akcií niekoľko a najnovšia je práve tá súčasná na mieste, kde v roku 2005 začínali.
Veľa Američanov už dávno nie je spokojných s touto vojnou. Niektorí idú ešte ďalej – Lee Feinstein, jeden z expertov na americkú zahraničnú politiku, dokonca hovorí, že úspechom bude, ak sa Američanom podarí Irak zanechať v lepšom stave ako ho našli. Môže to však vôbec byť lepší stav, ak zvážime mŕtvych (odhady sú od približne 60,000 podľa Iraq Body Count Project po 650,000 podľa Second Lancet Survey; na Americkej strane vyše 3,000 mŕtvych), utečencov (OSN odhaduje, že krajinu od roku 2003 opustili 2 milióny Iračanov – približne 7% obyvateľstva), vyplienené mestá? V národnej knižnici v Bagdade zhoreli pri invázii tisícky starovekých rukopisov, zbierky národného múzea sú rozkradnuté alebo zničené… Životy a históriu tam Američania nevrátia a naozaj neviem, čo lepšie by mohli ponúknuť.
Hovoria, že demokraciu. Už dávno prestalo ísť o zbrane hromadného ničenia a hlavným motívom sa stalo práve nastolenie demokracie. Ale čo ak demokracia nie je tým nejlepším riešením pre túto krajinu? Netvrdím, že situácia, ktorá bola v Iraku pred príchodom Američanov, bola dobrá. Ale snažiť sa násilím "zvonku" presadiť slobodný režim, hocijaký režim, v krajine, kde je náboženstvo neoddeliteľnou súčasťou štátneho zriadenia, už z princípu nemôže fungovať. A kto sme my – alebo Američania – aby sme povedali, že demokracia je to jediné správne zriadenie pre všetkých? Podľa môjho názoru, je správne pre tých, ktorí si ho zvolia.
Na záver ešte zopár čísel. Výdavky štátneho rozpočtu na Slovensku za rok 2006 boli približne 320 miliárd slovenských korún. Výdavky USA v roku 2006 len na vojnu v Iraku sa odhadujú na 100 milárd dolárov (celkové výdavky od začiatku invázie doteraz – na približne 360 miliárd dolárov).  Myslím si, že ak by naozaj chceli pomôcť Iraku, tie peniaze doňho mohli investovať iným spôsobom.