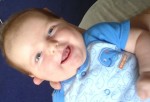 Môj drahý manžel sa mi smeje, že ešte stále čítam o tehotenstvách, o pôrodoch… ale celkom víta, že čítam aj o bábätkách, očkovaniach… (a že dostane výcuc toho najzaujímavejšieho). A ako tak čítam, tak všeličo sa mi premelie hlavou a o pár z týchto (nie nutne súvislých) myšlienok by som sa chcela podeliť.
Varovanie a výzva: neviem, či to bude mať hlavu a pätu, ale komentáre uvítam.
Šestonedelie. Tak sa nazýva čas po pôrode, ktorý je vraj na zotavenie. Toto je v Amerike často aj čas, ktorý zostane mamička doma a po ktorom sa vráti do práce. A vidíme skvelé príklady modeliek, ktoré sťahujúc brucho predvádzajú spodnú bielizeň dva mesiace po pôrode alebo celebrít s troma osobnými trénermi, ktorí ich dostanú "back into shape" ani sa nenazdajú (ale už sa nechvália tým, ako si zväzujú prsia, aby im netieklo mlieko). Netvrdím, že sa máme vrátiť späť do minulosti, keď toto bolo obdobie akéhosi dobrovoľného domáceho väzenia, ale mne to pripadá, akoby sa strácal rešpekt pred časom okolo pôrodu.
A pritom toto je čas, ktorý sa nemeria na hodiny a dni, ale na kŕmenia a plienky… čas, kedy sa schúlené bábätko postupne vystiera… čas kedy sa jeho pohľad postupne zaostruje a jedného dňa sa zadíva mame do očí a po celej tvári sa mu rozleje úsmev… čas kedy už pri myšlienkach na bábo začnú kvitnúť mliečne kvety na tričku… čas únavy, kedy sa vstáva aj v noci a pri polovičnom vedomí s bábom pri prsiach zaspáva už v kresle… čas, ktorý uteká veľmi rýchlo… čas kedy je tento nový život, ktorý sme vytvorili, veľmi dôležitý a netreba sa ponáhľať k tomu, čo bolo predtým…
Čas, kedy sa všetko točí okolo tohto nového človeka.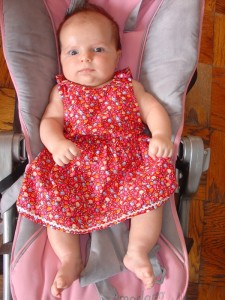 A potom príde otázka, či to tak má byť. Či treba priskočiť na každé zavolanie? Či nie je lepšie niekedy nechať bábo plakať, veď predsa, keď už je prebalené, nakŕmené, pohojdané, tak má spať a ono namiesto toho znovu plače, aj keď sme ho už trikrát po sebe uložili do postieľky. Netreba ho predsa rozmaznať!
Problém je však v tom, že neverím že 6-týždňové bábo je schopné vypočítavosti… ak plače, tak mu niečo chýba (alebo v prípade plnej plienky má niečo navyše…), len my možno nevieme, čo vlastne. Ale zdá sa mi, že ak na to prídeme a uspokojíme danú potrebu, nebudú nasledovať "neopodstatnené" požiadavky, lebo bábo nechce viac ako potrebuje. Staršie dieťa možno áno, ale nie je to len záplata toho, čo chýbalo, keď bolo malé?
Okrem toho, keď bábo necháme plakať namiesto toho aby sme sa snažili zistiť, kde je problém, tým ho nenaučíme, aby bolo "dobré". Tým ho naučíme, aby bolo ticho. Toto vraj psychológovia volajú naučená bezmocnosť. Bejby nevie, či a kedy jeho potreby budú naplnené, jeho svet je strašidelný, lebo je nepredvídateľný a nespoľahlivý a veľmi zavčasu doňho vstúpi nedôvera. Určite by som také nechcela pre naše bábo.
Na druhú stranu ale, keď si predstavím seba, keď sa mi chce plakať a teraz by prišiel niekto, kto sa snaží robiť všetko možné, len aby ma upokojil, asi by som z toho nebola veľmi nadšená. Možno sa aj bábo potrebuje  niekedy jednoducho vyplakať, uvoľniť pretlak rušného dňa…
… asi sme si zabudli v nemocnici pýtať návod na použitie, keď sme odchádzali.