Neviem, či najužitočnejšie – rôzni ľudia by možno spomenuli iné veci ako tieto – ale z osobnej skúsenosti, čo sa mi najviac zišlo:
Tehotenstvo
Dôležitá je príprava na pôrod a bábo, to žiadne veci nenahradia, ale čo môže uľahčiť život: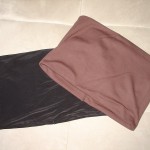 belly band – jednoduchý kus pružnej látky, ktorý mi pomohol počas toho prechodného obdobia, keď som už nemohla zapnúť svoje normálne nohavice, ale ešte som ani zďaleka nemala rozmery na tehotenské (do ktorých som dorástla až koncom piateho mesiaca). Belly band drží rozopnuté nohavice, aby nespadli. Niektoré maminy ho nosia aj v neskorom tehotenstve ako "predlžovač tričiek", keď už je brucho také veľké, že všetky tričká sú krátke, ale to som ja nerobila, lebo v určitom momente som začala mať pocit, že ma tlačí/sťahuje.
vankúše – veľa vankúšov. Ja som vždy spávala na jednom tenkom vankúši. Ale v 8. a 9. mesiaci som vankúšov nemala dosť (Mišo sa smial, že popri mojom bruchu a všetkých tých vankúšoch sa on už do postele nezmestí). Zo tri išli pod hlavu, lebo ma vždy v noci/vodorovnej polohe pálila záha. Doslova som mala pocit, že mi všetky žalúdočné kyseliny vystúpali až do krku tým, že mi Kika začala okupovať aj to miesto, kde normálne býval môj žalúdok a ten sa presťahoval niekam k zadnému koncu úst (akoby zázrakom prvú noc po pôrode po pálení záhy ani stopa). Odhliadnuc od toho, ležanie bolo nepohodlné aj samo o sebe a mierne pomohol vankúš medzi kolenami alebo za chrbtom. Dúfam, že už je jasné, že prečo veľa vankúšov. Tu predávajú aj také telové vankúše, jeden jednoduchý som zdedila, ale ten sa zišiel hlavne neskôr na kojenie.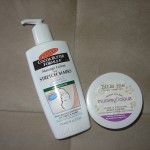 krém na brucho –
čiastočne na zabránenie striám (ale tie sa spravili aj tak a ako som už
písala minule
, tie mi nevadia, dokonca som na ne istým spôsobom pyšná), ale hlavne na svrbenie. Ako sa koža naťahuje, veľmi svrbí. Kúpila som si
palmers cocoa butter
a dostala
little me organics
. Ani jedno z nich nevoňalo nejako vábne… hmmm, to je veľmi jemne povedané. Obidvoje pomerne smrdeli. Ale účel vždy (dočasne) splnili. Ono je asi jedno čím, len nech je to mastné a nech je to často.
Pôrod
Tu nepomôže nič, len podpora blízkej osoby, pokojné prostredie a dôvera vo vlastné telo. Ale tesne po:
niečo teplé – neviem, či to bolo únavou, stratou krvi alebo niečím iným, ale v nemocnici som spala v Mišovej mikine zakuklená do periny. A aj tak mi bola zima, triasla som sa a klepotali mi zuby.
A ďalej
Technicky vzaté, stačila by láska, prsia, pár plienok a trocha sebavedomia, ale priznajme si, každý chystá výbavičku pre bábo. Kočík a prebaľovací pultík sa u nás používa častejšie ako kopa iných harabúrd, ktoré máme. Ale zopár nevyhnutností:
práčka – budete sa čudovať, že prečo píšem takú samozrejmosť. Asi preto, že my práčku namáme. Teda, máme, dolu v práčovni. Stále lepšie ako keby sme nemali vôbec, všakže? Ale nie je to ideál, hlavne keď sa snažíme používať látkové plienky. Pokiaľ niekoho napadne skvelé riešenie nášho problému – že nech si kúpime práčku – tak ho môžem ubezpečiť, že to už napadlo aj nás. Ale bývame v budove, kde práčky v bytoch nie sú povolené a aj keby sme sa rozhodli porušiť tento zákaz, tak ju nemáme, kam dať. Naša kúpeľňa je (možno preventívne, ktovie) spravená tak, aby sa tam práčka dať nedala. A tak som povedala, že nutnou podmienkou pre druhé bábo je práčka.
podbradníky – a keď hovorím podbradníky, myslím tým naozajstné veľké umývateľné podbradníky a nie také tie malé látkové zlaté kúsky handričky, ktoré sú dobré akurát tak na utretie trošky mliečka, keď vyteká kútikom úst (a na to my používame plienku), ale sú absolútne nepoužiteľné na čokoľvek iné. Keď Kika papá, tak jedlo končí za ušami, v obočí, v rukáve, na nohách… všade. A banán je sviňa. K tomu treba pridať tie naše skvelé práčky v práčovni, ktoré nemajú dlhší ako 30 minútový cyklus a dá sa na nich nastaviť iba cold, warm (=40 stupňov) a hot (=50 stupňov). Hovorila som už, že druhé dieťa nebude, kým nebude normálna práčka?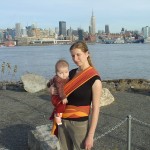 nosič – toto je na dlhšie, takže o nosičoch viac niekedy nabudúce, ale stručne povedané, nosič treba. My sme jeden dostali, dva použité kúpili a teraz už pokukujem po ďalšom. Nie že by sa mi tie, čo máme, už nepáčili, ale Kika sa do dvoch z nich už nezmestí, ja som stále jej primárny dopravný prostriedok a rúk mám málo. Nie všade sa dá ísť s kočíkom a niekedy aj keď sa dá, tak nosič je praktickejší (napríklad dolu do práčovne. Spomínala som, že by som chcela mať práčku doma? Áno, drahý, viem, že čítaš. Už nebudem.)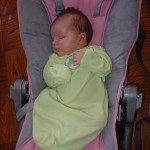 hojdačka – pre nás bola hojdačka záchranné koleso. A keď si pomyslím, ako som ju tehotná skoro odmietla, že to my predsa nebudeme používať! Áno, je pravda, že sa treba snažiť, aby dieťa nebolo často "odložené" a obzvlášť nie na chrbátiku, ale keď je mama sama doma a nosič práve nie je praktický, ale ruky potrebuje, hojdačka sa zíde. A tak sa Kika hojdá v kúpeľni, kým sa ja sprchujem, v kuchyni, keď varím, pri stole, keď obedujem… Predávajú všeliaké sofistikované verzie s hračkami, hudbou, hojdaním na baterky a neviem čím ešte. My máme jednu z tých najjednoduchších, ale nedám na ňu dopustiť.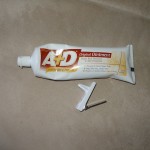 klipačky na nechty – ja som si vždy nechty strihala nožničkami a zdalo sa mi, že klipačky na nechty sú veľmi podivný vynález. Ale prišiel na psa mráz, prišlo na mňa bábo. Kika sa už v nemocnici prvýkrát doškrabala. A keď sme nechceli, aby mala stále buď škrabance na tvári alebo ponožky na rukách (rukavičky v našej výbave akosi chýbali), tak bolo treba pristúpiť k strihaniu nechtov. Mišo zbabelo povedal, že to on nebude také malé strihať a tak to ostalo na mne. A ja som zistila, že toto nožničkami nepôjde. Zo začiatku som sa na túto delikátnu operáciu odvážila iba, keď Kika spala. Teraz už to ide aj "za živa".
A+D ointment – neviem, aká je obdoba tohto krému na Slovensku, ale Kika má skoro 6 mesiacov a ešte nemala vyrážky ani plienkový zápal/zapareninu (klop, klop, klop). Zo začiatku sme jej ho dávali pri každej výmene plienky, teraz už iba po kúpaní na noc.
Čo som zabudla a čo funguje pre vás?