… alebo Kubko má dnes 5 mesiacov.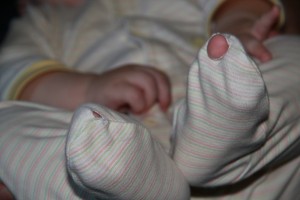 Ja teda neviem. Ale v poslednej dobe je jedno, aké veľké dupačky mu oblečiem (zvyčajne je na lístku na krku napísané niečo okolo roka), za chvíľu mu z nich trčia palce na nohách. Aj som mu skontrolovala nechty, že či mu tam náhodou nejako potajomky nanarástli žiletky, ale nie, stále tie papierovo-mäkké bábätkovké nechtíky, ktoré by sa dali v pohode krátiť aj bez nožničiek. Jednoducho tie jeho bejby laby sa do ťapiek na dupačkách nezmestia a tlačia sa von (už teraz sa "teším", aká to bude zábava o 15 rokov, keď mu budeme zháňať topánky o 3 čísla väčšie, ako sa bežne predávajú).
A objavil ich aj on. Ruky má v ústach pomerne často (hlavne keď zaspáva), ale potom jedného dňa pri prebaľovaní sa zrazu v jeho zornom poli mihla noha a keďže koordinácia očí a rúk už celkom funguje, tak ju schytil a namieril si s ňou (štandardne) do úst. Výraz v očiach niečo v duchu "Tak ja mám aj tretiu ruku a vy ste mi jej existenciu takmer päť mesiacov tajili? Čo všetko ste mi ešte nepovedali?" A potom klik, klik, klik v hlave a pomaly sa rozlievajúci úsmev na tvári "Počkať, počkať, ak je tam tretia, je možné, že by tam niekde bola ďalšia?"
Keď už sme pri končatinách… je zábava pozorovať ho pri kúpaní. V momente, ako ho položíme do vody, tak sa menia na štyri veterné mlyny. Keď sme kúpali zhruba rovnako starú Kiku, tak som si mohla popri tom umyť zuby a uštrikovať sveter. Teraz musím dávať pozor, aby sa mi dieťa neutopilo vo vode, ktorú si nadšene našpliecha do tváre. Dva razy som už vliezla do vane s ním, nech má trochu viac vody k dispozícii, ale to sme si museli zatiahnuť záves, lebo inak by sa pani pod nami prišla zase sťažovať, že jej vytápame kúpeľňu.
A hýbe sa aj na suchu. Už nejaký čas sa odtláča rukami dozadu a krúti sa ako hodinky, keď sa chce k niečomu dostať. Ale najnovšie sa dvíha na kolená a na ruky a kníše sa dopredu a dozadu. A prevracia sa z bruška na chrbát (potom začne nešťastne vykrikovať, aby sme ho prišli vrátiť naspäť).
Nedávno som si uvedomila, že sme mu vlastne zatiaľ nič nekúpili (nepremokavé nohavičky na plienky namiesto tých, ktoré niekto – nebudem ukazovať prstom – omylom dal sušiť do sušičky, nerátam). Oblečenie nosí Kikine, hračky tiež zdedil po nej, nosič, kočík, autosedačka… všetko nám ostalo. Má zopár nových vecí, čo sme dostali, ale od nás nič. Možno na vianoce…
A stále nám čosi vysvetľuje v posledných dňoch, ale neviem presne čo, lebo to všetko znie bababa-ba-baba-bá-bam.
Skoro som zabudla – pas. Sme boli podať žiadosť minulú sobotu. Bola to trochu grand prix, lebo lokálne pošty neberú informácie, ktoré majú vyvesené na internete, veľmi záväzne, ale nakoniec nás zachránil "krajský úrad". (Sobota je pre nás jediný deň, kedy sa toto dalo podniknúť, lebo autogram musia dať na mieste obidvaja rodičia.) Dve letenky už má kúpené, tak počkáme ešte na ten pas a poletíme, poletíme.