Trochu sa bojím o tomto napísať. Nie som veľmi poverčivá, ale ak by náhodou v tomto prípade zafungovala kliatba internetu, tak by ma to veľmi, veľmi, veľmi, veľmi, veľmi, veľmi mrzelo.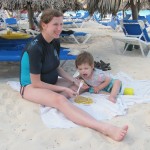 Kika je dobrodružný jedák, ktorý skúša všelijaké nové veci, ide sa potrhať za brokolicou a (okrem fľakov na obruse, ktoré sú prirodzeným dôsledkom zatiaľ nie celkom zvládnutej manipulácie s príborom) s jedením nemáme problémy. Viem, z veľkej časti za to nemôžeme a je to Kikina zásluha, nie každé dieťa to rodičom takto uľahčí, ale myslím si, že náš prístup k jedlu je súčasťou úspechu.
Takže čo (ne)robíme?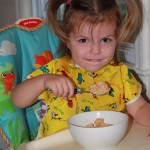 Ja rozhodnem, aké jedlo je v ponuke, kedy a kde. Či už je to doma alebo v reštaurácii alebo na výlete, či už som ho varila ja, objednala pre seba s tým, že sa s Kikou podelím, vybrala jej niečo v all-you-can-eat bufete alebo zbalila so sebou von. Beriem trochu do úvahy aj jej preferencie (dobre viem, ako má rada palacinky, polievky, hrozno,…), ale v zásade u nás (zatiaľ?) vládne v tomto ohľade diktatúra. Nevarím pre ňu extra a takmer vždy jeme všetci to isté, aj keď to znamená, že napríklad niečo poriadne štipľavé som už nejedla ani nepamätám (čo má aj druhý dôvod – Kubo by nebol veľmi nadšený).
Kika sa rozhodne, či bude jesť a koľko. Na tú prvú otázku je odpoveď takmer vždy áno. A na tú druhú – jej porciu už mám celkom v oku, ale občas ma prekvapí, keď zje aj za dvoch. A keď niekedy nedoje, beriem to tak, že jej stačilo. Nepraktizujeme nič typu "Budeš tu sedieť, kým to nedoješ." Keď sa stane, že nechce vôbec, dostane ten istý tanier pri najbližšom jedle.
Zatiaľ v zásade nevidela nikoho jedlo ofrfľať alebo hovoriť, že mu niečo nechutí – to určite tiež nie je na škodu.
Dúfam, že sa nám to podobne podarí aj s Kubom. (Ten zatiaľ ochutnal ryžovú kašu, banán, jablko, hrášok, zelenú fazuľku, mrkvu a pexeso.)