Pamätám si, kedy bola Kika prvýkrát bez rodičov. Mala asi dva mesiace, Mišo bol v práci, ja som sa išla nechať ostrihať a tú polhodinu ju vonku spiacu kočíkovala kamarátka. Kaderníčke to vtedy trvalo akosi veľmi dlho. Potom postupne prišli aj dlhšie odlúčenia, niektoré ťažšie, niektoré ľahšie, jej prvý deň v jasliach som s prestávkami prefňukala.
Na prvú noc, keď bol od nás Mišo preč, si nepamätám, ale ja som bola prvýkrát na noc preč tento september. Išla som na dva dni do Rakúska na High Performance Computing Workshop. Dva dni konverzácie iba s dospelákmi, vlastná posteľ, vlastná kúpeľna. Celkom som si to užila. Ale nie, na deti sa mi nedalo zabudnúť. Keď už pre nič iné nie, tak myslím, že som bola jediný účastník, čo mal so sebou odsávačku na mlieko.
A Kika bola minulý týždeň prvýkrát na noc (a nielen jednu, hneď rovno šesť nocí) bez obidvoch rodičov – na štrajkových prázdninách u babky a dedka. To ma tak nejako viedlo k zamysleniu, kedy je už relatívne bezbolestný čas na takéto párdenné a párnočné odlúčenia. A neviem, či je to aj u iných tak, ale ja si myslím, že je rozdiel medzi odlúčením cez deň a v noci. Večer bývajú drobci unavení, ťažšie zvládnuteľní, viac naviazaní. Ak sa zobudia v noci, tak prvé, čo rozospatí v tme vykrikujú, je "mama, mama".
V zásade vidím tri veci, ktoré to všetkým zúčastneným uľahčia: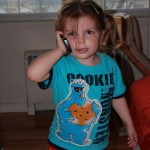 – Ak sa už dieťa vie slovami dohodnúť viac než len o úplne základných potrebách. Ak dokáže povedať, čo mu je, aj inému dospelákovi, ako rodičovi, ktorý ho už má úplne prečítané. Je fajn, ak už vie aj trochu telefonovať, prípadne skypovať a môže sa s rodičmi porozprávať, ak chce.
– Ak má aký-taký časový orientačný zmysel. Nemusí rozumieť kalendáru, ale malo by mať predstavu, čo to znamená chvíľu, zajtra, pár dní, "trikrát sa vyspíš". To je asi ten dôvod, prečo bol vtedy Kikin nástup do jaslí taký náročný aj pre mňa – predstava, že tam nechávam dieťa, ktoré dúfa, že každú chvíľu prídem, ale pritom si nie je isté, či sa ešte niekedy vrátim, je ťažká.
– Dospeláci, s ktorými si dieťa rozumie. To, že sa oň vedia postarať, je iba nutná podmienka, ale ideálne je, ak sa s nimi cíti dobre a malo šancu už predtým s nimi byť nejakú chvíľu samo.
Kubko zatiaľ do tohto ešte celkom nedorástol. Už ho síce párkrát ukladali večer spať starí rodičia (keď sme boli na Lord of the Dance a na večierok z Mišovej roboty), ale zatiaľ nebol preč na noc a mal stále aspoň jedného z rodičov na dosah do pol hodiny. Možno je to viac pre môj pokoj ako pre ten jeho, ale myslím, že na to, aby sme jeho poslali na prázdniny, si ešte chvíľu počkáme.
Ako to vidíte vy?