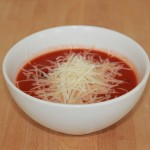 Moje pátranie po tej "správnej" paradajkovej polievke trvalo dlho. Skúšala som ju s malými cestovinami, skúšala som ju so zemiakmi, skúšala som ju iba z pretlaku. A stále to nebolo ono. Ale zdá sa, že už som našla, to čo som hľadala (Táňa, ďakujem).
2 malé paradajkové pretlaky bez soli (2 x 6 oz)
2 konzervy krájaných paradajok (2 x 14 1/2 oz) alebo čerstvé krájané paradajky
2 polievkové lyžice oleja
2 polievkové lyžice múky
soľ
cukor
strúhaný syr alebo kyslá smotana (nemusí byť)
Na olej dáme múku a urobíme zápražku. Paradajkový pretlak zriedime v miske s litrom vody a vlejeme na zápražku. Treba to miešať, kým polievka nie je krémová. Pridám ďalšiu vodu na zriedenie podľa potreby a dochutíme soľou a cukrom. Keď už má polievka požadovanú konzistenciu, pridáme paradajky a necháme prevrieť asi 2 minúty.
Na záver môžeme posypať strúhaným tvrdým syrom alebo dať navrch lyžicu kyslej smotany.