Ako nám to ide s tým sťahovaním? S potešením oznamujem, že finišujeme. Našťastie, lebo I don't like to move it, move it. Jediné, na čo je to celé dobré (okrem odsťahovania sa odtiaľto), je, že sa zbavíme kopu všeličoho, čo sme za tie roky naškrečkovali. (Podľa mňa to, aký je človek škrečok – a keď sme už pri tom, tak aj prasa – nikdy tak krásne nevidno, ako pri sťahovaní.)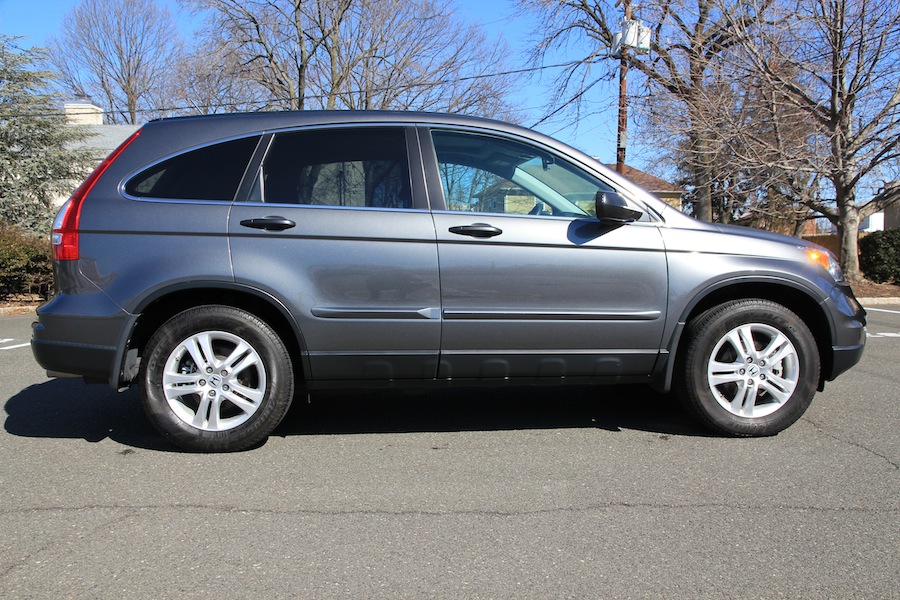 Rozlúčili sme sa s naším prvým autom. Najprv sme rozmýšľali, že ho zoberieme so sebou a začali zisťovať, čo by to obnášalo. Ale potom zvážiac možné komplikácie (ani nie tak s prevozom, ale skôr s prihlasovaním v cieli) a cenu benzínu, sme si povedali, že ho necháme tu a na Slovensku sa poobzeráme po nejakom inom. Najprv sme skúšali dealerov Hondy v nádeji, že vediac, akého dobrého tátoša to vlastníme, nám dajú rozumnú cenu. Ukázalo sa, že to bola chyba, veľká chyba. Takáto nebúraná dvojročná Honda s približne rovnakým počtom najazdených míľ sa predáva okolo $22-23,000. Nám ponúkli $17-18. V niekoľkých dealershipoch, so slizkým úsmevom na tvári. Že oni to musia skontrolovať, certifikovať a trošku na tom zarobiť.
Tak sme vyvesili inzerát na craigslist, cars.com a papier do okna. Začali sa ozývať ľudia, pár sa prišlo aj pozrieť, našli sa vtipálci, ktorí ponúkli $15 tisíc a nakoniec auto kúpil nejaký ostrovan, ktorému takmer nebolo rozumieť a ktorý si dokonca ani neskontroloval VIN číslo. A my postupujeme v grafe z Básnikov (prvá dovolenka, prvé dieťa, prvé auto, druhé dieťa, samé sociálne istoty, … či ako to bolo?)
Kočík. Pred a po:
Myslím, že kočík sme celkom "vynosili". Mali sme ho dva a trištvrte roka, odvozil dve deti a predala som ho za štvrtinu pôvodnej ceny. Kubo teraz jazdí v našej letiskovej haraburde (a v nosiči, samozrejme), trochu začína chodiť (zatiaľ iba za ruky), tak uvidíme. Celkom by sa mi páčilo, keby sme na Slovensku ďalší kočík nekupovali. Skúsime to najprv bez – ak to pôjde tak ako posledných pár týždňov, tak by to nemusel byť problém – a ak sa ukáže, že nové bejby-vozidlo predsalen potrebujeme, tak pohľadáme nejaký ojazdený športový.
Kubova postieľka pred a po:
Postieľka (a spolu s ňou aj prebaľovací pultík) bola jeden z prvých kusov nábytku, ktorý si našiel nový domov. Už čoskoro sa v nej bude vyvaľovať štvrté bábo. Áno, počítate správne, ani my sme ju nemali novú. Bola od Mišovho šéfa (nespal v nej samozrejme šéf, ale jeho dcéra), potom naši dvaja krpci a minimálne jedno ďalšie dieťa ešte zvládne. Noví majitelia matrac nechceli (ani sa nedivím), takže Kubo ho má teraz na zemi vedľa našej postele.
Kikina izba pred a po:
S Kikinou postieľkou to bolo veľmi zvláštne. Prišiel taký Ind, zobral ju aj s matracom, balil ju, akoby bola z mahagónu. A na druhý deň mi poslal sms, že jeho dcéra prichádza do štátov až o dva týždne a že mu je Kiky ľúto, že nemá kde spať, že ak chcem, tak mi postieľku ešte na dva týždne požičia. Odpísala som, nech si nerobí starosti.
Kike sa spanie na matraci (z nášho prvého gauča/lavičky) páči. Z jej izby nám ešte ostáva nočný stolík, ktorý vidno na obrázku. O ten akosi nikto nemá záujem. Písmená na zemi a hračky sú už na ceste na Slovensko (o tom o chvíľu). Z hračiek a detských knižiek som nechala len tie, ktoré so sebou berieme do lietadla. Ale deň predtým, ako som to všetko zbalila, sme dostali od kamarátov pôžičku – dve tašky ich hračiek a kníh, ktoré pred odletom vrátime – takže detská izba nie je úplne prázdna a krpci sa vytešujú z neokukaných vecí.
Obývačka pred a po:
So sedačkou to tiež bolo pozoruhodné. Už nejaký čas dozadu sa totiž Kike na nej pritrafila nehoda. Ostal po nej fľak, ktorý sa mi podarilo vyčistiť (rozumej – skôr rovnomerne rozmazať), takže ho nebolo vidno. Ale vediac o ňom, dala som inzerát na sedačku za štvrtinu cenu, za ktorú sme ju kúpili (a musela si párkrát vypočuť inštruktáž, že danú nehodu nebudem pred záujemcami spomínať). Do 12 hodín 10 odpovedí. Prvý sa prišiel pozrieť nejaký Ind (iný ako na Kikinu postieľku) s celou rodinou. Cenu o kus podstrelil, poslali sme ho do hája. Druhá prišla pani, ktorá mala s touto značkou už dobré skúsenosti, hodila dva letmé pohľady a hneď povedala, že berie, len si musí dohodnúť odvoz a dala bez jednania polovicu ceny ako zálohu.
A potom zavolala, že si to rozmyslela, lebo že v daný týždeň sa jej to s odvozom nepodarí a že chce naspäť peniaze. A ja na to, že to neponáhľa, gauč ju tu počká, nech príde neskôr. Nie, ona to ruší. A ja panika – že si to tu okukla, videla ženu doma s dvoma malými deťmi, po peniaze príde s troma svalnáčmi, worst case scenario… Ale akurát keď som jej išla dať vedieť, že si po peniaze má prísť, až keď už bude Mišo doma, tak sa ozvala ona, že ju mrzí ten chaos, ale ak by mi to nevadilo, tak naša dohoda platí, po sedačku príde neskôr. Ja som si vydýchla a dopadlo to dobre.
A na záver ešte porovnanie balenia v roku 2006 a v roku 2012:
Na prvej fotke my ešte mladí a pekní, balíme 5 krabíc, ktoré s nami poputovali do USA. Na druhej Steve a Giacomo (spelling neistý) dobaľujú druhú polovicu nášho fyzického majetku (prvú som balila priebežne v posledných týždňoch ja). Výsledkom bolo vyše 20 krabíc – 300kg, niečo cez 4 kubické metre – ktoré sme poslali cez túto firmu. (V zásade len knihy, počítače, oblečenie, osobné veci a hračky.) Dúfam, že sa s nimi o 6-7 týždňov uvidíme na druhej strane Atlantiku.
Čo ešte treba?
predať/darovať posledných pár vecí – nočný stolík, kuchynský stôl so stoličkami a detskú stoličku, šuflíky a poličky z Kikinej izby, závesy, pár hračiek
zrušiť elektrinu a plyn
zrušiť poslednú kreditnú kartu a bežný účet
vyhodiť všetky matrace
dostať naspäť security deposit za byt
vrátiť požičané hračky a detské knižky a pribaliť kuchynské náčinie a hospodárske prebytky (okrem troch kýblov zmrzliny v mraziaku)
A poletíme, poletíme.