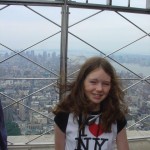 Unaccompanied Minor – tak nazývajú letecké spoločnosti dieťa, ktoré letí samo. Jedno také k nám začiatkom mesiaca prišlo – 12-ročná Camille z Colorada. Ešte nebola v New Yorku a navyše sa naskytla príležitosť stráviť tu 4. júla – sviatok nezávislosti – takže dorazila celkom nadšená. Mama ju v Denveri posadila na lietadlo a Mišo ju tu v New Yorku vyzdvihol. Päť dní ubehlo rýchlo, stihli sme hlavné turistické atrakcie, sviatočný ohňostroj, nákup suvenírov, aj deň na pláži. Adrenalín začal, keď som ju išla naložiť na lietadlo.
To, že čítačka na air-traine strhla za každú z nás dve jazdy, ma ešte nerozhádzalo. Povedala som o tom síce okolo-postávajúcej pani zamestnankyni, ktorá to overila na svojej čítačke, ale keď vysvitlo, že by som s ňou musela spisovať žiadosť/sťažnosť, tak som sa na to v záujme stihnutia lietadla vykašľala.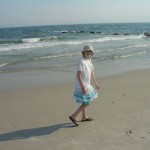 Na termináli, ako inak, davy ľudí. Za normálnych okolností by som si to rovno namierila na self-checkin – miesto, kde sa môžu pasažieri sami zaregistrovať a ušetriť sebe radu a leteckej spoločnosti čas. V tomto prípade to ale nešlo, lebo checknúť bolo treba Cami a to mohla spraviť len živá osoba. Po asi 15 minútach v rade, ktorá sa nehýbala, som tam nechala Cami stáť a išla sa dopredu spýtať, že čo a ako. Veľká černoška mi odpovedala, že bez ohľadu na to, čo chcem, musím najskôr skúsiť, či sa mi nepodarí self-checkin. Nepomohlo vysvetľovanie, že nemôžem checknúť dieťa a že nemám kreditku, ktorou bola letenka kupovaná. Kým som si chvíľku nemačkala gombíky na self-checkin pultíku, nebavila sa so mnou.
Akonáhle si však mohla v mysli odškrtnúť "dobre, nešlo", bola zrazu milá a povedala, že sme hneď ďalšie na rade. Ukázalo sa že nie tak úplne, lebo letuška, ku ktorej sme sa dostali, nevedela ako má zaregistrovať UM (hlavne, že pozná správnu skratku), tak sme si museli počkať na takú, ktorá vie. Tá však povedala, že to nepôjde, lebo ako doprovod mal Cami doviesť Mišo a nie ja. Po chvíľke presviedčania súhlasila, že Mišo ju mal (a bol) vyzdvihnúť a že odovzdať ju môžem naozaj ja. Ale nová komplikácia – letenka nie je zaplatená. To už sa zapojila aj Camille a suverénne zahlásila, že jej mama jej kúpila aj letenku naspäť  a tak teta ďalej hľadala v počítači.
Medzitým sa pani pri vedľajšom pultíku snažila vyžiadať si manažéra. Jej dve dcéry – dvojičky – mali letieť do tábora tým istým lietadlom ako Cami. Ale letuška jej povedala, že neodletia, pretože 15 majú až na druhý deň, čiže sú tiež UM, ale keďže matka nevie poskytnúť meno a telefónne číslo táborového koordinátora, ktorý ich má v Denveri vyzdvihnúť, nemôžu ich checknúť. Dvojičky uplakané, matka hovorí, že podpíše vyhlásenie, že to je na jej zodpovednosť. Nepomáha.
Prichádza managerka. Najprv ju odchytí naša letuška, lebo sa jej niečo stále nezdá s platbou za letenku. Managerka hodí očkom a zahlási, že letenka zaplatená je ale $50 dodatočný poplatok za UM nie. Týmto som si na 100% istá nebola, nemala som signál aby sa dalo volať Julie a lietadlo odlietalo za 30 minút, tak som sa ďalej nehádala a vytiahla kreditku. Len som dúfala, že z toho nakoniec nebude $100, lebo letuška tvrdila, že jej na prvý krát platba neprešla a musí swipenúť kartu ešte raz. Schmatnem boarding pass, moju priepustku (aby ma pustili s Cami až za bezpečnostné kontroly) a utekáme postaviť sa do ďalšej rady.
Nepomáha, keď bezpečákovi poviem, že naše lietadlo za chvíľu odlieta, túto radu si musíme vystáť celú. Predbiehajú nás však uplakané dvojičky, ktoré má pod palcom výrečnejší letuško – ich mame sa zjavne podarilo s managerkou nejako dohodnúť. K bráne dobiehame ako posledné, keď už sú všetci pasažieri v lietadle a hneď ako Cami vojde, zatvárajú za ňou rukáv. Nestihli sme ani ahoj, ale možno aj tak lepšie, lebo už cestou v metre sa tvárila, že neplače.
Čakala som tam však ďalšiu hodinu, kým lietadlo naozaj odišlo od brány na odletovú dráhu (asi to bolo podozrivé, lebo asi po 20 minútach prišiel bezpečák a čakal tam so mnou) a za ten čas som len s údivom sledovala ako dvaja ľudia z Delty manuálne nahadzujú do počítača mená pasažierov podľa palubných lístkov, lebo majú pokazený systém a chvíľu diskutujú, či majú všetkých alebo nie. Nakoniec sa zhodli, že teda asi áno a ja som len rozmýšľala, kedy by prišli na to, že Cami nenastúpila, keby sme sa ešte o chvíľu dlhšie zdržali na checkine.
Lietadlo odletelo a ja z air-trainu volám Julie a oznamujem, že Cami je na ceste. Zisťujem, že $50 poplatok bol zaplatený dopredu aj za cestu späť, ale Julie hovorí, že nech to nachám na ňu, že ona to vyreklamuje. Keď o pár dní telefonujeme znovu, dozvedám sa, že Delta navyše zaplatené peniaze odmieta vrátiť a že Camina batožina nedoletela s ňou (bavíme sa o priamom lete New York – Denver), ale dorazila až o tri dni neskôr.
Zdá sa mi, že všetky tie reklamy Delty po metrách v New Yorku, ktoré hovoria o zmene k lepšiemu, sú akési neoprávnené napriek tomu, že ich názov aj logo zmenu pripomína.