Sme doma niečo viac ako mesiac. Ale pocitovo je to celú večnosť. Sme ok, ale všetkým nám to poriadne lezie na nervy. Hlavne Kike a Kubovi by výrazne prospelo, keby mohli byť aj s niekým iným ako len so mnou a Mišom. Škola je oficiálne zatvorená do polovice mája, ale nedávame veľké nádeje tomu, že by sa otvorila ešte tento školský rok. A tak sa učíme a vymýšľame aktivity doma.
sadili sme – Pred dvoma týždňami som kúpila priesady paradajok, jahody, mätu, bazalku, cibuľky, pažitku a nasadili sme s deťmi všetko do kvetináčov. Cibuľky a bazalka už začínajú vykukovať z hliny, takže sa tešíme. Mäte a pažitke sa zatiaľ nechce, snáď sa na nás nevykašlú úplne. Smutné na tom je len to, že keď sme sem prišli, tak som si hovorila, že žiadni živí zelení kamaráti nebudú, aby sme ich nezahubili v lete, kým budeme cestovať… teraz sa už o nich až tak nebojím.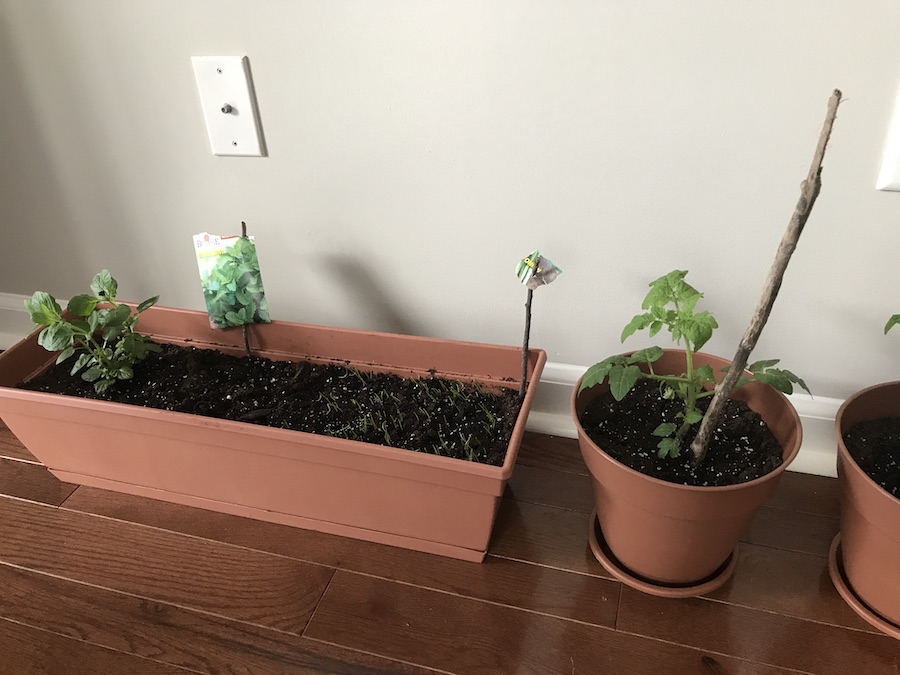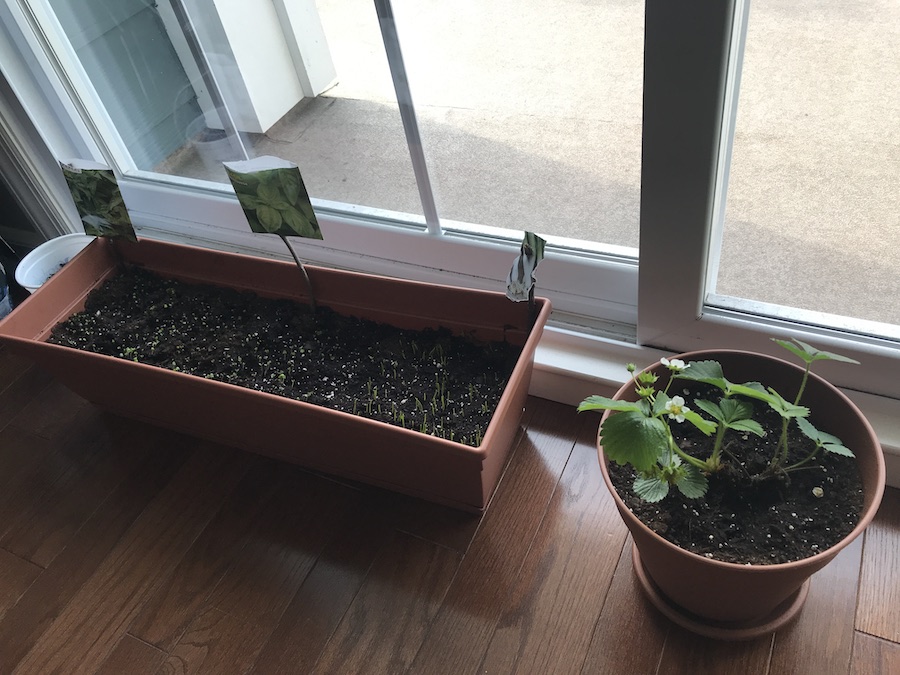 webstránka – Založili sme s deťmi blog. Aj oni chceli písať na internet. Kika si zatiaľ z toho spravila kuchársku knihu a Kubo plánoval robiť tutoriály ku programovaniu v Scratchi, ale potom zistil, že ho viac baví to programovanie ako písanie o ňom.
hľadali sme dúhy – Vraj sa to začalo v Taliansku, dúhy na vyjadrenie podpory zdravotníkom. Naši spravili jednu tiež a okrem nej si Kika do okna vyvesila sovu – ich školského maskota. Na prechádzku sme sa raz vybrali s vytlačenou mapou a deti do nej značili dúhy, ktoré sme našli. (Mapa už je neaktuálna, lebo vyzerá, že dúh pribudlo.)
začali sme vyrábať noviny – Prvé číslo sme vytlačili na papier a dali do schránky najbližším susedom a spolužiakom a spolužiačkam, čo bývajú poblíž. Druhé číslo (a aj ďalšie, ak sa redaktorom ešte bude chcieť) už je elektronické.
spoločenské hry – Nepočítame to, ale odhadom najviac asi fičí Farao. Ale aj Carcassone, Osadníci, Scrabble, Azul, Skyjo… Dobre, že sme si ich všetkých doniesli. Mali by sme si pre zmenu zorganizovať nejakú hru aj s niekým cez skype.
3D zvieratá – Kika s Kubom pozerali rôzne zvieratá v 3D, ktoré dal k dispozícii Google. Najviac ich pobavil žralok plávajúci nad naším jedálenským stolom, ktorého potom skúsili utopiť v pohári.
veľkonočné vajíčka – Veľkú noc sme nijako extra neoslavovali. Ale zdobenie vyfúkaných vajíčok roztopeným voskom bola dobrá domáca aktivita na trénovanie trpezlivosti.
venčenie – Parky nám už zavreli, Kiku a Kuba prechádzky po dedine nebavia. Ostáva nám ešte futbalové ihrisko (ktoré niekedy máme aj sami pre seba) a atletická dráha. Zvažujeme trampolínu, len je to trochu susedsky komplikované. Mišo behá ~40km za týždeň a ja neviem, čo so sebou.
kreslenie – Niekedy príde zadanie zo školy, niekedy kreslia len tak, niekedy majú inšpiráciu z nejakého youtube videa. Musím ešte vytiahnuť aj farby, nech niečo aj namaľujú.
Veľa varíme. Ako inak, jesť sa musí… ale varíme aj spolu. Už vedia celkom dobre piecť palacinky, Kika si užíva miesenie chleba, len teda záujemcov o škrabanie zemiakov alebo umývanie riadov je akosi pomenej.
Na pozeranie zatiaľ stále fičí Magic schoolbus a celkom sa im páčil film Onward. Vyučovanie v štátnej telke sme pozerali len raz, keď mal hodinu matiky jeden učiteľ z Kikinej školy, ale bolo to celkom dobré, tak možno ešte niekedy skúsime.
Neviem presne, čo sa hrajú na počítači. Nejaké linky som im poslala ja, ale tie hry veľmi nevídam. Najčastejšie vidno nejakú multiplayer raketovú naháňačku.
Jeden piatok sme mali "večeru v reštaurácii". Deti sa nahodili ako na svadbu, naliali si džús do vínových pohárov, … O týždeň neskôr sme mali pyžamový deň, čo Mišo zhodnotil, že ideme z extrému do extrému, tak minulý piatok už zase obyčajné tepláky…
Som veľmi zvedavá, ako na toto obdobie budú spomínať. Či to bude "tá dlhá nuda, keď sme nemohli nikam ísť", alebo "vtedy, keď sa potom všetko zmenilo", alebo na to celé rýchlo zabudnú, alebo nejako úplne inak…