Mal to byť deň 1. Mali sme kúpené letenky na 7:20 ráno, čo znamenalo aj objednaný včasný taxík (nechceli sme riskovať lyft, lebo sme nemali predstavu, koľko ich v okolí premáva okolo štvrtej ráno a aj keď si človek dopredu objedná lyft alebo uber na konkrétny čas, neznamená to garantovaný odvoz ale len to, že sa jeho objednávka objaví aktívnym vodičom krátko pred požadovaným časom).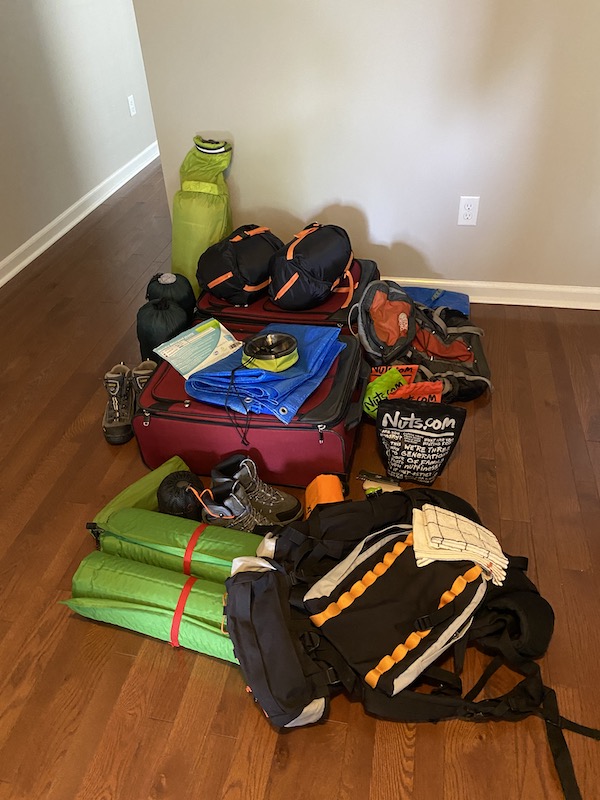 Tak sme večer predtým všetko dobalili (tri kufre, jeden veľký batoh, štyri malé príručné… stany, karimatky, spacáky, turistické topánky, všetko sme brali so sebou…), išli skôr spať a tešili sa na výlet. Ja som sa zobudila asi pol hodinu pred budíkom, pozerám na telefóne hodinky a vidím aj správu, ktorá prišla o polnoci, že let je zrušený.
Vpodstate to nemuselo byť prekvapenie. Spirit Airlines mali problém už celý týždeň predtým a rušili veľa letov. Len my sme tieto správy nezachytili a teda vôbec sme na to neboli pripravení.
Zobudila som Miša a pustili sme sa do riešenia situácie. Ja som kontaktovala zákaznícke centrum leteckej spoločnosti a Mišo sa snažil dať vedieť taxíku, že nemusí chodiť. Spirit nám ponúkol, že môžme ísť ešte toto ráno o hodinu skôr s prestupom. To by sme aj zobrali, ibaže sme nemali odvoz na letisko, s ktorým by sme to mohli stihnúť, tak sme museli zobrať druhú možnosť – tento prestupný let o deň neskôr a dúfať, že ani jeden z tých dvoch letov nebude zrušený a že v Atlante stihneme za hodinu prestúpiť nielen my, ale aj všetka naša batožina.
Mišovi sa taxík zrušiť nepodarilo, lebo mal len všeobecné číslo, ktoré nikto nebral, nie na konkrétneho taxikára. Pán prišiel pár minút pred objednaným časom. Mišo sa mu ospravednil za včasné vstávanie, dal mu $20, zobral si naňho kontakt a dohodol sa s ním na ďalší deň.
Medzitým sa už na ruch zobudili aj deti a dávali patrične nevyspato najavo svoju nespokojnosť s celou situáciou.
Nasledoval taký "deň medzi". Zjedli sme jedlo, čo sme mali nachystané na cestu (lebo chladnička prázdna) a nachystali ďalšie (okrem cookies, tie sme už ďalšie nepiekli). Ja som volala do nášho prvého kempu (v parku Zion), že na prvú noc neprídeme, ale nech nám podržia zvyšok rezervácie. Pani bola milá a ešte mi aj poslala peniaze naspäť na kartu za tú prvú noc, aj keď bolo v podmienkach napísané, že to nerobia.
A potom sme niekoľkokrát volali do autopožičovne (Sixt), kde sme sa snažili to isté docieliť aj s autom. Tam nám (neintuitívne) hovorili, že ak skrátime objednávku o deň, tak to bude celé drahšie. Ale povedali aj to, že auto máme povinnosť vyzdvihnúť do 24 hodín od času, ktorý sme uviedli v rezervácii. Tak sme nakoniec len posunuli ten čas na večer (to sa v rámci jedného dňa dá), čo nám dalo okno do nasledujúceho večera.
Spať sme išli s tým, že ak Spirit zruší aj tento let, tak v noci kupujeme nové letenky od inej spoločnosti, ráno odchádzame na letisko objednaným taxíkom a na lietadlo si tam počkáme.