Kika chodí každý deň po škole behať. Volajú to tu cross-country, ale nebehá sa nejako veľmi naprieč krajinou. Majú taký 2 míle dlhý okruh okolo športového areálu kúsok od školy. Je to fajn a je škoda, že je to len na jeseň. Občas majú aj preteky, keď prídu deti z inej školy, alebo sa naši vyberú do niektorej susednej dediny. Na začiatku sme so zatajeným dychom očakávali Kikine reakcie, ale boli pozitívne a v behaní sa zlepšuje, čo sa jej páči. Takže paráda.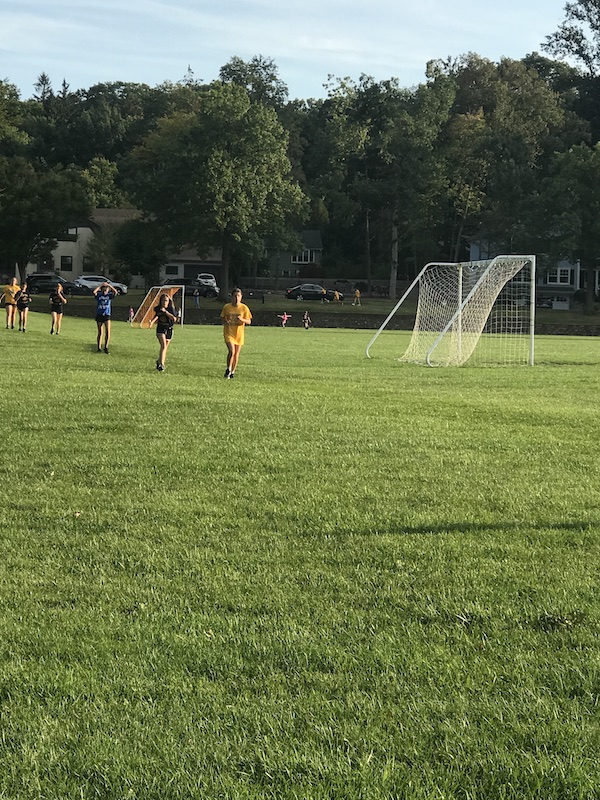 Keď sa potom Mišo hlásil na polmaratón (prvýkrát od januára 2020), tak sa spýtal aj detí, či tam chcú bežať 2 míle. Kubo nechcel, Kika, že jasné. A tak sme minulú nedeľu zavčasu ráno cestovali na Sandy Hook Beach, kde sa pretekalo.
Obaja naši bežci dobehli vyšťavení ale spokojní. Rekordy nepadli žiadne, aj keď trasa nemala žiadne prevýšenie, lebo bolo dosť teplo.
Pôvodný plán bol doma sa naobedovať a potom sa ísť ešte poprechádzať na nové diskgolfové ihrisko, ktoré (asi) máme kúsok od nás. Ale podarila sa nám iba prvá časť, lebo potom sme zistili, že v zápale povzbudzovania bežcov sa mi podarilo stratiť Mišovu peňaženku. A tak sme namiesto na diskgolf, išli opäť na pláž. Prešli sme všetky miesta, kde sme boli aj predtým, ale peňaženky nikde. Ani organizátori už nikde neboli, všetko zbalené a upratané. Kontaktovali sme bežecký klub, ktorý preteky organizoval, či náhodou nemajú straty a nálezy, ale vyzeralo to dosť zúfalo a už sme premýšľali, kde a kedy sa bude dať Mišovi vybavovať nový vodičák a ostatné stratené preukazy a karty. Ale potom nám dali vedieť, že peňaženku niekto našiel a odovzdal im.
Tak sme na ďalší deň po práci už tretíkrát za dva dni cestovali na Jersey Shore (za normálnych okolností je to asi hodina jedným smerom, ale v pondelkovej poobedňajšej špičke za výdatného dažďa mi to trvalo skoro dve) a peňaženku s komplet obsahom sme vyzdvihli. Dobrí ľudia ešte žijú.