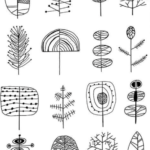 Je to trochu prehnané, ale je to tak.
Keď človek o niečom píše, dokonca aj o veciach, o ktorých vie veľa, tak často príde na to, že možno to nevie, až tak dobre, ako si myslel/a. Aj ako učiteľke sa mi neraz stalo, že až keď som sa musela pripraviť na to, ako niečo vysvetlím druhým, som poriadne pochopila, ako veci sa veci majú. Až keď som donútená dať myšlienkam slovnú podobu, tak sa vykryštalizujú.
A nestane sa to na prvýkrát. Shitty first drafts, bez ktorých to nejde a cez ktoré sa treba prehrýzť… v posledných týždňoch som debatu o tom, ako potrebné sú tie nečistopisy, mala s každým zo svojich bakalárov a diplomantov, ktorí písali svoje práce, a aj s Kikou, ktorá bojuje so svojimi esejami. Prvé slová, ktoré si človek vyberie, často nie sú tie správne. Prvé formulácie, ktoré človek skúsi, nesedia, niečo im chýba, niečo je navyše.
Áno, nie všetko sa do slov dostane (lossy compression), ale stále, to čo sa do nich dostane, keď už je do nich myšlienka vtesnaná (a commited… áno, ako kód v git-e, slovenčina moja, kde si, keď Ťa človek potrebuje… zaviazaná?), sa dá otestovať. Dať čítať niekomu inému, či to celé dáva zmysel, či tam nič podstatné nechýba. A keď nie je k dispozícii nikto iný, tak čítať sama, aj opakovane, zakaždým v rámci možností novými očami. (Tak ako mi vadí v slovenských prekladoch anglických kníh, keď za vetami cítim pôvodné slovné konštrukcie, tak mi to vadí aj v mojom vlastnom písaní. Snáď keď sa presťahujeme, tak budem opäť skladať slová viac po slovensky… ale fresh eyes?)
Možno sú na svete ľudia, ktorí to majú inak. Možno to majú všetko v hlave precízne naformulované do slov a správne usporiadané. Ja to tak nemám, takže písanie je aj jedna z foriem učenia sa. Ale mám podozrenie, že nie som sama, kto je na tom takto. Mám podozrenie, že veľa ľudí je na tom podobne.
Len potom sa samozrejme ponúka otázka… kacírska, rýpavá, možno aj preto neodbytná. Mali by sme sa vyjadrovať k témam, o ktorých sme predtým nepísali? Môže niekto, kto nepíše, alebo ich priamo "nerobí", mať dostatočne premyslené a zvedomené zložitejšie, netriviálne témy? Lebo ak myšlienky, ktoré sa pocitovo zdajú presné a úplné, neskúsime napísať alebo rovno použiť, ako zistíme, že domyslené vlastne nie sú? Sem sa priam pýta disclaimer. Ony domyslené a správne samozrejme ani po napísaní alebo použití ešte nemusia byť, takže postačujúca podmienka to určite nie je. Ale vyzerá nutná.