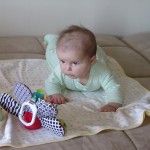 Od minulého týždňa sa nám Kika sama prevracia z chrbta na bruško. Zatiaľ iba nahá (preto vám to ani neukážem na videu, aby ma CPS nezavreli za zneužívanie detí) – predsalen plienka a dupačky jej (zatiaľ!) trochu obmedzujú pohyby. Ale dajte jej ešte týždeň a podarí sa jej to aj s prídavnými zariadeniami zadkovými.
Tým pádom sme my v háji. Lebo po 16tich týždňoch nám dieťa, u ktorého sme si mohli byť viac menej istí, že ho nájdeme tam, kde sme ho položili (nerátajúc záhadné nočné presuny v postieľke), narástlo na také, čo bude treba čím ďalej, tým viac pozorovať, kam sa vybralo. A tak pri sledovaní, ako sa snaží podsunúť kolená pod bruško a mece sa ako taká ryba na suchu si už teraz predstavujem ten deň, keď sa jej podarí skoordinovať všetky telové výbežky a začínam rozmýšľať, čo všetko treba odpratať z jej dosahu…
Okrem toho začala prehýbať chrbát, keď ju ide niekto zobrať na ruky, aby ju dotyčný mohol lepšie chytiť pod pazuchy a najnovšie zvuky, ktoré vydáva, sú niečo medzi zachrípnutým Tarzanom a mutujúcim kohútom. Takže máme veselo.