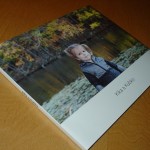 Je zaujímavé, ako fotky ovplyvňujú, čo a ako si pamätám.
Mala Kika hnedé oči už na svoje prvé Vianoce? (nie) Antelope Canyon, ktorý sme navštívili bol dolný či horný? (dolný) Koľko snehu tam bolo, keď sme liezli na Silvestra 2005 na Minčol? (veľa ale nie až toľko, ako sme mali tu minulú zimu)
To je len zopár príkladov, ktoré ma teraz napadajú, čo som si bola nedávno "overiť" vo svojej fotodokumentácii.
Súhlasím s tým, že načo si v dnešnej dobe pamätať kvantá informácii/faktov, keď sú prístupné na pár ťukov do klávesnice? Hlava sa dá používať aj lepším spôsobom, než ako nie príliš spoľahlivý záložný disk. Ale akosi sa mi to nevzťahuje na spomienky. Len sa mi tak zdá, že mozog sa sám postupne preprogramováva a tak, ako si už zvykol vypúšťať napríklad recepty, pokiaľ ich len nerobím naozaj často, tak túto metódu aplikuje aj na to, čo by som si chcela pamätať.
Samozrejme, nemôžem si zapamätať všetko, ale moje spomienky sú dosť naklonené smerom k tomu, čo vidno na fotkách. Áno, mám aj kopu iných, ale tie, ku ktorým sa dá (či už digitálne alebo papierovo) vrátiť, sú ostrejšie a skôr ostávajú. Na tom nie je nič zlé, len je škoda tých, ktoré neostali na fotkách napríklad preto, že bolo príliš dobre na to, aby sa niekomu chcelo fotiť, alebo pekné momentky, ktoré sa nezopakujú.
A to už v dnešnej dobe sme na tom "dobre" – s digitálnymi fotoaparátmi, kde je počet cvaknutí prakticky neobmedzený (a telefónmi – aj keď toto sa na mňa teda nevzťahuje – ktoré umožňujú fotenie takmer kedykoľvek). Preč sú časy, keď som vážila každé z 36tich okienok na filme. A to už ani nehovorím o čase, keď ľudia nosili so sebou celý život jednu zažltnutú fotografiu alebo keď jediný spôsob, ako zachytiť okamih, bol štetcom na plátno/ceruzkou na papier/farebnou hlinou na stenu jaskyne.
A tak fotím, aby som si pamätala. (V rámci možností.)
PS Úplne mimo témy: Ak existuje úchylka na používanie zátvoriek, tak ja ju zrejme mám…