Zase sa raz ukázalo, že sme nie je čítanie pre mňa. Spoliehajúc na rešerše iných ľudí, som si pootvárala články, ktoré mali najviac hlasov na Vybrali sme. S vyše 700 tam bol otvorený list primátorovi Bratislavy (zvýraznenie moje):
Z verejne publikovaných informácií sme sa dozvedeli o príprave Dúhového pochodu 2012 v Bratislave. Podľa toho, ako uvádza jeho organizátor, toto podujatie má podporu primátora mesta a bude otvorené tromi symbolickými sobášmi (mužsko-mužského, žensko-ženského a mužsko- ženského páru).

Voči vyjadreniu podpory zo strany primátora mesta máme vážne výhrady. Ide totiž o aktivitu, ktorá podnecuje snahy, ktoré v našej krajine nemajú ani legislatívnu podporu, ani morálne zázemie, ba ani dlhodobú spoločensko-historickú tradíciu. Navyše výrazne zasahujú do statusu rodiny…
S vyše 300 hlasmi tam bola petícia Skutočný pride (zvýraznenie opäť moje):
Vieme, že deti potrebujú komplexnú výchovu, pri ktorej je nezastupiteľná prítomnosť tak matky ako aj otca. Je preto dôležité, aby sa deti rodili a vychovávali práve v manželstve, ktoré je opatrené záväzkom výlučnosti a trvalosti.

Každá spoločnosť potrebuje čestných a rozumných ľudí, ktorých však sama nedokáže vyformovať. Preto je materinská a otcovská láska rodičov nenahraditeľná pre zdravý vývin detí ako aj pre spravodlivú politickú spoločnosť.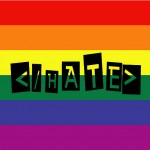 Lebo žena s mužom, ktorí vychovávajú deti, ale nemajú na to papier nemôžu vychovať čestných a rozumných ľudí? Lebo namiesto pomoci slobodným matkám im nakydáme, že to, čo robia je menejcenné, keďže nemajú vo svojom živote muža? A v neposlednej miere, homosexuálne partnerstvá nemôžu byť zázemím pre zdravý vývin detí? V Európe v roku 2012? Komu a ako ubližujú?
A ešte som natrafila na toto (našťastie už nie na sme). Malý chlapček v kostole spieva, že homosexuáli sa nedostanú do neba. Myslela som si, že nesúdim to, ako iní rodičia vychovávajú svoje deti. Ale keď som videla toto, tak áno, súdim a odsudzujem. Toto je zlé. Malý za to nemôže, ale rodičom by som vynadala. A to, ako reagujú ostatní prítomní dospelí? Hnus.
Mám chuť vyvesiť si dúhovú vlajku do okna…