Dnes namiesto víkendového surfovania ovocné okienko.
Z tých známejších sme v Malajzii zatiaľ jedli liči, papáju, melóny. Z tých menej známych mangosteen (po slovensky vraj mangostána), ktorý sa takmer nevyváža, lebo sa nedá jesť nezrelý a zrelý dlho nevydrží. Je to také fialové čudo s "kvietkovou" stopkou: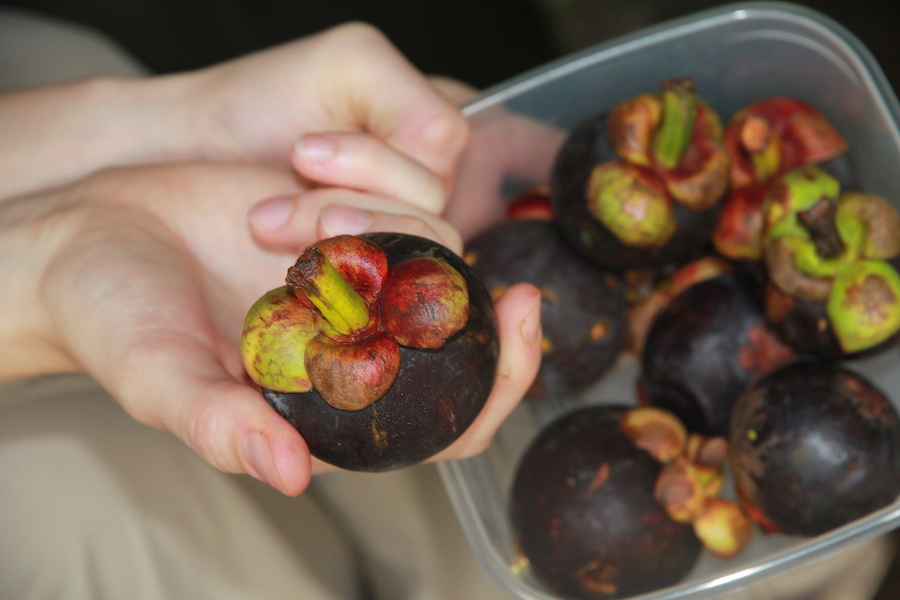 Vnútri má dužinu, ktorá navonok pripomína cesnak, ale je veľmi šťavnatá a má príjemnú, "tekutú", nie príliš výraznú chuť a vnútri kôstku. (Nič z toho sme samozrejme nevedeli, ani len to meno. Všetko nám prezradila ochotná teta na večernej tržnici, vrátane názornej ukážky otvárania a ochutnávky. Hneď sme si kúpili a zobrali aj so sebou nasledujúci deň na výlet.)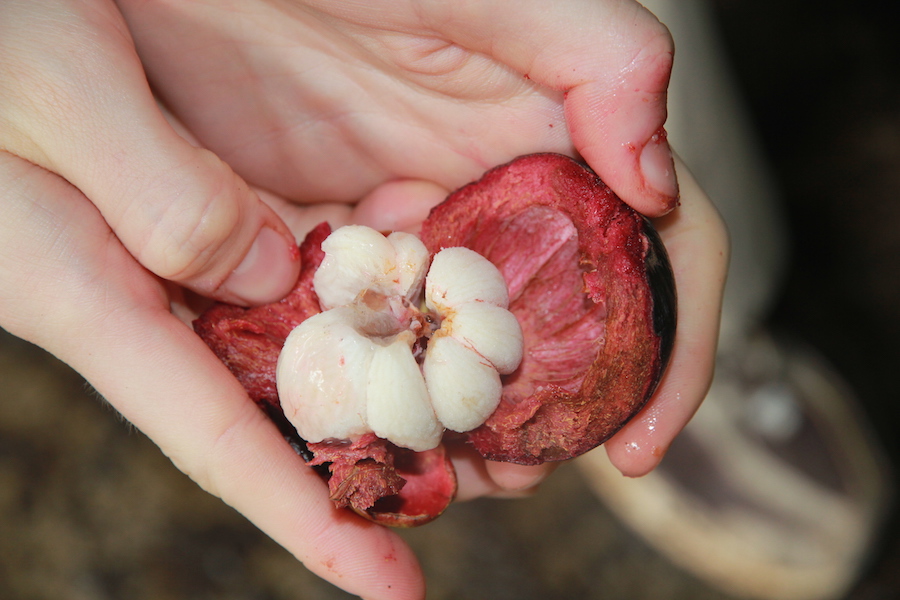 Potom jackfruit (po slovensky vraj chlebovník). Mišo o ňom básnil už odvtedy, čo mal v New Yorku kolegu z Bangladéša a ten mu ho ospevoval. Vraj je to úžasné, tiež sa nevyváža, musíme ochutnať, keď budeme v týchto končinách… No a dnes na trhu sme zbadali túto trojicu (pani má v ruke sekáčik na mäso):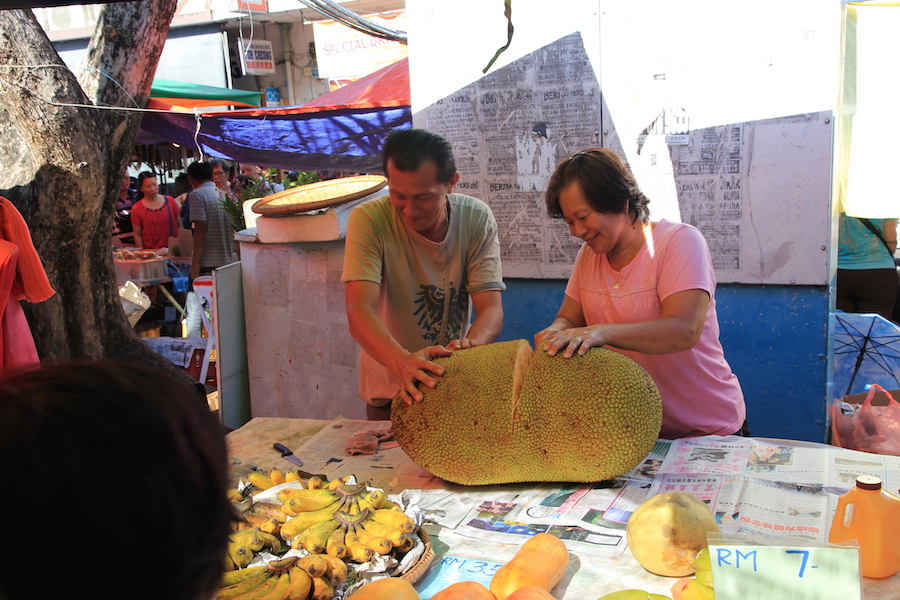 Z tej veľkej tekvice sa potom vyberajú také malé žlté dužiny (konzistencia ako tuhé maslo), z ktorých každá má vnútri semiačko veľké ako fazuľa. Chutí to ako niečo medzi ananásom a mangom a banánom s vanilkou (ťažko sa popisuje nová chuť pomocou iných už známych 🙂 ).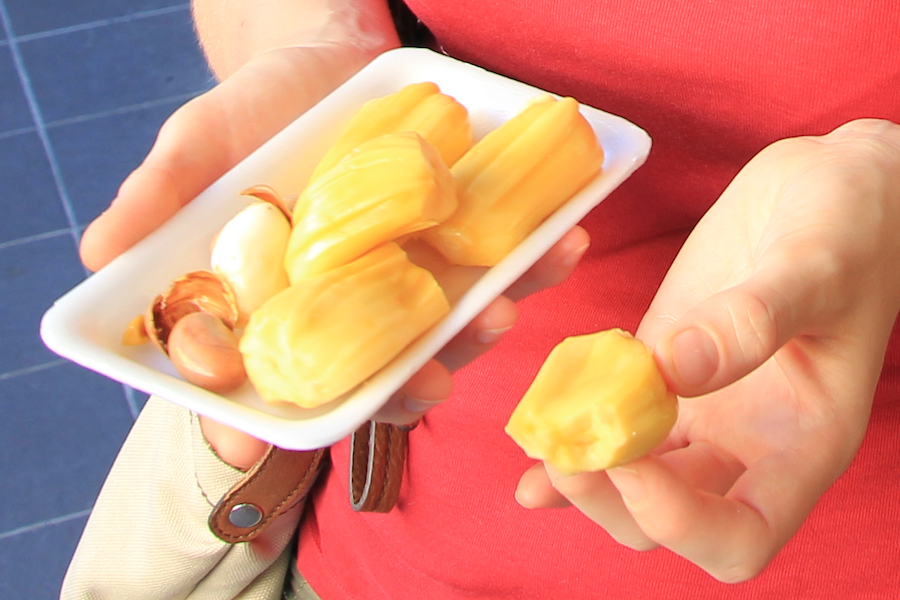 Mišo ešte túži po duriane a aj tých tu majú kopu, ale zatiaľ sme nenazbierali odvahu. Ten totiž vraj po otvorení strašne smrdí. Dokonca aj v hoteloch (vrátane toho, v ktorom bývame teraz) sú značky "zákaz vstupu s durianom".
Celkovo v počte nami zjedených kusov zatiaľ vedie mango.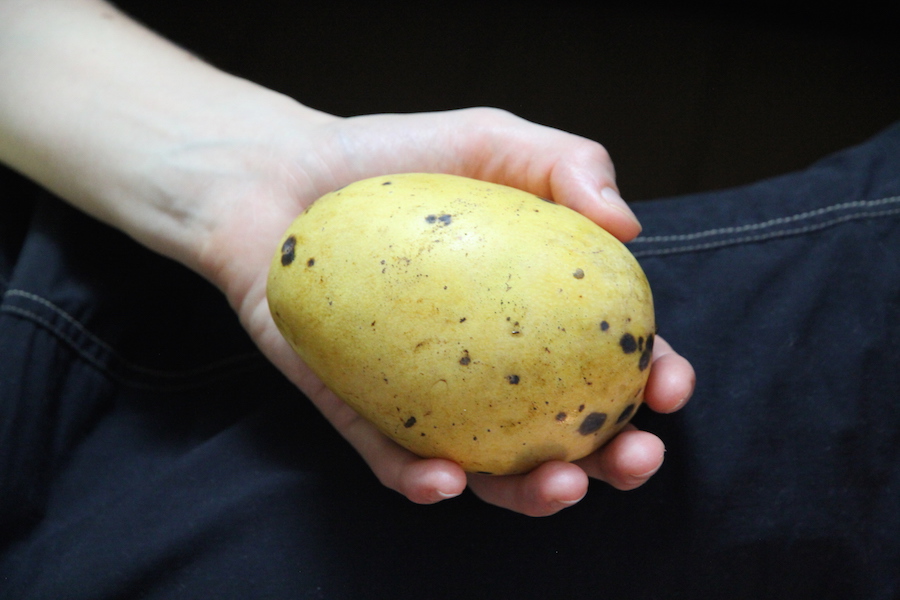 Zrelé sa úplne ľahko šúpe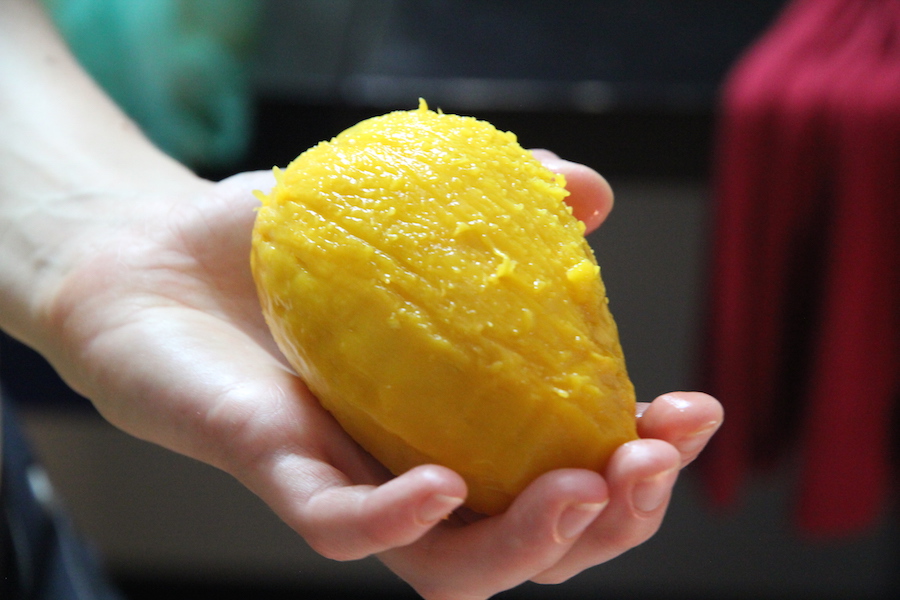 Mňam