Nechcelo sa mi začínať s kváskovým chlebom. Už dlho som ho registrovala, minulé leto žartovala s kamarátkou, že či berie kvások na dovolenku. Ale zdalo sa mi, že ja to nejdem ani skúšať, lebo sa mi nechcelo prispôsobovať. Kupovali sme dobrý chlieb z malej pekárne. Predstava, že treba myslieť na to, kedy kvások kŕmiť, myslieť na to, že treba kus dopredu začať, ak chceme mať niekedy chlieb, piecť ho pravidelne a nie len raz za čas… nechcelo sa mi.
A potom sme sa presťahovali do Ameriky. Pekáreň ďaleko. Začala som chlieb piecť pravidelne. Zo sušených kvasníc, plus-mínus tri hodiny kysnutia.
A keď som už chlieb mala pekne doiterovaný ku mojej aj všeobecnej spokojnosti, prišla pandémia. A časom začali dochádzať kvasnice. Tým dochádzať myslím dochádzať u nás doma, v obchode jednoducho neboli. Tak ale zjavne nie je lepší čas, kedy sa začať učiť kváskovať, ako keď sme zavretí doma ďaleko od svojej najobľúbenejšej pekárne, necestujeme, chlieb už pravidelne pečiem aj tak a fľaštička s kvasnicami sa vyprázdňuje.
Nasledovalo trochu teoretickej prípravy a potom som namočila do teplej vody za hrsť hrozienok. Nechala som ich v kuchyni stáť v zavretej fľaši pri izbovej teplote 6 dní. Dovtedy vyplávali navrch, voda bola hnedá a bolo v nej vidno trochu bubliniek. (Osadenstvo malo reči, že či vyrábam nejaký magic potion alebo čo z toho bude…) Preliala som všetko cez sitko do misky a vodu potom naspäť do fľaše. Ponúkla osadenstvu, či si niekto trúfa na skysnuté hrozienka (nie).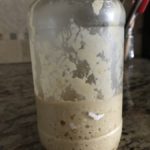 Do hnedej vody som potom primiešala múku – pšeničnú all purpose, lebo ražnú som v potravinách nenašla. Nevážila som (hlavne preto, že som ani tú vodu nemala odmeranú – asi jeden a pol deci?), ale spravila som z toho takú hladkú riedku kašu. Zavrela som fľašku a tentokrát som ju dala do chladničky. Osadenstvo som poprosila, nech začne rozmýšľať nad menom, lebo že budeme mať onedlho domáce zvieratko.
Na druhý deň bola vo fľaši kopa malých bubliniek. Kvások žije a dostáva meno. Pečenie chleba padlo zrovna na deň, keď bolo treba ísť aj do obchodu. Nainštruovala som Miša, nech kúpi aj zopár baglov.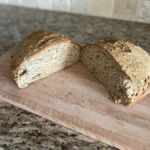 (Veď čo ak by to nevyšlo?) Chlieb som zamiesila ráno, všetky suroviny ako inokedy, len namiesto sušeného droždia som dala dve lyžice kvásku a nechala ho pri izbovej teplote až skoro do piatej. Ani za ten čas nenarástol tak, ako zvykne chlieb s kvasnicami za tri hodiny, ale večera sa blížila, tak som ho dala piecť aj tak.
Dorástol v rúre a polovicu z neho sme ešte teplú zjedli v ten večer. Bol trochu iný, ako sme zvyknutí, ale veľmi dobrý.
Aj s teoretickou prípravou, ja som doteraz trochu mimo (= užasnutá) z toho, že sa dá spraviť kysnuté cesto bez droždia. Silným spôsobom to nabúrava moju už pár rokmi pečenia vybudovanú intuíciu. Divné je to, divné.
Kvasnice som medzičasom kúpila (ďaleko, cestou z výletu), takže aj keby sa Olafovi nedarilo, chlieb bude. Ale idem s ním skúšať nejaký čas spolunažívať a ktovie, možno vydrží aj do popandémie.