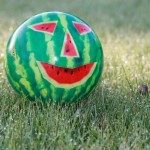 Včera som bola s obidvoma krpcami doma (že prečo, to je iná story a momentálne sa mi do nej nechce púšťať) a doobeda sme išli prevetrať našu melónovú loptu a zahrať sa to, čo sa u nás chápe pod slovom futbal. Definícia je pomerne voľná, lebo povolený je kontakt s akoukoľvek časťou tela, lopta sa môže aj nosiť, hádzať a nie všetci hráči berú ohľad na bránky.
Po chvíli sa za výskotu, vreskotu a džavotu ihrisko zaplnilo, lebo došli prváci zo školy. Asi ešte využili príjemné jesenné počasie a spravili si branné cvičenie, či aký moderný názov sa dnes pre takéto aktivity používa. Chvíľu si niečo vysvetľovali na lavičkách priľahlej (vtedy zatvorenej) krčmy a potom prišla praktická časť.
Pani učiteľka zakričala, že chlapci idú hrať futbal I.A. proti I.B. A dievčatá sa mali postaviť do kruhu na kraji ihriska a tam im vysvetlila pravidlá nejakej hry, ktorá zahŕňala tiež jednu loptu, jej občasné hodenie susedke a pomedzi to občasné držanie sa za ruky (ale teda, neviem, čo to bolo). Ledva šesťroční a už dokonale odseparovaní.
Táto historka má však "šťastný" koniec. Dievčenské koleso dlho nevydržalo. Kočky tam potom chvíľu bezradne postávali, potom sa niektoré pridali k chlapcom na futbal (aj keď si to vyžadovalo trochu vyjednávania, lebo im tam nesedeli pomery Áčkarov a Béčkarov, ale aspoň som si nevšimla žiadne protesty, že dievčatá a futbal) a ostatné si vymysleli svoju hru (trochu sofistikovanejšiu naháňačku).
A my sme šli domov na obed.