Dnes na obede som sa od kolegu dozvedela o iniciatíve To dá rozum. Vraj s tým prišiel Mikloš. A dnes u nás na katedre bol tento mladý pán zisťovať, aké máme problémy. Držím im palce a prajem, aby z toho boli aj iné výstupy ako 200-stranový report v roku 2021, ktorý nikto nebude čítať.
---
Poobede sme boli s deťmi na Protikorupčnom pochode. Tak som s Kikou debatovala o tom, čo je to tá "korukcia" a čo znamenajú tie transparenty naokolo: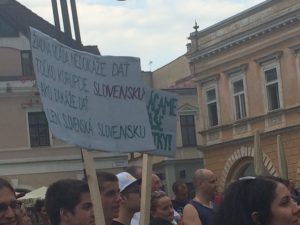 Jeden z tých, ktorí vystúpili, bol aj Dávid Straka. Veľmi pekne spomenul aj učiteľov a učiteľky a ich minuloročny štrajk. Akurát škoda, že keď vystúpil mladý učiteľ, ktorý bol počas štrajku veľmi aktívny, tak jeho metafory zostali nepochopené.
---
Mišo v Berlíne, decká, ktoré cestou z námestia asi prvýkrát v živote do nitky zmokli, už v posteli. Normálne by som telku ani nezapla, ale chcela som vidieť, čo budú v správach hovoriť o tom pochode. A potom som nechala bežať diskusnú reláciu Silná zostava na stv2. Dnes o tom, prečo kašleme na vzdelávanie. Jedna z diskutujúcich bola Petra Fridrichová z Pedagogickej fakulty UMB, analytička projektu To dá rozum. Náhodička…
---
Na Desktope mi kvasí rozpísaný článok o Adaptive teaching. Mal to byť followup talku, ktorý som mala takto pred rokom v Gothenburgu. Akurát akosi nebol na to čas. Musím sa k tomu vrátiť.
---
A stále sa mi ježia chlpy, keď si pomyslím na svoje posledné dva zimné semestre, ako som učila predmet Modelovanie a simulácia. Prvýkrát som po pár týždňoch zistila, že sa na mňa rúti parný valec. Ešte som sa ho chvíľu snažila zastaviť, ale prešiel ma. V záujme zachovania vlastného duševného zdravia som chcela namiesto toho učiť niečo iné. Nie, to nešlo, tak minulú jeseň, už vediac, čo ma čaká, som do toho neochotne išla ešte raz. Prežila som to druhý raz. Ale ja takto nechcem učiť. Ani takto neviem učiť. Túto jeseň už našťastie budem mať namiesto toho iný predmet.
---
Zajtra sedím v komisii na bakalárskych štátniciach. Jednu inú komisiu zrušili, lebo kopa tretiakov nebude pripustených k obhajobám. Desiatky ľudí čaká disciplinárne konanie, lebo im našli zhodné odovzdané semestrálne práce z jedného predmetu. Podmienečné vylúčenie a tento rok končiť nebudú. Predmet si musia zopakovať. A my sa sústredíme viac na trestanie ako na prevenciu a výchovu…
---
Na poradách sa to u nás v práci vždy zvrtne na to, ako kvalita študentov klesá. Ale čo kvalita učiteľov a učiteliek? Tých na vysokej škole nikto neučil ako učiť. Pamätám si na prvé cvičenie v USA, na ktoré som išla ako inštruktorka. Nebolo mi všetko jedno. A to som mala už niečo odprednášané na matematických krúžkoch a sústredeniach. Nejako sa metódou pokus-omyl učíme, ale je rarita, že sa na hodinu príde pozrieť iný vyučujúci/a a dá následne prednášajúcemu/cej nejaký feedback. (Som veľmi rada, že práve na dvoch matických predmetoch, ktoré teraz učím, to tak je.) Vyučuje si kto chce ako chce, spätná väzba od študentov a študentiek sa (vo všeobecnosti) berie do úvahy len pramálo.
---
Tento semester som mala na Diskrétnej pravdepodobnosti dva úplne rozdielne krúžky. Jedných sa mi podarilo namotivovať, vymýšľali zaujímavé veci, pýtali sa, do ankety písali, ako sa im páčila spoločná práca. S druhými to bolo brodenie sa v lepkavom blate, bububu, na pokusy o vtip nikto nereagoval. A ja neviem, čo som spravila inak. Niekde na začiatku semestra je akási magická hranica a ak sa to pred ňou podarí celé naštartovať, tak potom je to parádna jazda a ak nie, tak je to ako na kockatých kolesách. A nie je to prvýkrát, čo sa mi to podarilo. Ani prvýkrát, čo sa mi to nepodarilo. Ani posledný. Ale človek by povedal, že za tých 10 rokov, či koľko už učím, budem vedieť povedať trochu viac o tom, kde sa to láme.
---
Keď na Kikinom rodičovskom združení okomentujem niečo týkajúce sa výučby, tak som ufónec. A to si otvorím ústa až po starostlivom zvážení, lebo vo všeobecnosti sa mi veľmi páči, ako sa v Kikinej triede učia, takže nechcem zbytočne rýpať. A to sa tam o výučbe ako takej rozpráva veľmi málo, väčšinou sa rieši kadejaká administratíva a logistika.
---
Takže nie, neviem, ako dobre učiť. Ale tak nejako sa s tou otázkou stretávam v rôznych formách všelikde, pomerne často a zdá sa mi celkom dôležitá.