Okrem
know-how na chlieb
som si
z Virginie
doniesla aj recept na bagety. Pre vás všetkých na Slovensku, ktorým sa zdá táto moja obsesia pečivom divná, je to jednoducho tým, že v našich potravinách dobrý chlieb nemajú. Dalo by sa za ním ísť niekam ďalej (a veľa zaň zaplatiť), ale to nie sme ochotní, tak chlieb, po novom na žiadosť domáceho osadenstva na striedačku s bagetami, pečiem doma. Už len 6 mesiacov.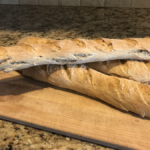 630g múky (kombinácia 500-550g bielej chlebovej + zvyšok celozrnnej, 4 šálky)
1/2 polievkovej lyžice soli
1/2 polievkovej lyžice sušených kvasníc
2 šálky teplej vody
Všetko spolu zamiesime. Necháme na teplom mieste hodinu zakryté. Premiesime a necháme ešte jednu hodinu ďalej kysnúť. Potom rozdelíme na tretiny a rozšúľame na tri bagety. Navrchu narežeme a pečieme v rúre vyhriatej na 500F/260C s plechom vody na spodnom rošte.