Možno to vyzerá, že som posadnutá chlebom. Tu a tu sú moje pokusy o tradičný chlieb, tu je tahitský kokosový chlieb, langoše a patentky/lokše (ok, langoše a patentky nie sú technicky chlieb, ale v mojom ponímaní je to jedna rodina). V skutočnosti je to však len prirodzená obľuba znásobená tým, že tu dobrý chlieb nedostať. Dobre, dobre, aby som nekecala, existuje Amy's Bakery v Hell's Kitchen, kde predávajú naozajstný chlieb, ale je hriešne drahý, takže akosi nemáme to svedomie kupovať ho veľmi často.
Dostať tu však iné veci, ktoré sme na Slovensku nepoznali. Jednou z nich je indický naan a keďže ten sa tiež nepredáva práve lacno, nasledovali domáce pokusy. Prvý bol dosť nepodarený (recept z lokálnych novín), ale s miernymi úpravami som sa k naanu dopracovala.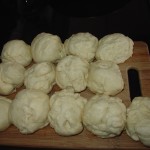 1 1/2 pl sušeného droždia (alebo 25g(?) normálneho)
1 šálka teplej vody
1/4 šálky cukru
3 pl mlieka
1 vajce
1 1/2 čl soli
4 šálky (chlebovej) múky
6-8 strúčkov cesnaku (nemusí byť)
trochu roztopeného masla
Nalejeme do misy vodu, vmiešame cukor a droždie a necháme stáť asi 10 minút (kým droždie začne pekne pučať). Pridáme
mlieko, vajce, múku a na záver soľ (tá by nemala prísť do styku s droždím, kým tam nie sú ostatné suroviny). Vyklopíme cesto na dosku a miesime 6 až 8 minút (je dôležité neodfláknuť tento krok). Vymastíme misu a cesto do nej vrátime. Zakryjeme vlhkou utierkou a necháme hodinu kysnúť.
Nakrájame na drobno cesnak a po hodine ho vmiešame do cesta. Potom cesto rozdelíme na guličky s priemerom asi 3 až 4cm, naukladáme na dosku, zakryjeme a necháme ešte 30 minút kysnúť (mne ich z tohto množstva vyšlo 13 a na obrázku sú už po kysnutí).
Rozvaľkáme na placky a opekáme na rozhorúčenej panvici (alebo grile?). Najprv 3 minúty z jednej strany (kým nezačne chytať farbu a puchnúť), potom zľahka potrieme maslom, obrátime, potrieme z druhej strany a opekáme ďalšie 2 minúty.
Najlepšie sú teplé. (Dajú sa jesť k šalátu, polievke, mäsu, alebo len tak.)