Tajne (ale kde… vôbec nie tajne) som dúfala, že sa nám podarí Kiku odplienkovať, kým sa narodí Kubo. Predstava dvoch trpaslíkov v plienkach nebola lákavá. A možno by sa nám to aj bolo podarilo, keby sme sa do toho naozaj pustili, ale boli sme príliš leniví (rozumej predstava odplienkovávania bola ešte menej lákavá). Potom, kým bol Kubo čerstvý, sa nám do toho tiež nechcelo, ale s príchodom júla som si povedala, že prišiel ten správny čas.
Len tak na okraj, ukazuje sa, že mať deti na jar je výhoda nielen počas tehotenstva (v zime nie je ešte príliš veľké brucho, takže netreba tehotenské zimné veci a zároveň nie je brucho veľké, keď je príliš teplo, čo môže byť pre tehotné obzvlášť únavné), ale aj kvôli odplienkovaniu. Druhé narodeniny majú na jar a nasleduje teplé obdobie, ktoré je ako stvorené na pobehovanie s holým zadkom (ideálne aj vonku, ale to nanešťastie nie je náš prípad).
Presne tak sme totiž s Kikou začali (a predpokladám, že Kuba to čaká o dva roky). Teda ak nerátam sedenie na nočníku od asi 10tich mesiacov so zmiešanými výsledkami – niekedy sa zadarilo, niekedy nie. Nechali sme ju doma pobehovať len v tričku, nočník držali nablízku, či už v kuchyni, obývačke alebo Kikinej izbe, obrnili sa trpezlivosťou – cha! o tom viac o chvíľu – a dúfali, že to nebude trvať dlho.
Kika vedela, čo sa od nej očakáva, lebo jednak nočník už používala nejaký ten piatok a druhak v rámci "teoretickej prípravy" keď sme doma samy, nechávam otvorené dvere na kúpeľni, a tak videla, čo sa na záchode robí (a pomáhala – splachovať). Keby mi toto niekto povedal pred piatimi rokmi, tak by som sa asi schuti zasmiala, že no way (žiadna cesta :)), ale zdá sa, že porodením dvoch detí sa stratili aj posledné zvyšky ostychu a plus to Kiku naučilo, že chodenie na záchod je normálne. (A berie v pohode aj to, že keď sme doma všetci alebo máme návštevu, tak sa kúpeľna pri používaní zatvára a keď sú dvere zatvorené, tak sa tam nechodí.)
Ale porozumenie je jedna vec, ovládanie tela druhá. A rodičovská trpezlivosť tretia. Mláčky boli. Veľa. Aj falošných poplachov bolo veľa. A čo si budeme nahovárať, aj keď sme do toho išli s tým, že ju za nehody nebudeme hrešiť, tak keď sa postaví po treťom poplachu a okamžite sa vyciká na zem a je to už siedmykrát v daný deň, tak to potom človek začne rozmýšľať, či by predsalen bolo také hrozné nechať ju ešte nejaký čas v plienkach. Našťastie, toto netrvalo dlho – niečo vyše týždňa, kým sa naučila oznámiť, čo sa ide diať. To ani zďaleka neznamená, že sme boli za tých pár dní hotoví, lebo často to oznámenie prišlo len pár sekúnd pred akciou alebo dokonca už počas. Ale občas sme aj stíhali dobenúť na nočník. A počet nehôd sa postupne znižoval. Teraz je to asi 6 týždňov, odkedy sme začali, a už dávno sme nemali nehodu, keď je hore (tie dve v sobotu na pláži nerátam, lebo tam síce včas oznámila, ale toalety boli ďaleko, takže sme to nestihli…). Po asi dvoch týždňoch sme jej začali dávať aj nohavičky a sukňu/kraťasy.
Zvažovali sme, čo robiť v noci a cez deň, keď spí. Známi a internet povedali, že sú v zásade dve stratégie. Jedna je ísť plnou parou vpred a dávať dieťa spať bez plienky, aby nedostávalo zmiešané signály, že niekedy sa môže do plienky a niekedy nie. Druhá je dávať na spanie plienku a jednoducho počkať, kým sa bude konzistentne budiť suchá. My sme sa priklonili k tej prvej. Bol jeden večer, keď som posteľ prezliekala 4krát (a keby došlo na piate prezliekanie, tak už ju dám spať s plienkou, lebo sa minuli plachty), ale prežili sme. Ešte stále sa z času na čas nehoda pritrafí, ale napríklad dnes sa cez obedňajší spánok prebudila, vypýtala na nočník a po vycikaní spala ďalej, takže si myslím, že sme na dobrej ceste. Zo začiatku, kým boli nehody časté, tak sme matrac balili do igelitu, ale teraz už má pod plachtou iba takú nepremokavú podložku, ako mávajú v nemocnici (predsalen igelit trochu šuští). A výhoda horúceho leta bola, že sme ju nechávali spať bez periny.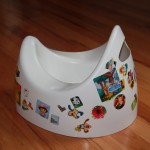 V tých prvých dňoch, keď sme si neboli istí, ako to pôjde, sme sa uchýlili aj k podplácaniu (čo si budeme nahovárať, motivácia je v tomto prípade eufemizmus). Kika je veľký fanúšik Dory, tak som jej nakreslila plagátik s cestičkou rozdelenou na políčka, na konci ktorej bola Dora. Po úspešnom sedení na nočníku sme nalepili nálepku na ďalšie políčko a vedela, že keď dôjde až na koniec cestičky, tak príde balík a v ňom Dora. Len potom sa ukázalo, že zaujímavejšie ako nejaké zarobené odmeny sú pre naše dieťa samotné nálepky. (Aj keď Dora balíkom prišla a privítanie bolo vrelé.) A tak sme zmenili taktiku a po úspešnom sedení jej jednoducho dám nálepku, ktorú si ona potom nalepí na nočník (žiadne špeciálne som nekupovala, všetky sa tak nejako priebežne u nás ocitli… buď prišli s nejakou reklamou, alebo nám ich dala zubárka, alebo boli pribalené v legu…).
Prečo teda to takmer v nadpise? Dávame jej plienku, keď ideme von, pokiaľ je to ďalej ako len pred dom. Aj keď už (s prekvapením) zistila, že záchod majú aj v knižnici, aj v reštaurácii, aj u doktorky, aj na kompe, tak zatiaľ je stále problém na ne dôjsť včas. Kategória sama o sebe je jazda autom. A parky. Minule sme boli v lese a keď som sa jej spýtala, či ideme cikať do trávičky, tak tvrdila, že jej netreba. O desať minút už bolo treba. Ale to sme už boli na ceste pre peších, kadiaľ išli bicykle a ľudia so psami a inými deťmi. A ja som bola príliš mäkká na to, aby sme spravili, čo treba len tak na kraji cesty. Ale keď môžu psi…
Čo ďalej? Nuž, rada by som sa zbavila plienok aj vonku, ale stále celkom neviem ako na to (všetky rady sú vitané!). Ďalej ju treba postupne naučiť, aby to zvládala bez pomoci (aspoň vyzliekanie a posadenie na nočník). Časom prejsť od nočníka na záchod. A ešte by bolo fajn, keby sa pýtala aj po anglicky, lebo zvažujeme, že by sme ju na jeseň dali na pár hodín týždenne do škôlky (aby bola aj s inými deťmi a aby pochytila trochu viac angličtiny).
Ako ste odplienkovávali vy?
(Kto by to bol povedal, že tu vysypem vyše 1000 slov na nočníkovú tému?)