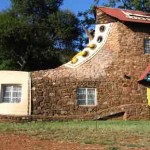 Keď sme sa priznali, že kupujeme byt, tak sme tým pár ľuďom pripravili prekvapenie. Aj tým, že či nám nie je dobre, tam kde momentálne sme, a potom tým, že prečo byt, prečo nie dom? Na tú prvú otázku, nie, nie je nám zle, ale je už čas, aby sme bývali vo svojom a aby sme sa konečne niekde "zasadili". A na tú druhú… naše rozhodovanie bolo pomerne jednoduché:
– Chceli sme sa sťahovať "rýchlo". To znamená rádovo v mesiacoch, nie v rokoch. Hľadanie pozemku, projektovanie, stavanie, prezimovanie hrubej stavby, dokončovanie… to by bolo na dlho. Rekonštrukcia existujúceho domu by bola (možno) rýchlejšia, ale stále viac starostí a vybavovačiek, než by sa nám chcelo absolvovať. Na existenciu domu pripraveného na sťahovanie, voči ktorému by sme nemali výhrady, neveríme.
– Chceli sme byť v centre Žiliny. Teraz sme tesne za jej okrajom a je to ešte stále relatívne blízko, ale nie je to ono. Musíme sa synchronizovať buď so sebou navzájom alebo s prímestským autobusom. Nie je to praktické a ďalšie auto nechceme. A veľmi sa nám pozdávala myšlienka, že aspoň niekto by mohol chodiť pešo – vyšlo to na Miša, lebo budeme bývať asi 3 minúty od jeho práce a dúfam, že aj na Kiku (a časom Kubka), ak prebehne úspešne transplantácia do novej škôlky. Do centra kúsok, k lekárke po svojich, to považujem za veľké plus.
– Nie sme a asi ani nikdy nebudeme domáci kutili. Ono aj v byte treba niekedy kutilovať, ale stále je s ním menej starostí ako s domom. Lepšie povedané, starostí ani nie je menej, ale sa o ne postará niekto iný (domovník, bytové družstvo).
– Peniaze. Je pravda, že za tie peniaze, čo do toho dávame, by sa už dal kúpiť menší dom. Ale na druhú stranu, to čo kupujeme, je taký väčší dom pricapený navrchu malej bytovky. To nebol zámer, keď sme začínali hľadať, tak to vyšlo. Vychádzali sme z toho, že byty stoja vo všeobecnosti menej ako domy a že aj veľké byty sú tým pádom v reláciách, v ktorých sme boli ochotní sa pohybovať.
Dve nevýhody, ktoré nás neodradili:
– Veľké byty v centre Žiliny nerastú len tak hocikde. Tie, čo sme videli, boli väčšinou nadstavby a ten náš vybraný je štvrté/piate poschodie. Bez výťahu. Takže chodenia po schodoch si užijeme. S tým sme boli zmierení.
– Nemá to taký výbeh pre deti ako dom. Byt je síce v tichej štvrti, je pri ňom trávnik a pár stromov, dokonca hrozí, že čoskoro budú stavať nové detské ihrisko, ale na dom sa to samozrejme ani zďaleka nechytá. Hovorím si, že to už bude na nás, aby sa nám nelenilo a aby sme čo najčastejšie chodili s malými niekam, kde sa to zelení.
Podčiarknuté, spočítané, nám z toho vyšiel byt.
ps obrázok odtiaľto