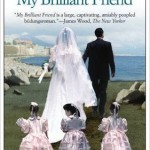 Z času na čas sa zjaví kniha, ktorá je iná ako ostatné. Vtiahne a pohltí. Ani nie preto, že by bola tak napínavá, že sa od nej nedá odtrhnúť, ale preto, že je… Ja ani neviem vlastne povedať, čím to je. Nie je to príliš poetické, ale ani suchá próza. Nie sú to občasné úžasné momenty, je to len plynulé, také postupné čítanie, nepostrehnete, kedy vás to dostane, ale zrazu len zistíte, že už vás drží a už ani veľmi nazáleží na tom, čo sa bude diať, len to chcete čítať ďalej, lebo máte pocit, že to je naozaj, že vidíte, ako tí ľudia žijú, akí sú.
Ľutujem akurát, že ju neviem čítať v origináli, myslím, že by mohla byť ešte lepšia. Vyzerá, že autorka, Elena Ferrante, je Talianka, aj keď sa nevie s istotou, kto to je – píše pod pseudonymom. Kniha My brilliant friend je prvá zo štyroch a je o dvoch priateľkách, ktoré spolu vyrastajú v 50-tych rokoch v chudobnej Neapolskej štvrti. Je napísaná z pohľadu Eleny, jednej z nich. Elena je akési zemnenie, niečo obyčajné, na čo sa dá spoľahnúť. Jej očami sa pozeráme na svet a na Lilu, živel, ktorý na jednej strane láka, ako lampa nočné motýle ale na druhej trochu desí.
What did she have in mind? She had to know that she was setting in motion an earthquake worse than when she threw the ink-soaked bits of paper. And yet it might be that she wasn't aiming at anything precise. She was like that, she threw things off balance just to see if she could put them back in some other way.
Teraz čítam druhý diel a som veľmi rada, že ma čakajú ešte ďalšie dva.